The night before game day. Tomorrow, Miami and Florida (AP #8) kick off the 150th year of College Football. A game labelled "A Rivalry Renewed", after inking a home and home series in 2024 and 2025. Miami currently leads the all-time series 29-26 but, the Hurricanes have had the best of UF winning seven of eight dating back to 1986. The most recent game, Miami prevailed 21-16 over the 12th ranked Gators. Can Miami do it again this year? Find out how Miami can beat Florida below.
Coming off a 7-6 season a year ago, a disappointing season, to say the least. Miami looks to rebuild and beating UF in game one can be a big statement. Manny Diaz leads the way with a rebuilt coaching staff. Dan Enos will call the offense after jumping ship at Bama. Jarren Williams will be behind center after being named QB1 during fall camp. The linebacking core of Shaq Quarterman, Michael Pinckney and Zach McCloud return and look to shine in their senior campaign. New faces, same places, #TNM The New Miami.
How Miami Can Beat Florida
The Offense
Points! Last year the offense was inept at times. There were flashes of greatness, but the six in the 7-6 record was due to the offense. The quarterback play needs to be there, unlike last year. Jarren Williams will be making his first career start so there is no telling what can happen, but I have faith.
DeeJay Dallas, KJ Osborn and Jeff Thomas need to be play-makers. Brevin Jordan and Will Mallory will do what they have been doing all spring and camp, dominate. One weak point I see is the o-line and their inexperience. I am hoping I am wrong and they will surprise us, but that is the area that can hurt and hurt drastically. Florida does have a very good defensive line. Moral of the story, if the U can score on Florida they will be able to score on anyone. One game at a time for the offense and it starts with the Gators, probably the best defense the Canes will see all year.
The Defense
Miami had a top five total defense last year and can easily repeat that this season. If the Canes can win the turnover battle, it may just win them the game. The UF offense is nothing special and last year Franks was under 25% when pressured.
Miami's wheelhouse is their front seven so pressure will play a huge part in the game and the Florida O-Line is inexperienced. Jonathan Garvin, Scott Patchan, Trevon Hill and the linebackers definitely have the ability to disrupt the Gator o-line and ultimately disgruntle Feleipe Franks. Trajan Bandy, Gurvan Hall Jr. and Amari Carter will lead the secondary against a senior-heavy Florida receiving core. If the offense can stay on the field, score points and give the D some rest, anything over 17 points given up would be an F in my grade book.
Special Teams
Two words. Lou Hedley. This position was detrimental for the Canes a season ago so hopefully, things will change with this punting specimen. Flipping the field is key in a game where the offenses may struggle a bit and judging his film, he can definitely punt the football. The man from down under can make it or break it for the U. Bubba Baxa, it simple, do your job!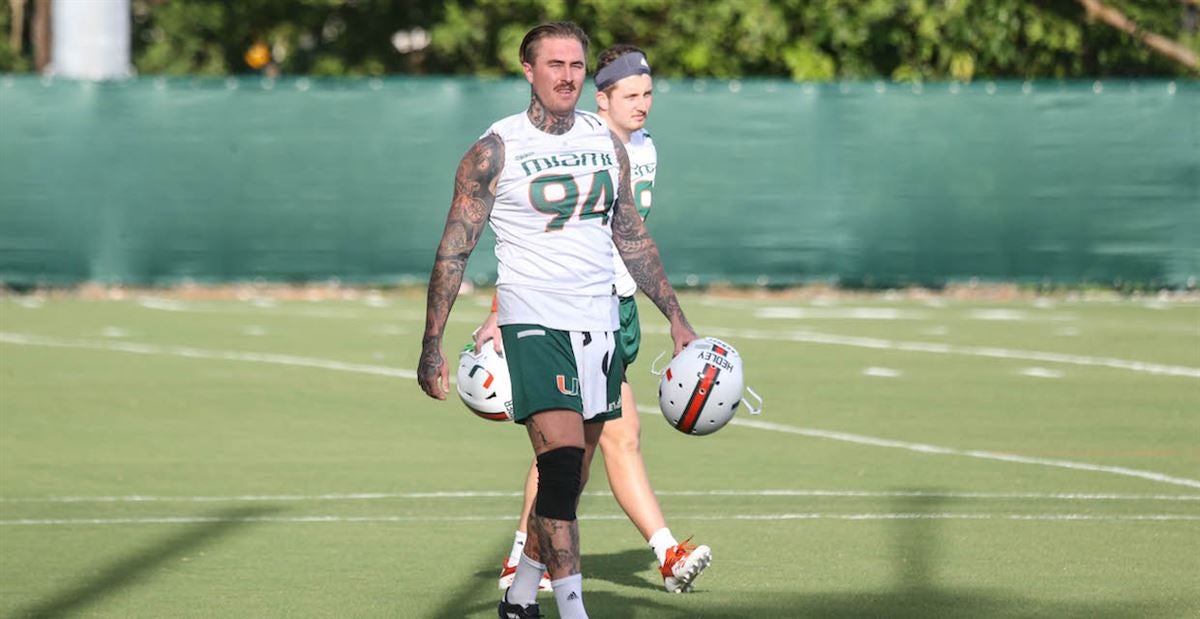 X-Factors
Jarren Williams
Can Williams be the QB we all think he is capable of being? Miami will score points if so because they have too many weapons around him. If Williams can drive the ball down the field and wear the Gator defense out things will work themselves out.
KJ Osborn
Arguably the biggest game of his career and it happens to be his first with the U on his chest. Can he step up like he has been doing all camp? It's go time KJ, show us what you got against one of the top corners in the country.
D-Line
The defensive line is no weakness for the Canes. The question is who will step up against an inexperienced Florida offensive line? Garvin? Patchan? Hill? Jonathan Ford? Whoever it is will have to provide pressure on Franks as he throws for under 25% when pressured regularly. Engage and disrupt should be the name of the game for the Miami defensive line going into Saturday.
Romeo Finley
At the striker position, Romeo Finley will not only be responsible for pressuring Franks but also attacking the Gator backs. Florida has quality RBs, one being Lamical Perine, that may require Finley to strap up and lay the hat. He is definitely capable of knocking someone off their feet and I expect him to make a few big plays throughout the course of the game.
Manny Diaz
It will be his first game as an HC against one of his former HCs in Dan Mullen. I have no doubts in Diaz but the question that will be answered on Saturday is if he can out-coach Mullen. Can he? We will find out soon enough.
My Prediction
I think Florida will come out hot and get on the board in the first quarter but the Miami defense will step up and only allow two more scores the rest of the game, one being a field goal. Miami wins 24-17 in a second-half defensive battle.
A new coach, a new quarterback, and a new era begins for the Miami Hurricanes tomorrow evening when they take on the Florida Gators. Game time is set for 7 pm at Camping World Stadium in Orlando, FL. The game can be watched on ESPN. Tickets can be purchased here.
Make sure to give me a follow on Twitter @tstampler and follow @OTHeroics1 on Twitter and @OTHSports on Instagram. Join us on our sports forum for some great football discussion. Check out my previous article previewing the ACC here.