Ric Flair has done it all throughout his crazy life, one would think that no headline would be a surprise. The Nature Boy has once again shocked the world by taking aim at his former employer WWE. He is trying to claim trademark ownership of The Man as a nickname. However, that is currently the nickname of resident lass kicking star Becky Lynch. One that she has had since last year's Evolution PPV. A nickname that no one has ever associated with Ric Flair. The phrase "To be the man, you gotta BEAT the man" was made popular by him sure, but no one has ever thought of him as Ric "The Man" Flair. He also was seemingly having fun banter with Lynch about it over Twitter with it as recently as a couple weeks ago. Apparently that tweet was more literal than we all realized.
It's Not Business Kid, Just Personal
A former wrestler taking WWE to court isn't news. Flair has always had personal and financial problems, trying to make sure his family is supported is not something new. What does raise eyebrows is that Flair is putting Becky Lynch in his crosshairs as well as WWE. It's weird because Lynch is a close friend to the family. Not only has she done spots with the Nature Boy before but has been blazing trails with his daughter Charlotte. Charlotte and Becky are two of the Four Horsewomen, they worked through the woman's revolution together. Charlotte is apparently taking offense to this move and is not happy, and for good reason. If not for attacking her friend, then for "biting the hand that feeds her" in a sense. WWE has made Charlotte a star and a millionaire. Doing this puts her place on the card in jeopardy, even for a Queen.
Unintended Consequences For The Man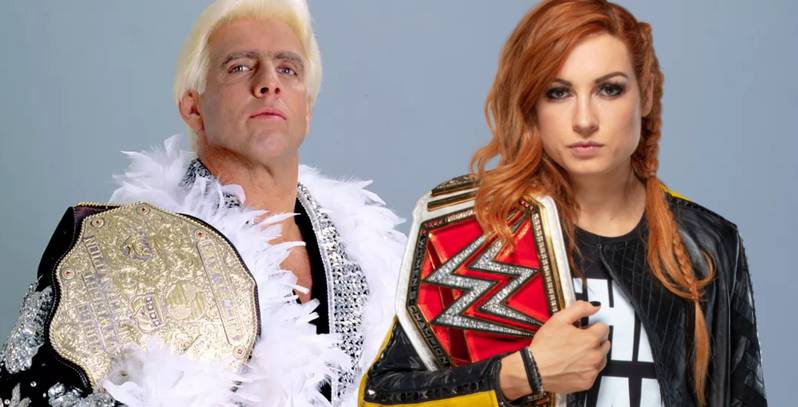 Above all, Becky Lynch is one of the biggest stars in the company. She's even on the cover of WWE 2k20. That's a feat no woman has ever done. "The Man" persona has allowed her to reach these heights by giving her the swagger of a heel without insulting fans. She is the ultimate tweener, and Ric is trying to take that away whether he means to or not. Flair says he just wants to be paid, and if he does Becky can keep on using it. But he should know Vince McMahon better than that. If Vinny Mac must pay, he will refuse to let anyone say the word "man" ever again out of spite. We have seen Ruby Riot becoming Riott, and The Iconic Duo become IIconic. Vince wants to own every facet of a character and has shown he isn't afraid to make changes to do so.
Double Disqualification Or Street Fight?
Right now, this is all just talk. Both sides are sizing each other up, but there is a chance everything will get all worked out behind the scenes. Flair is a legend and has close ties to the wrestling monolith. WWE has strapped the rocket on Becky; they'd hate to give up that cash flow. Therefore, it'd make sense to come to a deal behind closed doors. However, the carny world of professional wrestling doesn't always make sense. It seems like things are going to get messy quickly with neither side eager to put their egos aside to properly talk. Triple H and Seth Rollins have unfollowed the legend on Twitter. The top babyface and one of his close friends, both who seem to be sitting this out until a conclusion comes. One Man will come around for payment, the question is which one is going to get the 1-2-3.
Do you think that Ric Flair is in the right? Do you think Becky Lynch has taken ownership of the name? Discuss it on our forums! If you want to see more pieces like this follow us on Twitter or through our site. You can follow me @dylan55441 and as always thanks for reading!