The Buccaneers did (almost) everything right. As Greg Auman pointed out, Winston was great. Evans was phenomenal. Shaq Barrett was record-setting. The Bucs still lost. Is it too early to call it quits on the season?
Famous Jameis
In case you were too enthralled with the other QB on the field, Jameis Winston played an incredible game this Sunday. He completed 23 of 37 attempts (62.16%) for 380 yards and three touchdowns. Winston did a great job at checking down the way Arians has wanted him to. However, his deep balls were even more impressive. He led a would-be game winning drive to set up an easy field goal. We all know what happened next. The one blemish on Winston's day was an overthrown ball that was picked off, but this wasn't one of the signature hope-and-heaves-turned-interceptions for which Winston has become known. As disappointing as yesterday's game was, Jameis Winston is not at fault. Is this indicative of Arians' work with Winston, or was this flash in the pan beauty? Winston's had flashy games like this before, so don't get too excited. At least it's a step in the right direction though.
Like Mike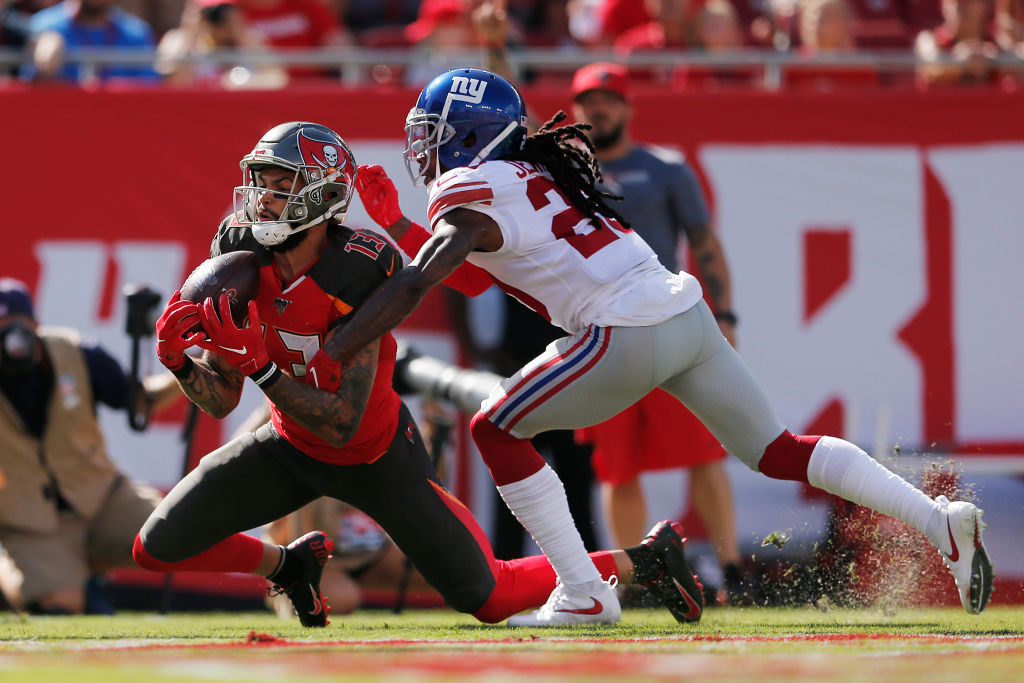 The primary beneficiary of Winston's stellar day was, perhaps unsurprisingly, Mike Evans. Through Week 2 it was looking like Mike Evans could be playing second fiddle to Chris Godwin. Although Godwin is ready to become a star in his own right, it isn't going to be at Evans' expense. Evans had [stats] and three touchdowns. If Bruce Arians can live up to his expectations, a disciplined Winston paired with arguably the best receiver tandem in the league will be a nightmare for the rest of the NFC South. If that works out, we'd at least have one side of the ball figured out.
Defenseless
After a promising start to the season, the Buccaneers' Defense returned (or regressed, rather) to form against the Giants. The secondary showed its inexperience as Daniel Jones looked like a seasoned veteran with pinpoint precision. The defensive line let holes open up for Jones to rush, as well, leading to a game in which he was the leading rusher for the Giants and tacked on a pair of rushing touchdowns to his outstanding passing game. The spot of brightness was ILB *CHECK TO MAKE SURE HE PLAYED ILB THIS WEEK* Shaq Barrett, who totaled four sacks again. He's well on his was to surpassing Buccaneer legend Warren Sapp for the most in a season and is on pace to have a chance at dethroning single-season sack king Michael Strahan. It's hard to stay on track for such a feat, but Barrett has had a roaring start to his first season in Tampa.
Matt Gay-ja Vu
Inevitably, here we are. A Bucs kicker missed a game-winning field goal. From 33 FACT CHECK yards. Perfectly centered. After missing two extra points. There's not much else to say other than this feels like the millionth time we've played out a scenario where kicking cost us a close game. For those calling for his head, settle down. Matt Gay will be in Tampa this week. He'll need to screw up like this again (maybe even twice) before he packs his bags for home. However, he's obviously skating on thin ice, and he just saw a pretty big crack.
Arians originally said that he had intentionally taken the delay of game penalty because he thought that Gay would be better from farther out, but has since walked back on it and said that it was not intentional. Regardless, it clearly didn't work.