The Detroit Tigers (46-112) have struggled this year and it shows across the board. They are 26th in the league for batting average and are dead last in RBI totals. The pitching has not been any better either with a 5.28 ERA overall. To top it all off the Tigers currently hold the worst record in baseball this year. Players are finding it hard to grab any success. One of them is an all too familiar future Hall of Famer. Miguel Cabrera has also found this year to be a struggle, and Father Time seems to be catching up to him.
It is not just this year, however, Miggy has been declining for the last couple, especially in the power department, which he is so well known for. His stats have took a hit throughout the last three years, and it is rather difficult to watch. The 36 year-old two-time MVP has taken a major step back from what he used to be. Making his future quite uncertain.
The Decline
It is evident that Cabrera's best playing days are behind him, and the Tigers are feeling the heat from it. Detroit at the time made the right move extending Cabrera, as he was coming off back to back MVP seasons and three straight years of winning the AL batting title.
The Miguel Cabrera decline has been hard to digest for the fans. He was once the most feared man at the plate and a real powerhouse. From 2009-2016, Cabrera would hit 30+ home runs, drive in over 100 and had an average slash line of .330/.412/.578. He averaged playing in 151 games as well, and was never really hampered by injuries. A lot has changed since then.
Since 2017, Miguel Cabrera has been anything but Miggy. For starters, he has only averaged 101 games and has been really hampered by injury. His slash line has taken a hit and he sits at .270/.345/.399. He has only averaged 10 homers, and those averages weren't much better this season. The injuries have really taken a toll on Miggy and his production.
Unfortunately, his season has only reminded us that watching these once these elite players decline, is so hard to watch.
Costing the Tigers
While Cabrera is far from the reason why the Tigers are not in contention, this is costing a rebuilding Detroit team valuable time and money.
Miguel Cabrera is now one of the worst values in the MLB. A lofty contract is really burdening the shoulders of the franchise. The extension was $248 million over eight years, with $44 million that was guaranteed for 2014 and 2015. Going forward, he still has 6 years left on the deal (which includes option years), with an average of $31 million owed each year.
Cabrera's health has been a concern as well, as he's been the DH most of the year while dealing with knee issues. Quite possibly as time goes on this is probably going to worsen and he'll diminish his value even more. Usually players do not bounce back as well from knee issues and it nags them throughout their careers.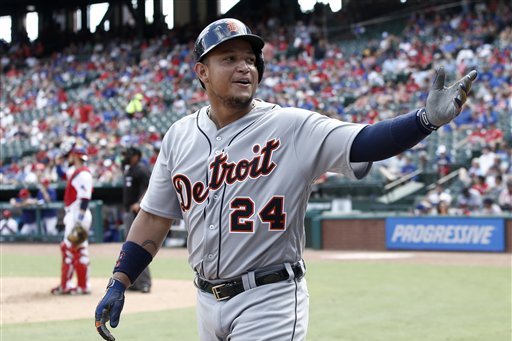 Examining the Contract
Miggy's contract is indeed one of the most troublesome of all the MLB, but there is a silver lining. Cabrera is under contract through the year 2023, with team options in 2024 and 2025. The options are for $30 million each year. They also include an $8 million buyout should Detroit not exercise the option, or if Miguel Cabrera does not place in the top 10 for MVP voting. The options will likely not be picked up, so the team is really only on the hook for 4 more seasons.
It is possible that we see the Tigers attempt to trade Miguel Cabrera. The issue is his lofty salary and given the market of free agency the past two offseason, there aren't many teams looking for a full time designated hitter. The Tigers would likely have to eat a large part of the contract if they wanted to trade him. Even still, if Miggy can get back to a semblance of what he once was, he will be an asset for the Tigers as they go through their rebuild and bring in young players.
Limping to the Finish
Miggy is holding on for dear life and his injuries are beginning to mount and slow him down. They have all but sapped most of his power already. His career is on the backside of it, but there could still be some productive years left as he winds it down.
We have started to see the end of these albatross contracts that pay players for what they have done instead of what they will do. This is another lesson to teams curious about extending a player into the second half of their career. The most feared man by all pitchers has now become a shadow of his younger self.
As Cabrera limps to the finish line, fans and the Tigers can only hope that he leaves on some sort of a high note.
Author Twitter: @HunterSills2
Come discuss this and much more at the Overtime Heroics forums!
Check out our partners at Shoreline Sportsbook for all of your sport betting needs! Use promo code OTHGambling when you sign up and get your deposit matched 100% up to $500!