Throughout this season, I have been ranking the top 10 teams not in the AP Top 25. The best of the rest. The fastest of the slows. Why? Because I am a man of the people. A truly average Joe. I respect ordinary, and I shine the light where only darkness lingers. I provide insight on the unranked teams that may give you a leg up when gambling on Saturday. The public loves to bet Top 25 games, leaving value to be had in the shadows. While everyone ignores the teams on the outside, we dive deeper in. Let's get started:
1. Memphis (6-1)
The AAC is the most interesting conference that nobody cares about. There are 7 really strong teams this season, and the conference is up for grabs. #16 SMU and #18 Cincinnati lead the way currently, but neither has played Memphis. The Tigers have flashed a high powered offense all season, and that was on display against Tulane last weekend. Brady White threw for 358 yards and 5 TDs, as Memphis blew out Tulane by 30 at home. It was a big bounce back from their road loss to Temple a week ago, where the Tigers couldn't overcome a slow start.
The well balanced Tigers offense will be a problem for the AAC going forward, as freshman RB Kenneth Gainwell has rushed for over 100 yards in every game he's played this year. The Tigers are undefeated at home this season, including a victory over Ole Miss. Memphis will host both SMU and Cincinnati before the end of the season, in what surely will be interesting games.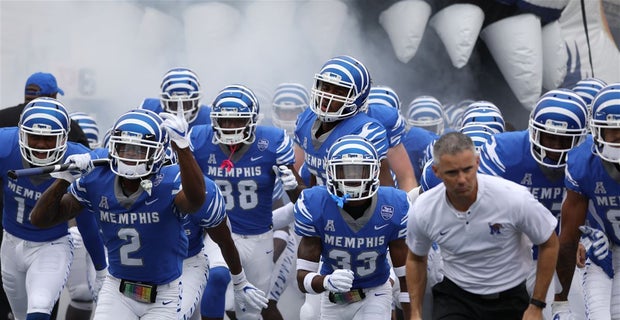 2. Washington (5-3)
It kills me to do this, but I'm putting the Huskies at #2. No team has disappointed as much as Washington has this season, but the talent is too much to overlook. That talent was on display last Saturday against #12 Oregon, but the Huskies choked away a 10 point lead late in the 3rd, falling at home to the Ducks. Jacob Eason fits your stereotypical QB mold, being a 6'6″ giant with an NFL arm. He's disappeared in games where he was needed most against Cal and Stanford, but has stepped up in the last couple games.
There's no shame in losing to Oregon, but the early season losses to Cal and Stanford are just devastating for a team that was in the playoff a few years ago. The defense has been serviceable in those losses, only surrendering 23 and 20, however the offense was just atrocious. But at the end of the day, is Washington a huge favorite over the rest of these teams? Yes. Huskies are 2.
3. Navy (5-1)
The Midshipmen come in as the top rushing team in the country, and the top service academy in my rankings. Navy rocks a shiny 5-1 record, with their sole loss coming on the road to #1 Memphis. Navy had that game early, jumping all over Memphis, taking a 20-7 lead during the 2nd quarter. But Navy's offense sputtered in the 2nd half, as Memphis pulled away and covered. Navy has rolled since then, rallying to beat a really good Air Force team at home, followed by blowing out Tulsa and South Florida. Navy's predictable, one dimension offense creates problems when they fall behind, but that hasn't happened much this season.
Navy has demonstrated more of a willingness to pass this year than in seasons past, as they try to take advantage sleeping defenses. QB Malcolm Perry has already completed 24 passes this season, after only throwing 9 all of last year. The pay out has been a 60% completion percentage, and over double the passing yards. If Navy keeps games close, their unique running game presents problems for teams. But if they play from behind, or take on a team that is coming off a bye with an extra week to prepare, as Memphis did, then trouble can appear. #8 Notre Dame and #16 SMU are still on the horizon for Navy.
4. Air Force (5-2)
Air Force shocked me last weekend, going at Hawaii and dominating the Rainbow Warriors 56-26. The Falcons were just 1-2 on the road this season, but traveled to the Big Island and whooped a Hawaii team that was undefeated at home this year. Perhaps the most impressive thing about the victory was how the defense put the clamps down on the #3 passing offense in the country. Yes, Cole McDonald did throw for 400 yards, but Hawaii was held to a season low points at home by the Falcons.
I knew Air Force entered the game with a great ground attack and an average defense, but I was blown away at their ability to keep Hawaii under 30. As for the offensive explosion, very impressive as well. Air Force only attempted 7 passes, and still hung 56 points. They had 3 guys rush for over 90 yards, 2 TDs of greater than 50 yards on offense, and a 92 yard pick 6 right at the end of the game. Air Force is a wagon at home in the altitude of Colorado Springs, and that's where they will play 2 very interesting games with Utah State and Army in the next couple weeks.
5. Pittsburgh (5-2)
Don't look now, but the defending ACC Coastal champs are heating up. Since losing on the road to Penn State by 7, Pitt has rattled off 4 in a row, including a win over UCF. It feels like Kenny Pickett has been the QB for 6 years, but he's somehow only a junior, and is doing just enough to win games. Pitt's offense isn't flashy, but it gets the job done. They don't really shoot themselves in the foot, with only 9 turnovers through 7 games. Pickett is a big guy who can tuck it and run to move the sticks when he needs to. The stat sheet won't do him justice with the way they count sacks as rushing yards, but against UCF, he kept drives alive, rushing for 61 yards.
Pitt's defense is solid, and they have a soft schedule to finish the season, with only 2 road games. The toughest game on their remaining schedule is Boston College at home, so Pitt has a solid shot to go 10-2 this year. The Panthers aren't flashy and they won't blow you out, but they win games.
6. Virginia (5-2)
Even though Pitt is hot, the team in the driver's seat to win the ACC Coastal is Virginia. The Cavaliers rolled through Pitt and William & Mary to start the year, but then entered a bizarre month of play where they looked terrible. They had to rally in the 4th quarter back to back weeks to defeat Florida State and Old Dominion, and then lost back to back games to Notre Dame and Miami. Losing to the Hurricanes was a real headscratcher, especially considering Miami was changing QBs and had just given up a million points to Virginia Tech the week before.
Bryce Perkins has looked like garbage in his last couple games, but Virginia's dominant defense lead to a blowout win against Duke last Saturday. Virginia has serious problems on offense: Perkins hasn't thrown a TD since September, and has been sacked 15 times in the last 3 games. Virginia has a really good defense, and that might be enough to win the disgusting ACC Coastal, but I have my doubts. UVA goes on the road for their next 2, playing Louisville and UNC. After losing to Miami, I just don't think this team is for real. I don't see UVA winning both.
7. UCF (5-2)
Alright, UCF is not the same team we have seen in recent years. After going undefeated the past 2 regular seasons, UCF has surprisingly dropped 2 games this year. I'm not going to overreact to losing road games against solid teams like #18 Cincinnati and Pitt. Those are not bad losses. Unfortunately, the way UCF has run their mouth the past couple of years, people are thrilled to watch them lose. The offense clearly isn't the same without McKenzie Milton under center, but they are still averaging over 40 points a game. I expected Notre Dame transfer Wimbush to win the QB starting job, but instead the Knights have turned to the freshman Dillon Gabriel since week 1. In their wins, he's been great, but he has thrown all 5 of his picks this season in those 2 losses.
Look, it happens. He's a freshmen QB who had to go at an ACC school and into Cincy on a Friday night. It's a down year for UCF, but they still have a very good team. Gabriel is going to grow a lot after this season, and he has still been racking up some nice stats. He has already thrown for 2,000 yards in his maiden season, to go along with 17 TDs. UCF can still win the AAC, but their schedule going forward is far from soft. A path to defending their conference title goes through Philly on Saturday, as the Knights prepare for war with Temple.
8. Temple (5-2)
Temple had a big opportunity to make a splash last week, and fell flat on their face. The Owls flew down to Texas looking to make a statement against #16 SMU, but got run out of the building, 45-21. SMU's air raid offense shredded Temple, as Shane Buechele threw for a career high 6 TDs. The Mustangs got out of the gates hot, and never looked back. Anthony Russo is a game manager QB for Temple, so being down 17 at half really played against Temple's run the ball strategy.
I'm not surprised the offense struggled, but the defense getting gashed shocked me. Their struggles on the road have been a problem this season. At home, they only given up 15 a game, but on the road they have surrendered 33 a game. The Owls have a nice resume, with wins over Memphis and Maryland. They can add to that this week, with a home game against UCF.
9. Utah State (4-2)
The pollsters have given Utah State no love this season, but I will. The Aggies started off the year narrowly missing out on an upset of Wake Forest. Late game heroics by Jaime Newman gave Wake a game-winning TD with 1min left, leaving the Aggies for dead. Since that loss, Utah State has rolled off 4 wins in their last 5, only falling to LSU. The Aggies have a stud QB in Jordan Love, who has taken a step back this year. After throwing for 3,500 yards and 32 TDs last year, Love has only thrown 6 TDs this year, to go along with 9 picks. USU lost some key pieces on offense, which has contributed to his struggles, but Love is better than this.
The Aggies have a strong defense that held LSU to the same amount of points as Florida did. That will come in handy during conference play in the high scoring Mountain West. Utah State is undefeated in conference play, including a win over 6-1 San Diego State. The heart of the schedule is on the horizon however, with Air Force this Saturday, and #22 Boise State looming in the distance.
10. USC (4-3)
The Trojans have been up and down all year. But when you break it down, they have been quite predictable. The carousel of backup QBs USC has used this season has been abysmal on the road. The Trojans have lost all 3 of their games outside of California, but only by a combined 20 points. Slovis is back at QB, and he has looked great in his last 2 games. Against Notre Dame and Arizona, he threw for 2 TDs and 0 INTs in both games, as well as completing 68% of his passes. #9 Notre Dame is obviously no joke, and the Trojans did a great job of hanging around all game, before falling by 3.
USC murdered Arizona last week to get their mojo back, and will now have to gear up for a tough end of the season. The Trojans will travel to Boulder next week, before back to back games against #11 Oregon and #24 Arizona State. Next week will be a great opportunity to break the road slump, as Colorado has dropped 4 of their last 5 games.
For more football news, follow me on twitter: https://twitter.com/GamblingJoe
For gambling tips, click here: https://www.overtimeheroics.net/index.php/category/gambling/
Be sure to check out Shorelinesportsbook. Use the coupon code "othgambling" and your deposit will be matched 100% up to $500.