The Cardinals are heading into 2020 off of a solid campaign. They are reigning NL Central Champions and are looking like they will be a contender next season as well. Players like Jack Flaherty, Tommy Edman, Paul Goldschmidt, and Kolten Wong are the building blocks for the team next season. Despite the success of 2019 and the exciting core of the Cardinals, there are some questions for next season. One of the biggest questions may just be how the Cardinals use outfielder Dexter Fowler.
How We Got Here
Let us throw it back to 2016. The Cubs have just won the World Series in a thrilling seven game series. The Cubs broke their drought and finally have a World Series title for the first time in 108 years. Guys like Kris Bryant, Anthony Rizzo, Jake Arrieta, and Javier Baez captured their first ring. Also capturing his first ring was impending free agent Dexter Fowler. Fowler just enjoyed his best season in the majors to date, being a key cog on a championship team and being named an All-Star. Fowler was prepared to receive a big payday on the open market. With Jason Heyward locked up and Kyle Schwarber, Albert Almora, and Ian Happ rising in the organization, it was looking like Fowler was set to leave Chicago.

That off-season, Fowler received his pay day. Fowler left the Cubs and signed a 5 year contract valued at $82.5 million dollars with the rival Cardinals. The Cardinals have just lost Matt Holliday and Brandon Moss to free agency to go with Randal Grichuk, Stephen Piscotty, and Tommy Pham all still developing (all who have since been traded). Instantly, Fowler became the veteran presence in the outfield. Fowler would be the player the Cardinals would bank on to make an immediate impact in the lineup.
Fowler So Far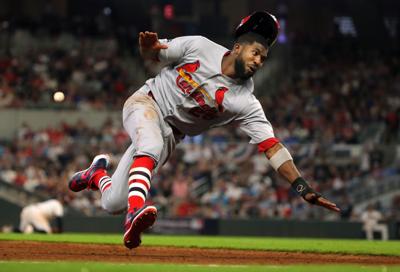 Through three seasons, Fowler has not had the easiest time in St. Louis. Fowler has instances where he looks like an all-star and others where he looks like he needs to be glued to the bench. The numbers are not horrendous, as he has an average of .233, 45 HR, and an OPS of .745. However, when you attach his salary, it is not much of a bargain the Cardinals are receiving here.
Now there is definitely an outlier here. The 2018 season was an unmitigated disaster for Fowler, as he hit a measly .180 with a weak OPS of .576 and a disgusting WAR of -1.4 on Baseball a Reference. Fowler hurt his foot that season and that had a giant impact on his performance. When you take away his 2018 season, Fowler is actually batting .250 with 37 HR and looks way more like the Fowler of old. Fowler still shows his struggles, particularly in the 2019 postseason, but he has shown he is still more than a capable MLB starter.
The Dilemma
So where is the dilemma with Fowler? While Fowler started the majority of the games, his role is up in the air for 2020. Fowler is entering his age 34 season and could be on the declining side of his career.
The first dilemma is the Cardinals roster. Although Marcell Ozuna is now a free agent, the Cardinals have plenty of outfield options. Harrison Bader and Jose Martinez are likely in the mix next season. Youngsters like Tyler O'Neill, Lane Thomas, and Randy Arozerena will look to expand their roles next season as well. You can add top prospect Dylan Carlson to this group too. The key might be Tommy Edman. Edman was a breakout player for the Cardinals when he became the primary third baseman. If the Cardinals want to plug Matt Carpenter back in at third base, Edman immediately becomes an outfield option. Fowler has competition for an outfield spot going forward.
Next is the health of Fowler. 2019 was the first full season Fowler has played in St. Louis due to health. If Fowler wants to ensure his spot in the outfield mix, he has to stay healthy. While it is important for any player to stay healthy, this will be of super importance for Fowler in 2020. It is fair to say health is an indicator of his play, especially in 2018.
Finally, performance is going to be critical. While Fowler rebounded nicely from his 2018, his 2019 postseason was a giant struggle. Fowler hit .061 with a paltry .253 OPS. While this is a small sample size, it is not exactly encouraging heading into 2020. His 2019 September, in particular, was also rough as he hit just .182 with an OPS of just .636. This is a concern for next season that the 2018 woes are not quite gone.
Reasons For Optimism
Still, even with a dilemma, Fowler still can be of big value in 2020. Although he is aging, Fowler has shown he can still be a solid contributor for the Cardinals. While certain stats are a cause for concern, Fowler in 2019 did set a career high in both home runs (19) and RBI (67). Also, this past season, we saw Fowler stay on the field, as he took the field for 150 games, good for second most in his career. Even in a leadoff spot, which is where Fowler usually hits, Fowler still provides timely power.

Also, while a 1.7 WAR is not exactly stellar, this is a significant turnaround for Fowler. This is a 3.1 point swing in comparison to his 2018 WAR (-1.4). This is a sign that Fowler still has some gas left in the tank and shows that there is still room for improvement, even at this juncture in his career. If not for Adam Wainwright's sturdy effort this season, Fowler would easily be the Cardinals Comeback Player of the Year.
Prediction
So what happens to Fowler in 2020? Even with the influx of talent coming in, it is hard to envision Fowler not having a regular role with the Cardinals next season. Fowler enjoyed a fine regular season in 2019 and should get the nod to be in the lineup. Gold Glove finalist Harrison Bader will begin in center field, which means Fowler is likely back in right field.
Now if the Cardinals manage to bring back Marcell Ozuna, this could be a different story. Ozuna is set to be a free agent and with the Cardinals roster, it is hard to see him back. If Ozuna manages to return to St. Louis, this could impact Fowler. Fowler would still be of use, but as more of a utility outfielder and a switch hitting bat as a secret weapon for Mike Shildt.
Another scenario is the Cardinals could trade Fowler. While this scenario is on the table, it is not exactly probable. Fowler will be making $16.5 million dollars this season and a team would have to take that on for a trade. There would not be a clear match for a team unless a bad contract comes back to St. Louis. At that point, a trade would not be worth it for St. Louis.
Hopefully, Fowler can provide more positive production in 2020. When Fowler was right, it was refreshing and a joy to see Fowler enjoy the game. There were moments when Fowler seemingly turned a corner and enjoyed great success. Even if the Cardinals do not receive the All-Star version of Fowler, they can still expect decent production, despite the dilemma.
Author Twitter: @CoffeeKyng
Come discuss this and much more at the Overtime Heroics forums!
Check out our partners at Shoreline Sportsbook for all of your sport betting needs! Use promo code OTHGambling when you sign up and get your deposit matched 100% up to $500.