As we approach the end of the college football and NFL regular season, NFL draft hopefuls have seen their stock rise and plummet. Guys like Joe Burrow have made tremendous leaps. Some prospects have recently sustained injuries, some of them significant, and we don't know quite yet what that means for them, most notably, Tua Tagovailoa.
Many hours have been spent watching and breaking down game film, doing the best to analyze players while also using the expressed opinions of experts and analysts throughout the sport. Many players will continue to rise and fall, and the draft order will undoubtedly change many times between now and the end of the NFL season. Here is my latest NFL mock draft, based on the current draft order if the season were to end now, following week 11.
First Round:
1. CIN: QB Joe Burrow (LSU)
The Bengals need a quarterback, and with the injury to Tua Tagovailoa, Joe Burrow becomes the consensus number one quarterback coming out of college. Burrow has led LSU to big wins over Alabama, Florida, and Texas. The LSU standout has made a big jump in the last year. Few have worked harder, and that has shown on the field. Burrow goes through his progressions, finds the open receiver, and makes an accurate throw making sure not to leave his pass-catchers susceptible to big hits.
2. WAS: EDGE Chase Young (Ohio State)
The Redskins' biggest weakness resides along their offensive line. However, you can't pass up on a generational talent such as Chase Young. The athletic freak out of Ohio State has been a force on the edge of their defensive line, wreaking havoc against each and every team that faces the challenge of slowing down, not stopping, Chase Young. Washington has nice pieces on their defensive line, and with an addition like Young, maybe they consider switching from a 3-4 to a 4-3 defensive scheme.
3. NYG: CB Jeff Okudah (Ohio State)
The Giants have had trouble slowing down opposing quarterbacks and receivers. Janoris Jenkins is getting older, and the young guys haven't been consistent and are lacking big plays. Jeff Okudah is a long prospect at cornerback (6'1), and he has plenty of athleticism and speed. The Buckeye defender is capable of being on an island and completely shutting down any wide receiver he matches up against.
4. MIA: OT Andrew Thomas (Georgia)
The 'Tank for Tua' strategy has finally hit its first significant bump in the road. After suffering a hip fracture and dislocation, many teams are unsure of Tagovailoa's future and his ability to return to the field at a high level. With that being said, they can start building their team the right way. Having a perennial All-Pro or Pro Bowl offensive tackle is a big step in the right direction, and few argue that Andrew Thomas can become that guy. Many tackles take a couple of years to develop, but the Georgia big man has produced since he was a freshman. Thomas will be an excellent player protecting your quarterback, no matter who it is.
5. NYJ: WR Jerry Jeudy (Alabama)
Ideally, the Jets would like to add some pass-rushing help or someone to protect Sam Darnold. With other teams having that same need, the Jets can provide Darnold with the playcalling, dynamic wide receiver, Jerry Jeudy. The Crimson Tide wideout isn't the fastest guy in a straight line, but you wouldn't know it. Jeudy is arguably the best route-runner to come out of college in years and provides a level of explosiveness that is truly unique. He can stop on a dime and make cuts quicker than most NFL wide receivers, and he's comparable to Odell Beckham Jr with what he can do after the catch.
6. TB: QB Justin Herbert (Oregon)
Jameis Winston has shown flashes, but he has struggled to limit his mistakes. The Buccaneers have what some consider to be the best receiver duo in the league, with Mike Evans and Chris Godwin. Bruce Arians would love to have a polished quarterback that can come in and make big plays without turning the ball over. Justin Herbert could have been the first quarterback taken in 2019 but decided to return to Oregon for his senior season. Herbert has been inconsistent at times, but he has good arm strength, great size, and is surprisingly mobile.
7. DEN: WR CeeDee Lamb (Oklahoma)
After the trade that sent Emmanuel Sanders to San Francisco, the Broncos have lacked a playmaker outside, opposite of Courtland Sutton. Oklahoma's electric wideout, CeeDee Lamb, would come in and provide an immediate boost to this offense, no matter who the starting quarterback is. Lamb is a great route-runner, has good hands, and is surprisingly strong, although he may not look that way at first glance. He can go around you, but there's a physical side to Lamb that will make him want to try and run through you.
8. ATL: EDGE A.J. Epenesa (Iowa)
Atlanta has struggled on defense up until week 10. Dan Quinn has given up play-calling duties, and so far, it has paid dividends. The Falcons have struggled in the trenches at times, unable to pressure the quarterback. Iowa Hawkeye defensive end, A.J. Epenesa is still a bit raw, this being his first season as a full-time starter. However, he has shown the ability to pressure opposing quarterbacks at will. He's big and strong with the skill to bull-rush opposing tackles or simply run past them.
9. ARI: S Grant Delpit (LSU)
Arizona's secondary has had trouble with opposing offenses. Grant Delpit has the ability to drop into coverage and play the pass and can also make come off the line on a safety blitz and hit the quarterback before he realizes what happened. Delpit has had some inconsistencies tackling in the open field, primarily against those that are bigger than him, but he plays with a fiery, competitive streak that is hard to find.
10. DET: LB/S Isaiah Simmons (Clemson)
One of the most polarizing players in this draft, Isaiah Simmons, is a freak athlete that started his college career playing safety before moving to linebacker. The Clemson product has the speed and talent to drop back into coverage, rush the quarterback, and record tackle after tackle in the running game. Simmons will likely play linebacker at the next level, but his versatility and potential, he could develop into an All-Pro in the front seven or the secondary.
11. LAC: OT Tristan Wirfs (Iowa)
Philip Rivers hasn't had much time in the pocket to throw the ball, and the running game has struggled at times. The Chargers could really benefit by drafting someone to protect Rivers and to help establish the run. Iowa tackle, Tristan Wirfs has played at both tackle spots, and he is athletic for his size. He has done a good job throughout his college career and would really bolster this Chargers offense.
12. JAX: CB C.J. Henderson (Florida)
After trading Jalen Ramsey to the Rams earlier in the year, the Jaguars will hope to find his replacement. C.J. Henderson is a lot like Ramsey, tall, physical, and can be on an island all day with his receiver and not allow much of anything. Henderson is a trash-talking corner, that will try and shut his opponent down mentally and physically.
13. CLE: OT Alex Leatherwood (Alabama)
Cleveland's offensive line has struggled so far in 2019. Their most significant need is pretty clear right now. Having a franchise left tackle can make a huge difference, and Alabama tackle, Alex Leatherwood can be that guy. The Browns haven't had a solid left tackle since Joe Thomas so they will be looking to find their next guy to protect the quarterback's blindside.
14. OAK (via CHI): DT Derrick Brown
Many people hated what the Raiders did in the 2019 draft. Experts thought they had reached on their picks, but so far, they have been solid. Clelin Ferrell is finally starting to show why he was taken in the top five. Josh Jacobs has been one of the best rookie running backs in recent memory.
Jon Gruden and Mike Mayock went to some big-name schools for their picks last year, and that streak will continue. Auburn defensive tackle, Derrick Brown has been a wrecking ball in the trenches. He's been great in the run game, and he's been able to pressure the quarterback regularly. Brown is better than where's he being drafted, but team needs and scheme fit have caused him to fall to the Raiders at pick 14.
15. PHI: WR Henry Ruggs III (Alabama)
The Eagles have been plagued by injuries and drops at the wide receiver position this year. DeSean Jackson was their big-play guy downfield, but he hasn't been healthy to make a difference. Alshon Jeffery has been hurt on and off, and Nelson Agholor has had some big, game-deciding drops. Henry Ruggs III is a guy that can stretch the field with legit mid-4.2 speed, and he has made some flashy catches, showing that he isn't just a burner. The Alabama wideout can be the missing piece the Eagles so desperately need.
16. MIA (via PIT): EDGE Yetur Gross-Matos
One of the more valued positions in the NFL consists of guys that can rush the quarterback and the players whose jobs are to stop them. They took the latter earlier in the round and now look to create a rush off the edge. Penn State edge rusher, Yetur Gross-Matos, is a guy that can stop the run and the pass. Miami has needs all over the field, and this fills a big hole along that defensive front.
17. TEN: QB Jacob Eason (Washington)
Marcus Mariota hasn't panned out, and even though Ryan Tannehill has filled in admirably, he just isn't a franchise quarterback. Washington quarterback, Jacob Eason, looks to be that guy. He has one of the best arms in the last decade in terms of arm strength and natural talent. Some question his work ethic and leadership skills, but many coaches and front-office executives believe that they can give Eason the tools to succeed and to develop into their leader for years to come.
18. CAR: DT Raekwon Davis (Alabama)
With Gerald McCoy and Vernon Butler set to enter free agency, Dontari Poe is the only starter on the Panthers defensive line that is under contract in 2020. Raekwon Davis has been a force for Alabama's defense this year and can line up anywhere on the line. At 6'7 and just over 300 pounds, Davis can overpower anybody in his way, finding his way into the backfield. Carolina hasn't been able to stop the run. Davis is a guy that comes in and immediately does that.
19. OAK: WR Tee Higgins (Clemson)
Another big name player from a big name school, Gruden and Mayock, will look to add a game-changer in one of their weakest position groups. Tee Higgins has been a big-play threat since stepping on the field at Clemson and would give Derek Carr a valuable weapon in the passing game. Higgins is physical and surprisingly quick to be 6'4.
20. JAX (via LAR): DL Javon Kinlaw (South Carolina)
Jacksonville is a team known for its defense, but it hasn't quite been the same in 2019 as it was in previous years. After finding Jalen Ramsey's replacement, they will be looking for a guy to help out the defensive line. South Carolina defensive lineman, Javon Kinlaw, is explosive and strong, a rare combination for a guy his size. Also, he plays with athleticism that does is not often seen in a 300-pound guy.
21. DAL: CB Paulson Adebo (Stanford)
Dallas has had most of its defensive troubles in the secondary. Paulson Adebo is a wide receiver that switched to cornerback since enrolling at Stanford. The last guy to make the same switch at Stanford? Richard Sherman. Adebo has elite ball skills for a corner with tremendous size. He uses his size to play physical with smaller receivers and his speed to shutdown bigger receivers.
22. IND: DT Marvin Wilson (Florida State
Indianapolis is among the worst in the league in creating pressures from their interior defensive line. Marvin Wilson has made a big leap this year at Florida State. He is among the nation's leaders at defensive tackle in pass rush win-rate, a skill that is a bonus when looking for a run-stuffing tackle. Wilson can do it all and be the type of player that the Colts will be looking for to fill their biggest hole.
23. MIA (via HOU): RB Jonathan Taylor (Wisconsin)
You don't see many running backs get selected in the first round, so when you see one, just know that's a special player. Wisconsin workhorse, Jonathan Taylor, has good size and speed and is a capable three-down back. He understands pass protections and can catch the ball at a nice rate. Most importantly, Taylor has elite vision. He can find the smallest lane in the least expected place and use his acceleration to burst through before using his power and speed to run through and away from second-level defenders. Don't worry, Miami fans, not reaching for your injury-riddled quarterback works out in the long run.
24. MIN: CB Kristian Fulton (LSU)
Heading into the year, Kristian Fulton was a lot higher on my big board. He has struggled occasionally in big games, allowing too many big plays. When you take away those one or two big plays in each game, Fulton is a lockdown guy. He tackles well for a corner and can make big plays at the position. Once a coach gets him and can help him avoid giving up the big play, Fulton can be a lockdown corner each and every week.
25. KC: CB Trevon Diggs (Alabama)
Trevon Diggs just missed joining his brother Stefon in Minnesota by one pick. Diggs is very similar to Fulton, where he can give up some big plays, but the big plays he makes himself can outweigh the mistakes. The Alabama defender is capable of making those interceptions and taking them all the way to the house.
26. BUF: WR Laviska Shenault Jr (Colorado)
Shenault has been plagued by shaky quarterback play and defenses keying in on him every week. He has lined up out wide, in the slot, at running back, tight end, and even as a wildcat quarterback. Buffalo can use a dynamic threat like Laviska Shenault Jr. They have a deep-threat and a reliable slot receiver. Shenault can be a legit number one receiver for Josh Allen that can make plays and take attention away from the other receivers freeing free them up.
27. GB: WR DeVonta Smith (Alabama)
It seems that Alabama has talent from its best athlete to their worst guy that barely plays in practice. Tua's receivers have made his life so easy during his time in Tuscaloosa. DeVonta Smith is a big play waiting to happen. He would likely be the best receiver on almost any other team in the country but is overshadowed by two likely first-rounders. Aaron Rodgers lacks a legit number two receiver opposite of Davante Adams, and Smith can be a guy to capitalize on all the one-on-one matchups he would receive.
28. SEA: EDGE Julian Okwara (Notre Dame)
Seattle is known for making decisions that others wouldn't make that end up working out. Okwara is a playmaker off the edge (watch his game against Virginia) who unfortunately suffered a broken left fibula. Jaylon Smith is a guy you think of when you hear of a first-round prospect out of Notre Dame getting hurt, falling to the second round, and having a successful NFL career. Pete Carroll and John Schneider won't make the same mistake twice.
29. BAL: EDGE Terrell Lewis (Alabama)
One of the more underrated prospects in the draft, Terrell Lewis has one of the quicker first steps off the edge in the 2020 draft class. A lot of players at Alabama get overshadowed by all the talent around them and this seems to at least partially have some effect on Lewis. He's already parallel to an offensive tackle's outside hip when they take their first step back in pass protection. It's hard for much bigger players to react quick enough to slow Lewis down. He has been phenomenal in rushing the quarterback, making tackles in the run game, and even dropping back and coming up with a big interception or fumble. Lewis is a great fit for John Harbaugh's defense and the Baltimore Ravens towards the end of the first round.
30. NO: CB Bryce Hall (Virginia)
With Eli Apple set to become a free agent, there will be a hole at corner opposite Marshon Lattimore. As good as Lattimore is, he can't cover the entire field. Sean Payton doesn't want his quarterback involved in many shootouts and because of that, they will be looking to fill their number two corner positon. Bryce Hall has had an illustrious career at Virginia, being named a preseason All-American heading into 2019. Hall is great in zone coverage and has been really good at knocking away passes at the last second. An ankle injury and a loaded cornerback class is the only thing making Bryce Hall slide this far.
31. NE: C Tyler Biadasz (Wisconsin)
With center, David Andrews on injured reserve for the year with blood clots in his lungs, the New England Patriots have had trouble running the ball. With numerous other injuries to the team, most notably Isaiah Wynn and James Develin, it has made an easy life just a tad bit harder on Bill Belichick, Tom Brady, and company. The Patriots need a tight end as well. But with a mauler like Tyler Biadasz available, who can play center or step inside to guard, it's hard to reach for a tight end here.
32. SF: S Xavier McKinney (Alabama)
San Francisco has a loaded defense, making them one of the best teams in the league. One of the few weaknesses on the team has been in the secondary. Xavier McKinney is projected at safety, but some believe he could step outside and play some corner. Many good safeties have come out of Alabama and McKinney looks to add another name to that list.
Second Round:
33. CIN: OT Trey Adams (Washington)
34. IND (via WAS): LB Kenneth Murray (Oklahoma)
35. MIA: QB Tua Tagovailoa (Alabama)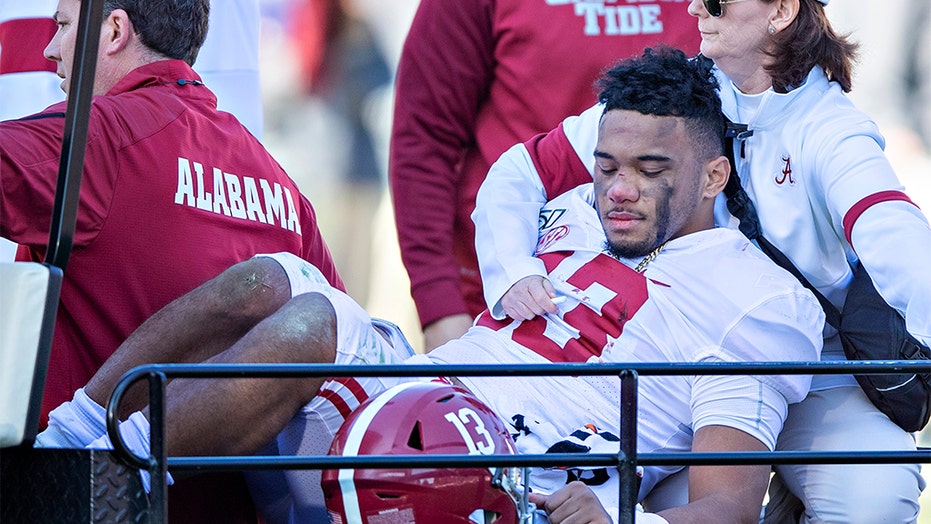 36. NYG: OT Lucas Niang (TCU)
37. TB: RB D'Andre Swift (Georgia)
38. DEN: OT Prince Tega Wanogho (Auburn)
39. ATL: CB Jeff Gladney (TCU)
40. NYJ: OT Walker Little (Stanford)
41. ARI: EDGE Curtis Weaver (Boise State)
42. DET: CB A.J. Terrell (Clemson)
43. LAC: C Creed Humphrey (Oklahoma)
44. CLE: S Ashtyn Davis (California)
45. CHI: TE Brycen Hopkins (Purdue)
46. JAX: TE Jared Pinkney (Vanderbilt)
47. PIT: WR Tyler Johnson (Minnesota)
48. TEN: LB Dylan Moses (Alabama)
49. CAR: EDGE K'Lavon Chaisson (LSU)
50. PHI: CB Jaylon Johnson (Utah)
51. LAR: OG Shane Lemieux (Oregon)
52. CHI (via OAK): QB Jordan Love (Utah State)
53. IND: EDGE Anfernee Jennings (Alabama)
54. HOU: RB J.K. Dobbins (Ohio State)
55. DAL: TE Albert Okwuegbunam (Missouri)
56. MIN: OT Alaric Jackson (Iowa)
57. KC: RB Travis Etienne (Clemson)
58. BUF: EDGE Kenny Willekes (Michigan State)
59. SEA: OT Calvin Throckmorton (Oregon)
60. GB: LB Zach Baun (Wisconsin)
61. MIA (via NO): WR Donovan Peoples-Jones (Michigan)
62. BAL: LB Michael Divinity Jr (LSU)
63. ATL (via NE): RB Najee Harris (Alabama)
64. SEA (via SF): S Kyle Dugger (Lenoir-Rhyne)
Follow @Alex2TheSimpson and @OTHeroics for more great content! Also, be sure to check out the Overtime Heroics Forums page to join in on the discussion! Head over to our shop if you to purchase some Overtime Heroics gear!