Two of the top teams in the NFC, the San Francisco 49ers and Green Bay Packers, will meet on Sunday Night Football for a primetime week 12 matchup. Both sides boast impressive resumes coming in, with San Francisco at 9-1 and Green Bay at 8-2. The 49ers, coming off a hard-fought win last week over Arizona, will have their hands full this week with Aaron Rodgers and company.
Looking at the Past
The 49ers and Packers have met a total of 67 times throughout history, including postseason match-ups. Green Bay leads the all-time series 36-30-1. The most recent game between these two came just last year in a week six thriller at Lambeau Field. Green Bay won via a walk-off field goal from Mason Crosby, 33-30. However, C.J. Beathard was under center that game, not Jimmy Garoppolo.
San Francisco still put up 30 points, though, so the offense was not the issue. The problems with the 49ers last year resided mostly with the defense, one that ranked 28th in the NFL according to Pro Football Reference. That defense is much improved this year, ranking second in the league.
With Garoppolo under center and a revamped defense ready for another shot at Rodgers, let's look at some keys for the game if San Francisco seems to keep just one loss on their record.
Keys to the Game
Keep the Defense Off the Field
Usually, teams that keep their defense off the field and rested will control the game. Simple. However, it's easier said than done going against Rodgers. The Packers defense ranks tenth overall, according to lineups.com. However, there are plenty of flaws to be found there.
Green Bay is 25th in the league in plays run on offense, not ideal with a generational talent at quarterback. They also rank just 19th in third-down opportunities and dead last on fourth down. The San Francisco defense is at its best in third and long situations when they pin their ears back. Shutting down the running game and forcing third and long situations are critical. The task is taller this week without defensive end Dee Ford, who is nursing a hamstring injury. Ford is third on the team in sacks with 6.5 of them.
The 49ers still have plenty of depth on the defensive front, led by Nick Bosa and DeForest Buckner. Look for those two, plus linebacker Fred Warner, to have a significant impact in this one.
Limit the Run Game
The Packers have a nice one-two punch at running back with Aaron Jones and Jamaal Williams. Green Bay is yet to lose this year when they go for over 100 yards on the ground.
In the four games, they have not eclipsed 100 rushing yards. Their record falls to just 2-2. San Francisco has held opponents under that mark twice this year, against the Steelers and the Bengals. Making the Packers one dimensional is crucial for the 49ers defense, especially with star wide receiver Davante Adams limited in practice this week with Green Bay.
Keep Rodgers Out of the Red Zone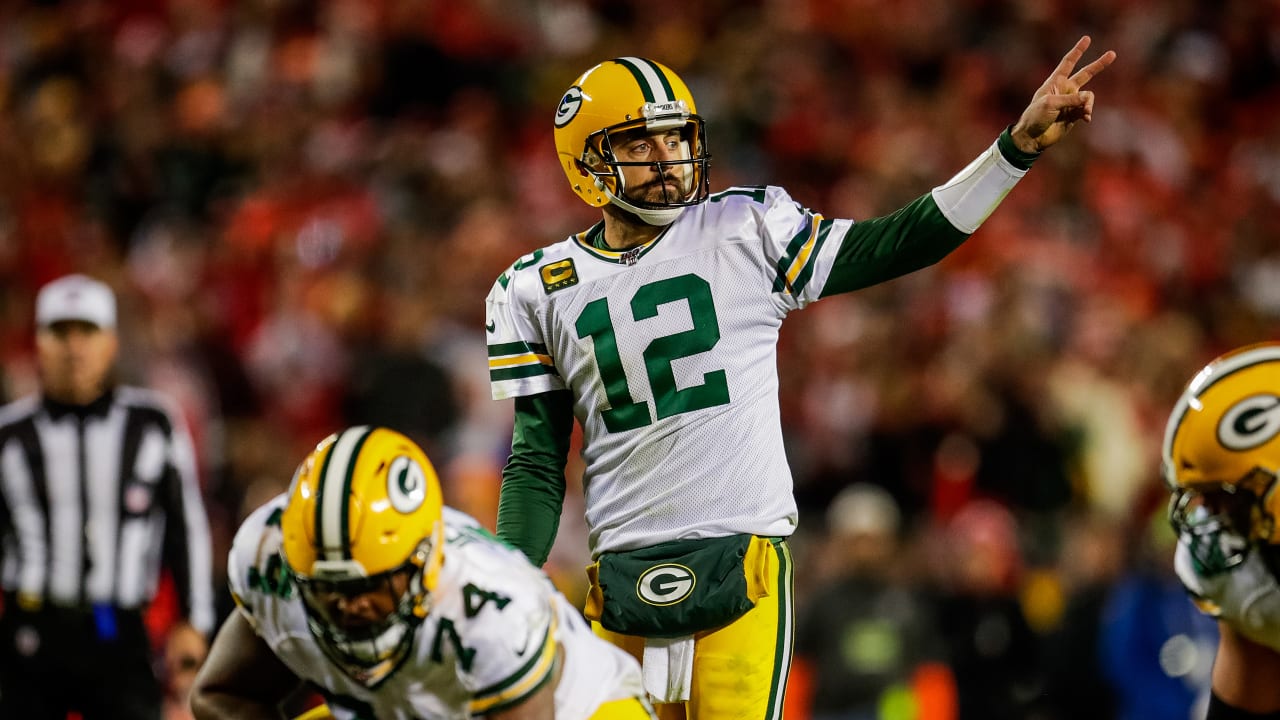 Despite offensive woes at times this year, Green Bay has been near perfect in the red zone. They are fifth in red-zone attempts and second in red zone touchdown percentage, scoring touchdowns at 68.57% inside the opponent's 20.
The 49ers won a turnover-heavy game earlier this year against the Steelers. They did this by keeping Mason Rudolph out of the end zone and forcing Chris Boswell onto the field. If you see a lot of Mason Crosby this Sunday, that's a win for the 49ers defense.
Force Turnovers
Rodgers has avoided the interceptions well this year, throwing just two compared to 17 touchdowns. San Francisco's defense is third in takeaways per game, boasting a 2.2 average.
As stated, Green Bay takes care of the ball well, just second in the league with just over half a turnover per game on average. This game will be a close one that may come down to the final possession, so getting Rodgers to throw a pick or forcing a fumble may very well be the difference in the game.
Air Raid
Matt Breida hasn't been ruled out for the game yet, however, his status as of now is doubtful. He hadn't quite filled expectations following a week five breakout against Cleveland. However, he was an integral part of the 49ers' ground game. He had a decent performance in last year's game, tallying 61 rushing yards and a touchdown.
Without Breida and a rushing attack that hasn't hit 100 yards in two straight games, the offense will go as Garoppolo goes. Jimmy had arguably his best game of the year last week, throwing for a season-high 402 yards plus four touchdowns despite two interceptions. Criticism was thrown at Garoppolo following his only loss this year to the Seattle Seahawks. It was his first real "big game" this year, and Garoppolo will be looking for redemption against another top NFC team. Deebo Samuel, Emmanuel Sanders, and George Kittle have all been limited in practice this week, however, so Jimmy may have his work cut out for him.
Prediction
San Francisco has been in a couple of shootouts this year, and I expect this to be another one. As I mentioned earlier, this game could come down to the last possession or a late-game turnover. I think the 49ers get that turnover, whether that comes from the pressure of Nick Bosa or another great play on the ball from either Richard Sherman or K'Waun Williams.
My final score prediction for the game is 34-27 San Francisco. Green Bay's defense, ranked 28th in the league, has been gashed time and time again this year. They've done enough offensively to make up for it, but I expect Garoppolo and friends to get the better of the Packers and win at home.
Follow @Noush9602 and @OTHeroics for more great content! Also, be sure to check out the Overtime Heroics Forums page to join in on the discussion! Head over to our shop if you are interested in purchasing some Overtime Heroics gear!