The Browns take on the Bengals off a bad loss to the Steelers put a crimp in their playoff hopes. This is a game they should absolutely win unless they don't care anymore, and with this team, that could be an issue. Freddie and Baker need to keep them motivated to win. If they can win out, maybe something crazy happens. Here are the keys to beating the Bengals this Sunday.
Stay Focused
The Browns have shown throughout the year that they struggle with staying dialed in. Baker mentioned in an interview earlier in the season how they expected it to be easy. We have seen uniform issues, among other stupid things that should be non-issues for teams. They started the year with turnover and penalty issues along with poor discipline at nearly every level. Over the last five games, we have seen most of the on-field issues become less prevalent. Well, this is where we could see those creep up again.
If the players feel the playoffs are out of reach, which they very likely are, will they continue to play hard, disciplined football? Nobody knows that answer. All we can do is go off what we've seen this year, and that points to a chance of going off the rails. Freddie and Baker need to get this locker room to dial in and focus on winning ONLY. They face a 1-11 team this week, and proof that they can get you if you don't concentrate can be found watching the Bengals game last week against the Jets.
Open Fast and Keep Scoring
The Bengals defense is one of the worst in the NFL. This Browns offense must take advantage of that and get up big early, then grind out the game. There is no need to get fancy here. Just line up and get after them. Be aggressive, get the lead, then turn it over to Chubb and Hunt against the worst run defense in the NFL. It sounds like the simplest thing in the world to do, yet after building leads in the last two games, Freddie still had bouts of throwitis. I understand the weapons on the outside, but leads need to protected with smart football, not three incompletions and punt. This is how you use the weapons you have the right way. If you let a team like this stay close then, you are in trouble. The Browns must come out and dominate this game from the start.
Get After Andy Dalton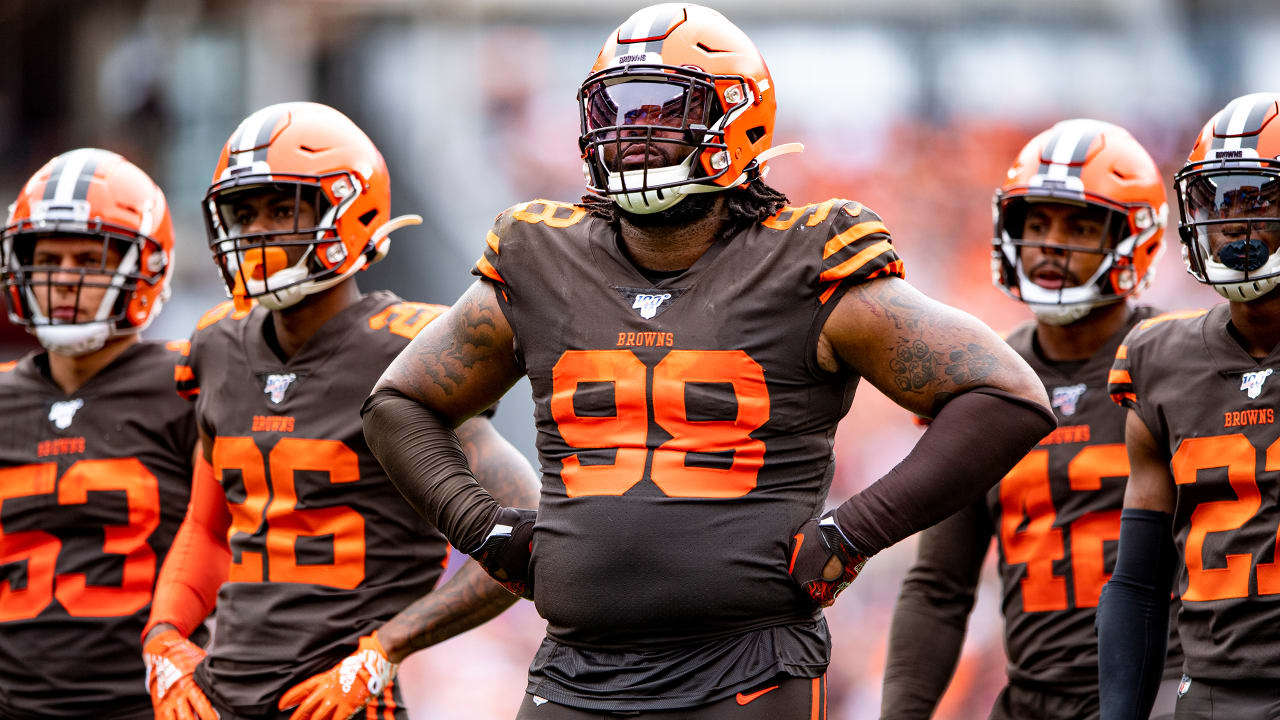 The Bengals may have one of the worst offensive lines the NFL has seen. Yes, it is that bad. If you are coach Wilks that should be the green light to blitz the hell out of that group. If they are having trouble already don't make it easier on them. Make them have to try and block 5-6 guys regularly. Do not let Dalton get comfortable and do not let one of the worst run offenses in the NFL move the ball on you. Attack at every level and force them to make plays by stopping you not the other way around. This is a perfect time to rebound from the awful performance last week.
Prediction
The Browns will have Baker because his "mama didn't raise no wuss" this week and will win this one going away. We will see Freddie finally use his run game to completely dominate this week in 38-10 win over the hapless Bengals.
---
Follow me on Twitter for more great content @WeirdJBronavich
Discuss this and everything to do with sports at the Overtime Heroics forums!
New designs are dropping in our merch store! Be sure to check out the latest threads!