We now know who will be battling it out on December 28th for a spot in the College Football Playoff National Championship. However, we still have one regular-season game left. Two service academies will battle it out in Philadelphia. Army and Navy will meet for the 120th time on Saturday at Lincoln Financial Field. The Army-Navy Game has been a stand-alone game since 2009. In recent years, Navy has dominated its rivals from West Point. On the other hand, Army has broken through to win the last three meetings in the rivalry. This game is always competitive and entertains the viewing audience every year. Let us preview the 120th Army-Navy Game and see which team wins the right to sing second.
Army Black Knights
Army has suffered a few setbacks this year. The Black Knights entered the season ranked in the top 25 and has aspirations of another 10 win season. The expectations have fallen short with just five victories on the year. Army has defeated Rice, UTSA, Morgan State, UMass, and VMI. The Black Knights defense received some disappointing news in the off-season. Defensive Coordinator Jay Bateman left Army to go join Mack Brown's staff at North Carolina. As a result, the 2019 Army defense has given up an average of 21 points per game. That is four points worse than where the Black Knights finished in 2018.
The offense is still led by quarterback Kelvin Hopkins and running backs Kell Walker and Connor Slomka. This trio has accounted for 18 rushing touchdowns this season. Four of the Army losses were by one possession. The Black Knights hope a close game on Saturday can break their way. While a bowl game is not at stake, an Army win returns the Commander-in-Chief's trophy back to West Point.
Navy Midshipmen
On the contrary to what we have seen in West Point, two hours south, the 2019 Navy team has improved from last year. The Midshipmen had a discouraging 2018 season finishing 3-10. Coach Ken Niumatalolo returned to his success and has led his Navy team to nine wins this year. The Midshipmen have wins over Holy Cross, East Carolina, Air Force, Tulsa, USF, Tulane, UConn, SMU, and Houston. The Midshipmen have been better offensively in 2019 than they were last year. Quarterback Malcolm Perry facilitates the offense and has done so effectively. Perry has rushed for 19 touchdowns this season.
The offense is more than just Perry. Running backs Jamale Carothers, Nelson Smith, and CJ Williams have made that backfield one of the best in college football. Furthermore, these running backs have added 23 rushing touchdowns in 2019. A bowl game awaits Navy, in Memphis, at the Liberty Bowl. Kansas State will be the opponent on December 31st. Before the Midshipmen get there, they want to re-establish their dominance over Army. A double-digit win season begins with a victory on Saturday in Philadelphia.
Series History
2019 marks the 120th time Army and Navy will meet on the gridiron. Through the first 119 meetings, Navy holds a record of 60-52-7. The 14 games Navy won from 2002-2015 is the longest win streak in the rivalry. Army's longest win streak has been five games on two separate occasions. From 1922-1933 Army held a record of 8-0-2 in those 10 games. Army was victorious last year, winning 17-10. The Black Knights got two rushing touchdowns from Kelvin Hopkins. The lone Navy touchdown game from then-senior quarterback Garret Lewis. The Midshipmen attempted an onside kick, down seven, with 29 seconds left. Army recovered and was able to kneel on the ball for the victory.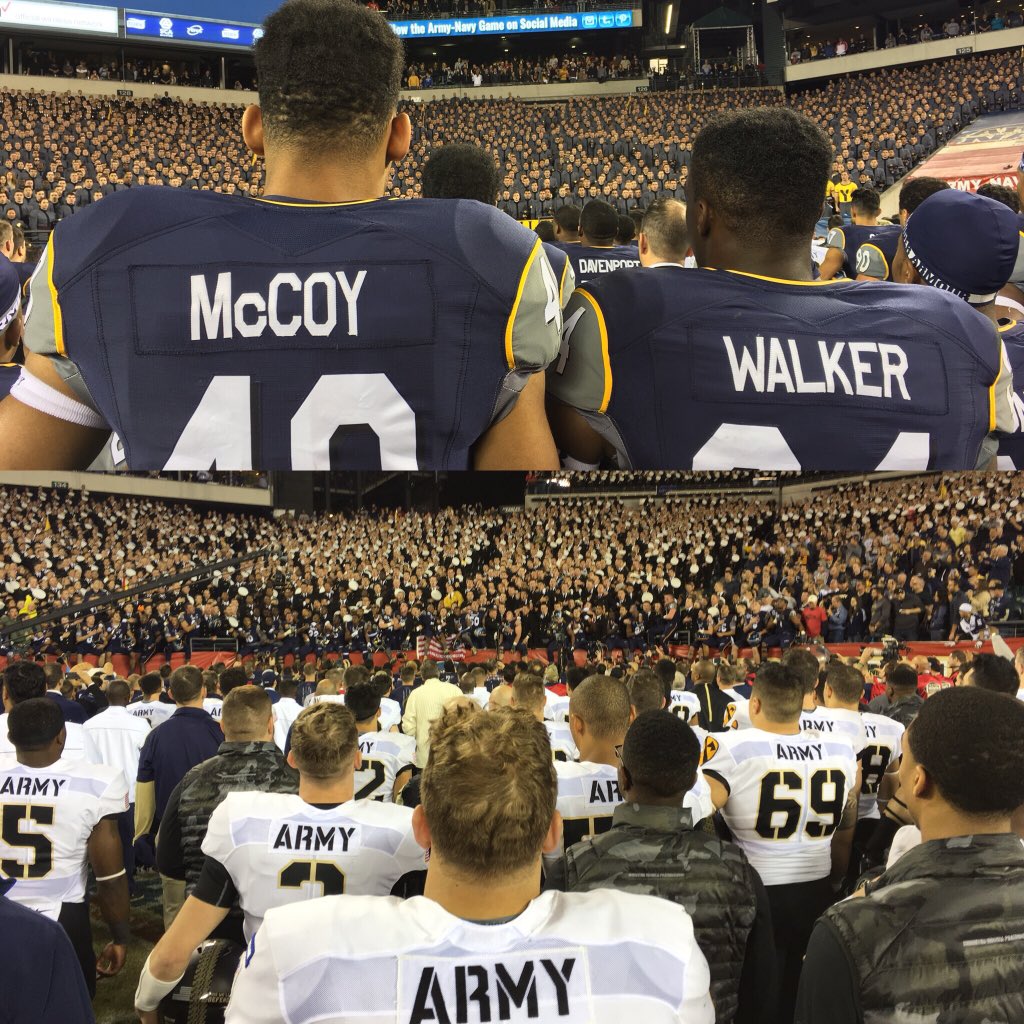 Keys to Victory
Throughout this rivalry, the team who turns the ball over the least usually wins the game. The turnover department will be a major key to watch on Saturday. It will also be interesting to watch how Army game plans to shut down Malcolm Perry. The last time Perry played quarterback against Army; he had a field day. In a losing effort, Perry rushed for 250 yards and one touchdown. How will Head Coach Jeff Monken and the Army defense limit the big gains this year?
The Army offense will be an equal test for the Navy defense. While Army does not have a breakout player, the multiple weapons could give the Midshipmen fits defensively. In addition, this is always a toss-up and the offenses usually enter this game evenly matched. It is just going to be a test to see what offense will be successful and what defense will force more turnovers.
This will be the third meeting in a row where the Commander-in-Chief's trophy is on the line. A Navy win and they will take it to Annapolis for the first time since 2015. An Army win and it will be a split trophy, which means Army will be able to retain possession of the trophy. The last split trophy came back in 1993. We have been entertained with this rivalry for the past decade. On Saturday they write another chapter in this historic rivalry. Tune in to CBS at 2:00 central on Saturday for the 120th Army-Navy Game.
Be sure to follow me on Twitter for more stories. Be sure to check us out online at Overtime Heroics for more college football news. Lastly, check out our Merchandise to get that special someone something for the holiday season.