This truly is a David versus Goliath match-up to open up our bracket. In one corner we have widely considered Top 3 player of all time Lebron James. The King, The Chosen One, The Akron Hammer, whatever you want to call him he is a special talent. In the other corner we have one of the leagues most dominant centers of the decade Andre Drummond. Some refer to him as the Big Penguin, which we think is a fantastic nickname to have. But who should get your vote in the Overtime Heroics Player of the Decade Bracket Challenge? Let us look at the pros and cons of both.
Pros of Lebron James
Multiple Title Winner: Lebron James was a three time champion in the 2010's. Only a handful of players did this, and even fewer did it as the best player. Lebron beat Westbrook, Durant, Harden, Kawhi, Duncan, Curry, Draymond and Klay Thompson in the finals this decade. Huge props to the King for that.
Multiple Time MVP & Finals MVP: Lebron James dominated the MVP accolades this past decade. He won the regular season MVP in 2010, 2012 and 2013. Throw in the finals MVP in 2012, 2013 & 2016 and Lebron's trophy case is getting full. No one had more than two in the decade for either.
All-NBA Selection All-Decade: There was not a single year this decade that Lebron James was not on an All-NBA team. Not only that, there was only one time that he was not on the first team. That was this past season when he missed double-digit games due to injury. He still made the All-NBA 3rd team despite that. Pure dominance in the league by Lebron.
Cons of Lebron James
Went 3-5 In The NBA Finals: Lebron going to 8 straight finals in the decade is incredibly impressive and nearly unprecedented. The end result for the majority of them however was a loss. He lost to Dallas, San Antonio and Golden State three times.
Meltdown in 2011 NBA Finals: One of the biggest knocks on Lebron James entire career is his 2011 NBA Finals performance. In a must win Game 5, Lebron shrunk in the moment only scoring 8 points on 3/11 shooting. Finals appearances are great, no-showing hurts your legacy big time.
Poor Defense 2nd Half of Decade: Lebron was great on both ends of the floor until old age (for an NBA player) set in. Lebron averages over a steal per game in his career, but he has lacked effort the last number of years. Players who play both ends of the floor are valued more and Lebron has not been that lately.
Pros of Andre Drummond
Rebounding Monster: If there is a rebound to be had I am putting my money on Andre Drummond to get it. Outside of his rookie season Andre has never averaged less than 13 rebounds. Drummond also led the league in rebounding in 3 of the last four years of the decade.
Multiple Time All-Star: It took a few seasons, but Andre Drummond found his way onto the East all-star team two times. Only one other Pistons play was an all-star the entire decade and that was Blake Griffin last year. Drummond kept the Pistons relevant most of the decade and being an all-star is a huge accomplishment.
Great Field Goal Percentage: Andre Drummond is if nothing an efficient post scorer. He cannot shoot the 3 ball, which in today's NBA is rare. But do you really need to when you score over half your two point field goals. 54% field goal percentage for his career, Andre should be commended for
Cons of Andre Drummond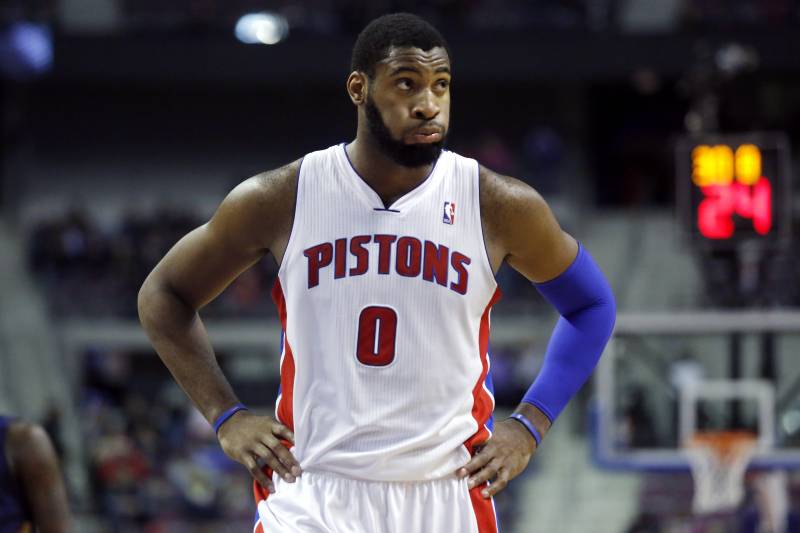 Lack of Playoff Success: It is pretty alarming that Andre Drummond has never won a playoff game in his career. He made the playoffs twice and was swept both times, once to Lebron and the Cavaliers. To not win a playoff series is one thing, but to not even win a game is a huge knock.
Low Scoring Numbers: Andre may dominate the boards, but his scoring numbers lack. He is a career 14 point scorer and his best season he averaged just 17 points. For someone who cleans up on the glass you would think he would have developed a more consistent post game.
Terrible Free Throw Percentage: When you shoot 44% from the field, it would be considered average. When you shoot 44% from the free throw line, that is a much different story. Each the great Shaquille O'Neal shot 52% for his career. He shot a career high 60% last year, but for the decade he has been horrendous.
Prediction
This is one of our less balanced player match-ups we have. Lebron is a Top 5 all-time player and Drummond has barely been Top 5 at the center spot this decade. We anticipate a blow-out in this poll, as it should be. Huge credit to Andre for making the list, but the King should hold on for a big victory. Only people trolling will vote against Lebron.
Have some thoughts on this article? Comment below! To see content like this and much more, check out the rest of Overtime Heroics as well as the Overtime Heroics Forums! Keep an eye out for more polls and discussions around our Player of the Decade to come. Also be sure to follow our Twitter and Instagram accounts @SSBasketballPod and listen to our podcast here.