The Buccaneers were able to preserve an early lead dispatching the Lions and climbing to .500 with two games in the season. Quarterback Jameis Winston and linebacker Shaq Barrett, each set team records in their campaign to stay in The Bay and the defense, came up big.
Winston Wants to Stay
It seems an early pick is just what Jameis does at this point. He overcame a turnover on the opening drive and a nagging thumb injury to throw for 458 yards and four touchdowns in Tampa's win over Detroit. In doing so, Winston became the first quarterback to throw for over 450 yards in consecutive games and has the most in the NFL this season. His four passing touchdowns vaulted him into second place behind only MVP front-runner Lamar Jackson. And in case you missed it, this was without Mike Evans who was out for the game and likely the season.
Winston wants to stay in Tampa, but will the Bucs want him to stay? Everyone knows Jameis Winston is capable of greatness, and he proved it again on Sunday. But is the reward high enough to merit the risk that Winston poses as well? Despite having the second-most touchdown passes in the league, he still has a mere 1.25 touchdown-to-interception ratio.
If the Glazers see Bruce Arians leading the Buccaneers to extended success, does the team think that Winston will be able to play at a high level for the three or four games necessary for them to win a Super Bowl? It seems likely at this point that Winston will get an extension, but it remains doubtful that he will be able to dispel his turnover-prone ways long enough to lead Tampa to sustainable success.
Shaq Attack
Speaking of both records and extensions, linebacker Shaquil Barrett hit 16.5 sacks yesterday, tying Hall of Fame defensive tackle for the most by a Buccaneer in a single season. Despite Barrett becoming a free agent this offseason, Arians is confident Shaq will be back in 2020, which seems to sit just fine with Barrett as well.
Defense Turning a Corner
The Buccaneers defense came up big early in the game, keeping the Lions scoreless after Winston's early interception. Later, Bucs' corner and Detroit native Sean Murphy-Bunting housed a 70-yard interception in front of a slew of family members who came to show support for the rookie out of Central Michigan. Murphy-Bunting's pick-six was the fifth defensive touchdown for the Buccaneers this year, putting them in a four-way tie with the Patriots, Ravens, and Jets for most in the NFL.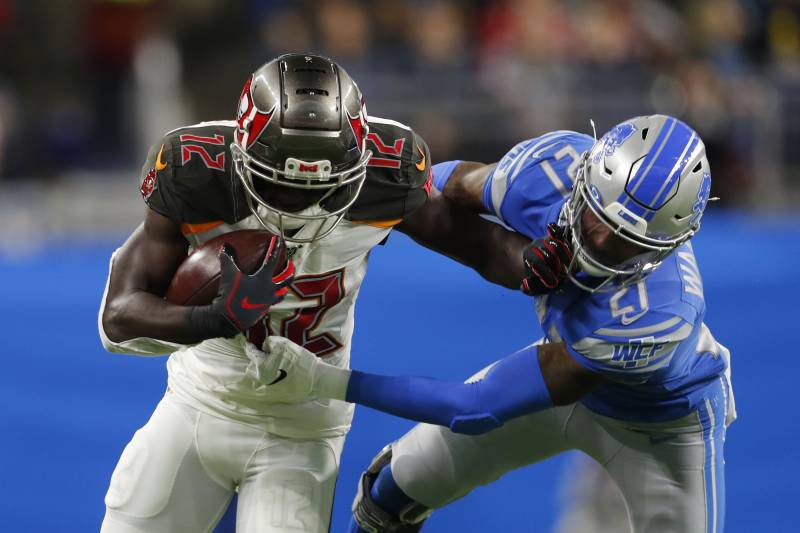 Breshad Perriman's Big Day Out
Mike Evans was out. Chris Godwin and Scotty Miller both went down with hamstring injuries. Short on supply, the Buccaneers turned to receiver Breshad Perriman who, on just five receptions, put together a three-touchdown 113-yard day. Considering his yards per catch was around two halfway through the season, this is a marked improvement for the former first-round pick.
Ultimately the Buccaneers looked phenomenal, but against a shoddy Lions defense. There's room for optimism, but keep expectations tempered through the final two games of the season.
---
Follow me on Twitter at @ThreeHunta for more Buccaneers and other sports content, and follow Overtime Heroics at @OTHeroics1 and Instagram @othsports.
Check out the Overtime Heroics Forums page to join in on the discussion!
Finally, head over to our shop if you are interested in purchasing some Overtime Heroics gear!