Giannis Antetokounmpo vs Damian Lillard is an interesting matchup. You have Lillard who has made an impact since day one in the NBA. Antetokounmpo came in the league a year after Lillard but just recently became the dominant force we know today.
Does the recent dominance of Antetokounmpo outweigh the consistent excellence of Lillard? We break down the case for and against both superstars in are Player of the Decade debate!
Pros for Damian Lillard
Big game hunting
The NBA is all about narratives from choking when the lights are brightest or coming up big in the clutch. Lillard has a reputation for coming up big when his team needs him most.
Multiple times in the regular season and playoffs Lillard has made game-winning shots to propel his team to a victory and in the NBA this elevates you to superstar status.
Consistent Excellence
From day one Lillard has made an impact. His rookie year he scored 19 points a game and average 6.5 assist which is great for any player let alone a rookie. Those numbers netted him rookie of the year in 2013 and Lillard hasn't slowed down since.
Lillard has gone on to make four All-Star teams, four All NBA teams and consistently one of the few players in the MVP conversation every year.
Cons of Damian Lillard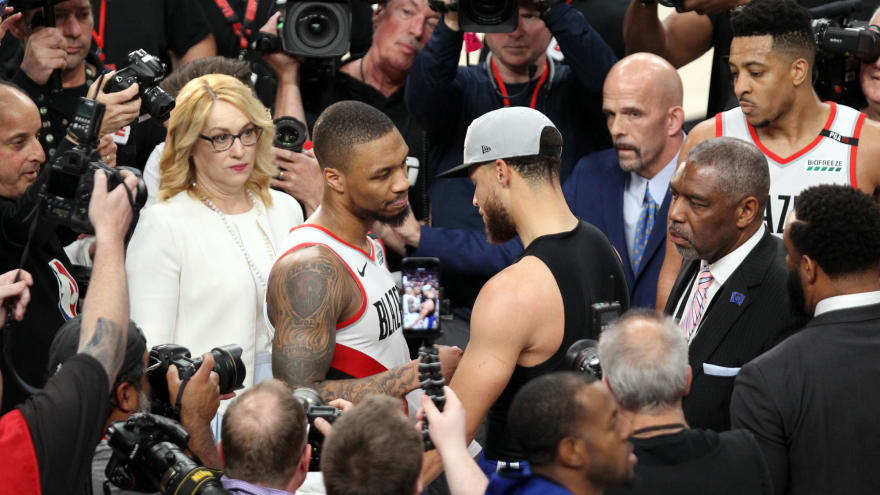 Advancing in the Playoffs
Even with the late-game heroics in the playoffs from Lillard, there have been plenty of setbacks. Before last year's epic game-winner vs the Thunder, the Trailblazers were swept in back to back years in the first round of the playoffs.
It had gotten to the point where Blazer's management was considering major changes to the roster. Even with last year's big win over the Thunder and the Nuggets, they were steamrolled by the Warriors 4-0.
Individual achievements
With all of Lillard's accomplishments, he hasn't really broken through in the conversation as a top-five player. In his career, Lillard has made one first-team All NBA team and has never really come close to winning an MVP. Lillard overall numbers are great but to be considered as in the conversation for best of the decade you have to put up Hall of Fame numbers not just great.
Pros of Giannis Antetokounmpo
Hall of Fame type season
Coming into the league not much was made of Antetokounmpo. He wasn't highly sought after and when the Bucks selected him with the 15th overall pick most experts didnt blink an eye. A lot has changed since 2013.
Last year Antetokounmpo put up one of the best seasons in Bucks history. Antetokounmpo averaged 27.7 points 12.5 rebounds and 5.9 assists while leading the Bucks to there first conference championship in almost 20 years. When Antetokounmpo brought home the MVP trophy he was the first Buck to do this since 1973-1974 when Kareem Abdul-Jabbar won the award.
Even more dominant this year
We are a quarter of the way through the season and Antetokounmpo is even more dominant than last year. In most expert opinions he is leading the MVP race so far this year averaging 31.7 points 12.8 rebounds while leading the Bucks to the best record in the East. Antetokounmpo is aiming to join a select few players who have won back to back MVPs and an even shorter list of players to average 30 points and 10 rebounds or more.
Pros against Antetokounmpo
Slow start to the career
Unlike Lillard, Antetokounmpo's career started off slow. In his rookie year, Antetokounmpo only averaged 6.8 points and 4.4 rebounds playing 24.6 minutes a game. His second year was better but it wasn't setting the NBA on fire.
It wasn't until his fourth year when he started to catch everyone's attention. That is a large chunk of the decade where Antetokounmpo was barely a blip on the radar. To be considered one of the best you need a sustained period of excellence, not just a few superb years.
Shooting woes
The one kryptonite for Antetokounmpo has been him outside shooting. Teams have made it a point to back off Antetokounmpo and make him beat them over the top. The Raptors in last year's playoffs stifled Antetokounmpo by conceding the three and when he did drive closing off the paint.
The highest 3-point percentage for Antetokounmpo in his career has been his rookie year at .347 percent and that was only on 1.5 attempts per game. It has gotten better but still is well below average.
Predictions
This matchup might be closer than most people think. Yes, Antetokounmpo has more dominate years but Lillard has been impactful from day one. I believe Antetokounmpo will win the vote but it will be one of the closer matchups in our Player of the Decade debate.
Overtime Heroics – Made By The Fans, For The Fans
Come discuss this and everything to do with sports at the Overtime Heroics forums!
New designs in our merch store! Be sure to check out the latest threads!