The Eagles have a tough decision to make. They need both a DB and a WR, but who makes more sense for their team with the currently projected 16th overall pick? Henry Ruggs III or Isaiah Simmons?
Henry Ruggs III is a speedy WR from the University of Alabama. He caught 38 passes from Tua Tagovailoa and Mack Jones this year, for a total of 719 yards and seven touchdowns. He's an explosive deep threat receiver who is perfect for any style of offense. Ruggs reportedly ran a 4.25 at pro day last year, just .3 of a second off from John Ross' record. That kind of athleticism has to be hard for any team to pass up.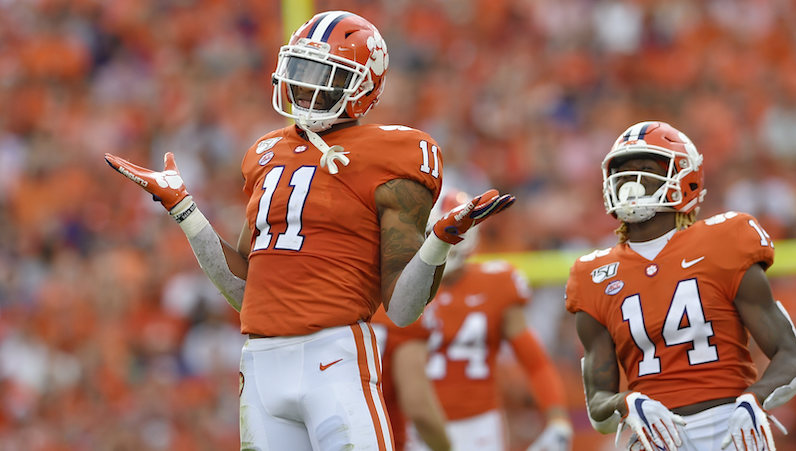 Isaiah Simmons is a versatile LB hybrid out of Clemson. You might call him the "Taysom Hill of defense." He can line up at Strong Safety, in the Nickel Corner spot, outside Linebacker, Inside Linebacker, or as a pass rusher. He finished the year with 93 total tackles, six sacks, one forced fumble, one fumble recovery, and two interceptions. Simmons has had an outstanding year, and he can only build on that in the NFL. He could be a future DPOY candidate. He's also a winner at Clemson and has beat Ruggs before.
Offseason Scenarios
The Eagles may have to trade up if they want Simmons and likely would have to pay a hefty amount to do so. Ruggs would most certainly be there at 16. Kendall Fuller, a Kansas City Chiefs DB, may also be in free agency, so the Eagles could overpay and get an elite DB instead of worrying about who to draft.
Another factor would be which one gets in the gym first. Which one of Ruggs or Simmons is a first-guy-in and last-guy-out type player? Nobody will know except the NFL teams. Also, will one of them be a sore-loser? Both are known as winners in college. The Antonio Brown-type attitude would create more problems for the Eagles., which they don't need right now.
All in all, the pick is most likely going to come down to who sells more tickets. Henry Ruggs III will get everyone excited with his next-level speed. Simmons will excite fans with his Taysom Hill-like versatility. Ruggs III will probably sell more tickets because he is on offense. It is hard as a defensive player to be that star filling seats, but Isaiah Simmons is one of the few that bring that kind of excitement in this draft.
---
Follow me on Twitter for more great content @Jeb_Mordock
Discuss this and everything to do with sports at the Overtime Heroics forums!
New designs are dropping in our merch store! Be sure to check out the latest threads!