Just one more for the year, ladies and gentlemen. In the afterglow of the fantastic UFC 245 card, we finish up the year with this card in Busan, South Korea. Which if nothing else, should provide some fun.
We will end the year with a last-minute, yet really fun main event between last-minute replacement Frankie Edgar taking on Chan Sung Jung.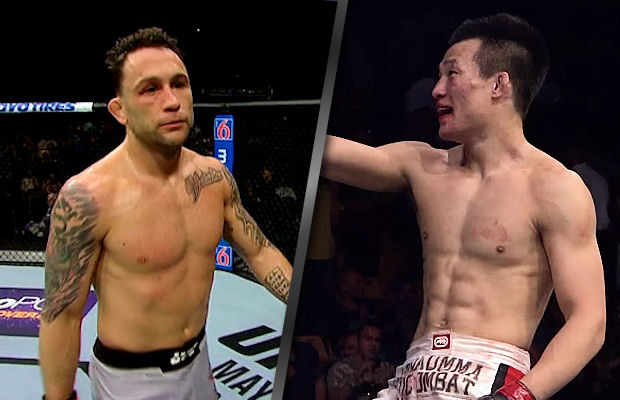 Frankie Edgar
It truly is incredible that Edgar is still here. After 14 years in the MMA business, Frankie Edgar is still here and still performing with the elite of the division. Despite physical issues (reach, size, weight, etc) Edgar still made his high output, wrestling and striking game work, and work at an elite level. Whether it was his days at 155 when he upset then-dominant champion, BJ Penn, to win the lightweight title. Then proceeding to dominate the rematch and solidify himself as the champion, to his great run at 145, where the only thing he hasn't been able to do is win the championship.
After his last fight, a decision loss to Max Holloway back in July, Edgar had scheduled a bantamweight debut against Cory Sandhagen in January, however with Brian Ortega having to pull out of his fight due to injury, in steps Edgar. The Korean Zombie figures to be a fantastic dance partner for him.
Chan Sung Jung
Firmly established as one of the most reliable action heroes in MMA history, Chan Sung Jung has had quite the run in the past few years. Through sheer recklessness, power, durability and heart, Jung arrived in the MMA scene with a classic three-round war against Leonard Garcia back in the WEC days, that fight firmly established him as an action fighter, and gave him the "Korean Zombie" nickname. Ever since, he has lived up to expectations, win or lose. From his brutal KO loss to George Roop, to his twister win over Garcia in the rematch, to the 7 second KO of the usually durable Mark Hominick, to absolute wars between Dustin Poirier and Yair Rodriguez, to his most recent win, a surprisingly fast stoppage of Renato Moicano back in June.
It's not all been wild though, While he is still a brawler at heart, Jung has done well to clean up his game and be more patient with his attacks throughout the fight, though the Moicano fight showed he can still just starch somebody if he lands clean. Originally slated to face Ortega, Edgar stepping in should still provide the action you look for in a Zombie fight.
The Verdict
At first, this was a rather difficult pick, but when I looked closer, this feels like Edgar's fight to lose. He should be able to use his wrestling here without much issue, as Jung hasn't shown much takedown defence (though that is partly because of the matchmaking with him, no wrestlers). On the feet, he should be able to move, pick his shots and play his game here. If this is the fight where Edgar finally starts to really fall off physically and slow down, he'll most likely step in and get cracked by Jung, and that is still a possibility anyway, but I have my faith in the former lightweight champion, to fight smart, and play to his strengths, running away with the fight on the scorecards over a fun 25 minutes. The pick is Edgar via decision.
---
Follow me on Twitter at @AMcdonaldMMA and follow us @OTHeroics1 for more great content!
Also, be sure to check out the Overtime Heroics Forums page to join in on the discussion!
Head over to our shop if you are interested in purchasing some Overtime Heroics gear!