By: Ben Meyerson| Follow me on Twitter @bybenmeyerson
Luka Doncic was signed by Nike before the draft at the beginning of his last year at Real Madrid for 2 years. Unlike most rookies who sign their deal before the draft he got to showcase his abilities for a year. Doncic decided to wait a few months into the season to sign this deal.
The New Jordan Deal
Luka is signing with Jordan brand. It's being rumored that this new deal will potentially pay him $100 million over 5 years. If true that would make him tied for the fourth highest sneaker deal (on a per year basis) with Steph Curry($20million).
Jordan brand had it's first $1 billion quarter this year so things are only going up. According to ESPN's Nick DePaula and Tim MacMahon, Doncic will not get a signature shoe immediately but if he were to get an MVP or Finals MVP he will. He will get some PE's (Player Exclusives) which he will have design input on.
I expect he will wear the Air Jordan 34's and Jordan Jumpman Diamond, with this screenshot you can see he has multiple color ways of each: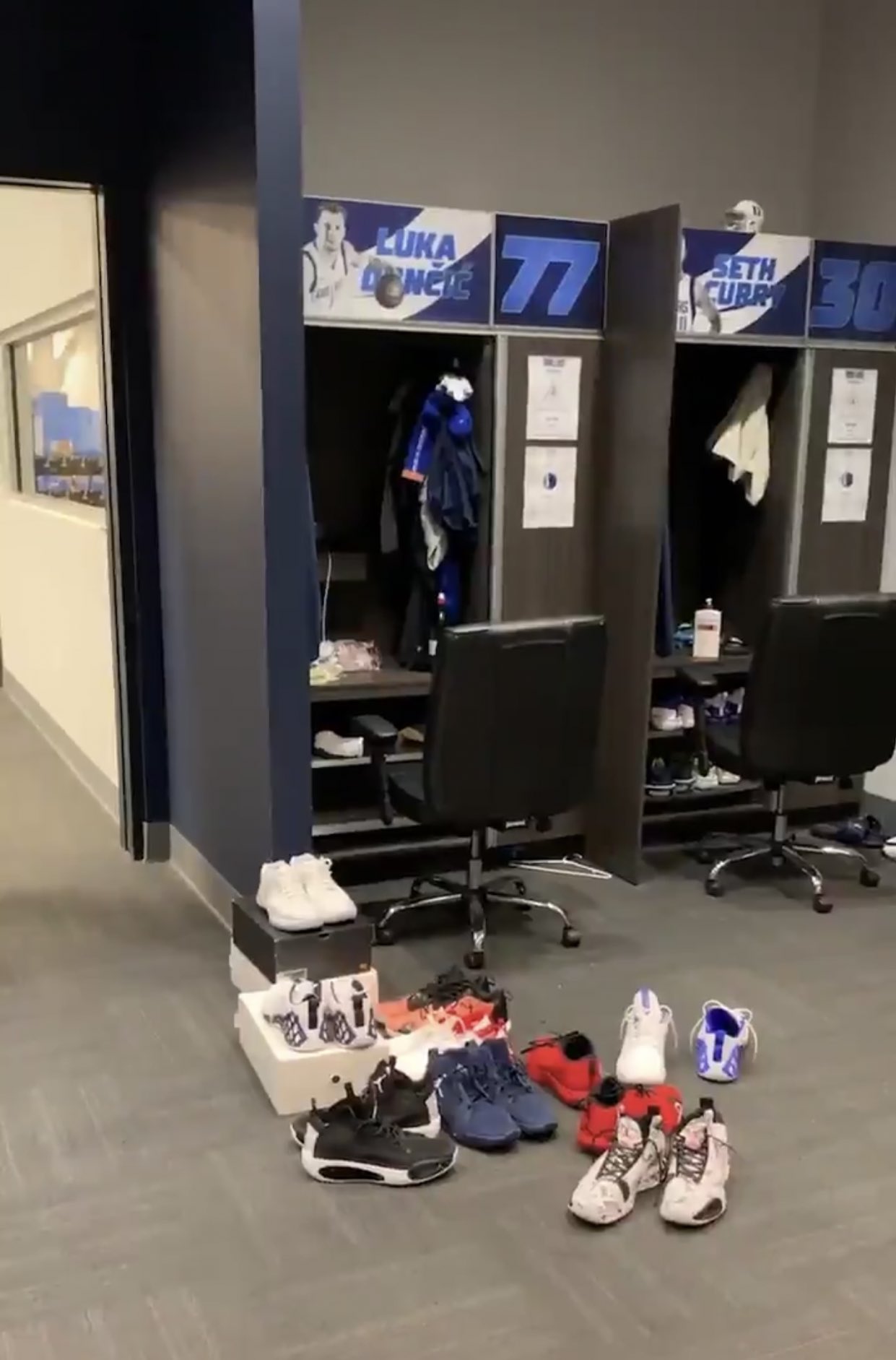 He has multiple colorways of each shoe in this picture and I expect him to get even more with player exclusives on the way. This isn't all that surprising, even back when he was a Nike athlete he was wearing Jordan 3's and 4's off the court.
The Fit with Jordan
Jordan brand is trying to bring in the new generation so this makes a lot of sense. While the deal is not finalized even if it's not exactly $20 million per year it is set to be "lucrative". Luka can be the face of a brand for many years to come. This is a great addition to the already young talent that Jordan brand has acquired like Jayson Tatum and Zion Williamson.
While I would've preferred Luka to go to a Nike or Adidas, Luka will succeed almost anywhere. He already has a knack for the flashy wearing bright green Sour Patch Kids UA Steph Curry 7's and Nike Zoom Kobe 6 "Grinch". I expect a rich and bright color palette from Luka in term of kicks and with the Mavericks alternate jersey's he'll have plenty of opportunities to take chances. He will likely wear the Jordan Jumpan Diamond.
Luka is averaging 29 points, 9 rebounds, 9 assists and on pace to finish Top-5 in MVP season. He's playing great and his team is 5th in the Western Conference. Expect him to be the poster child for Jordan Brand's newest releases every year. Him and Zion have immense marketing potential.
Outside Interest
Nike, Under Armor and Puma all had interest in the Slovenian but Jordan was able to nab the young star. The main reason I believe Nike didn't go more heavily after him was because of their current roster:
Lebron 17
KD 12
PG 3
Kyrie 6
Zoom Freak 1
With this list Nike has the best now and part of the future so I don't think they had interest in adding him to a crowded lineup.
Follow me on Twitter at  @bybenmeyerson and follow us @oth_basketball for more great content!     Also, be sure to check out the Overtime Heroics Forums page to join in on the discussion!                           Head over to our shop if you are interested in purchasing some Overtime Heroics gear!