The UFC 246 Prelims feature four potential future stars for the future of the UFC taking the biggest steps ups of their careers.
Roxanne Modaferri vs Maycee Barber
Maycee Barber
Barber is definitely one of the hottest prospects on the block. Her combination of violence in the clinch, athleticism, physical strength, and fight IQ beyond her years have made her a treat to watch in the cage. Her willingness to speak openly about her intentions of being the youngest champion in UFC history on the mic has given her a quick rise up the ranks, and Modaferri will be a tricky challenge for her next step.
Roxanne Modaferri
Roxanne Modaferri may be the least intimidating fighter in UFC history, but she has definitely done a hell of a job exposing people's flaws in their game (as well as the flaws in her own game) throughout her career. An unathletic grappler, Modaferri has slowly developed a wonky striking game, and some functional wrestling to set up the best part of her game, which will always be her grappling. When faced with more athletic fighters that can shut her game down, Modaferri has been legitimately overmatched, while not being completely finished like she was earlier in her career. Here, she will play the role of gatekeeper against Barber.
Verdict
Barber has run into three opponents in a row that have not been able to handle her power and ruthless combinations in the clinch, and I expect Modaferri to be number four. Barber's athleticism and underrated takedown defense should be able to neutralise the best parts of Roxanne's game, and on the feet, Barber should hit harder, and be the more functional striker. Modaferri should be savvy enough to stay out of particularly deep trouble, but this looks like one-way traffic for Barber for 15 minutes. The pick is Barber via decision.
Andre Fili vs Sodiq Yusuff
Sodiq Yusuff
Nigeria's next up and coming talent, Sodiq Yusuff, definitely has some potential to be a future champion in the UFC. With clean, precise striking, ruthless power and killer instinct, Yusuff has blasted his way out a 3 – 0 start in the UFC. Here he will take on Andre Fili, who should serve as his greatest test.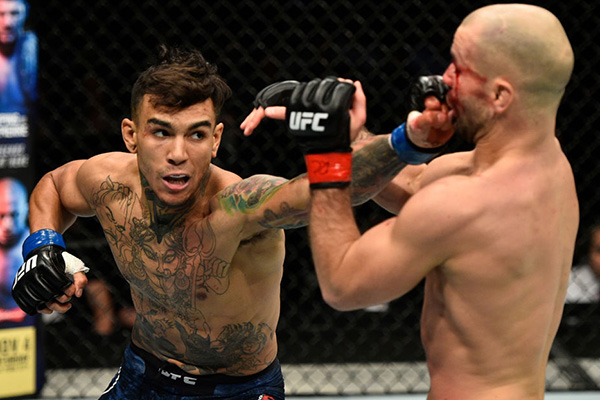 Andre Fili
California's Fili is an interesting fighter in his own right, he's been a guy that seemingly has separated the good from the great in the featherweight division, while never being able to truly get over the hump. Anytime his level of competition has risen past a certain point, he has been turned away. He has improved throughout the years, getting better a setting a pace in his fights, using his reach advantage and grappling a bit better throughout the fights. While having a bit of knockout power as well, as he has taken out two tough fighters in Gabriel Benitez and Sheymon Moraes in under a round each. If he can turn away Yusuff here, it would go a long way to Fili getting that next chance to step up to the top level.
Verdict
This is a perfect level test for Yusuff right now. Fili has struggled with the upper echelon of the division so this is where we find out where Yusuff is at. If Fili comes out looking to set a pace and put the pressure on, Yusuff has the power to spark him with a counter, and if he plays it slow and patient, Yusuff showed in his own victory over Moraes that he can fight that style and fight with intention over 15 minutes. If Fili has continued to improve, he could stay behind his jab and get the win here, but his defense is still getting there, so Super Sodiq can probably find openings in his guard, and build up damage as the fight goes on. He may not just straight up knock Fili out, but the pick is Yusuff via decision.
Drew Dober vs Nasrat Haqparast
Now we have a fun scrap and a lowkey contender for Fight of the Night with Dober vs Haqparast.
Nasrat Haqparast
Haqparast is another great prospect and definitely the best fighter to come out of Germany in the UFC. Through relentless aggression, hand speed, pace and pressure. Nasrat has put together three dominant wins in the UFC after a loss to Marcin, held on short notice. Marc Diakiese, Thibault Gouti and most recently Joaquim Silva, had no real answer to Haqparast and the game that he brings right now. The thing that excites me about this one, is that Dober is the perfect opponent for a firefight.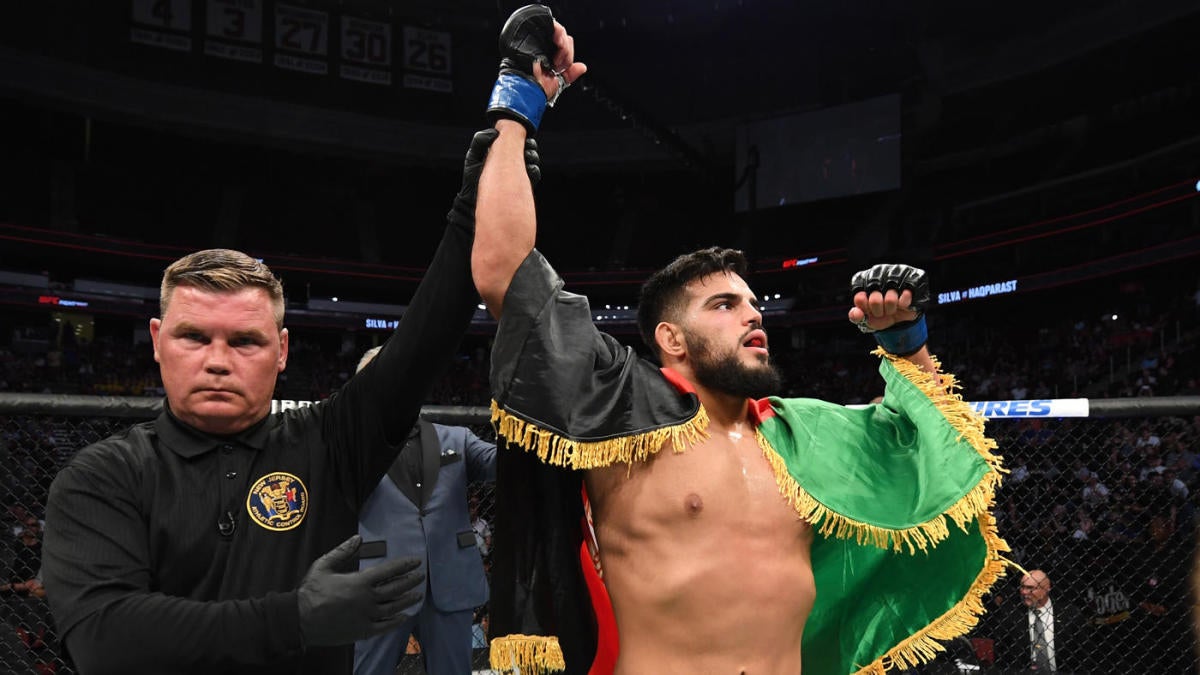 Drew Dober
Drew Dober has been slowly coming along through his UFC tenure so far. Similar to his opponent, when Dober is at his best, he has lightning fast hands, great combinations, aggression and some legit power. His defensive wrestling and grappling are still a little iffy, and they still needs work, but on the feet, and in regards to his own offensive wrestling when necessary, he's come a long way.
Verdict
This is gonna be fun. Both guys aren't afraid to go for the kill, engage in a firefight, and lay it on the line. If Dober does try to wrestle, Haqparast can probably shut that down and force a standup fight, where the exchanges should be lots of fun. A knockout on either side is possible here, but the pick is Haqparast via decision as he seems to have the higher work rate of the two, which should allow him to win rounds.
All in all, UFC 246 has a lot of great names, and a lot of opportunities to be one of the best cards of the year. Right at the start of the year too, which is fantastic in it's own right.
---
Follow me on Twitter at @AMcDonaldMMA and follow us @OTHeroics1 for more great content!
Also, be sure to check out the Overtime Heroics Forums page to join in on the discussion!
Head over to our shop if you are interested in purchasing some Overtime Heroics gear!
Check out our partners at Repp Sports! They offer the first-ever crowd-sourced, no carb, no sugar, energy drink called RAZE and much more! Use the link above or add the promo code OTH1 at checkout!
UFC 246 Prelims UFC 246 Prelims UFC 246 Prelims