Each week we will be releasing our NBA Power Rankings. We know there are thousands (mostly wrong) power rankings every week that are released. Our rankings are different in that they will be 100 percent correct or at least in the ballpark.
The NBA season is just hitting the midway point, which means it is time for an updated Power Rankings. Now the top few teams are quite easy to predict. Teams like Milwaukee have dominated the East, while the Lakers have dominated the West. But after that, it gets rather tricky, as so many teams have similar records. So in order to differentiate, we must have a certain level of consistency.
Factors that must be included are the current level of play and overall resume this season. We also factor in the last month more heavily than the first couple of months. So who are the top tier teams in the National Basketball Association right now? Who is just on the cusp of the top tier? And who has very little hope the rest of the way? We analyze all 30 NBA teams and this is the current rankings.
Top Tier Teams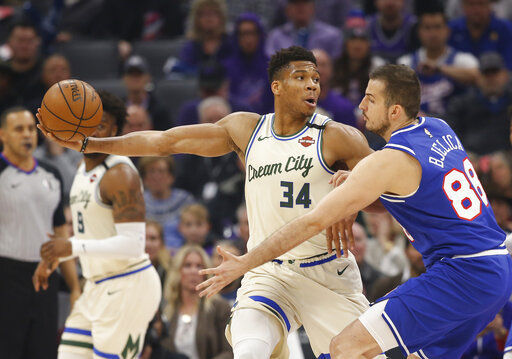 1.Milwaukee Bucks 36-6
I mean this is a pretty easy number one selection, as the Milwaukee Bucks have been outstanding all year. They have only lost to one non-playoff team all year and have one of the most balanced rosters in the league. Giannis Antetokounmpo is putting up MVP numbers once again and Khris Middleton is playing like an all-star once again. Milwaukee is on pace to win 70 games and we would not be shocked if they did. Milwaukee is without a doubt number one.
2. Los Angeles Lakers 33-8
Milwaukee may have one of the MVP front runners, but Los Angeles has two elite talents of their own. Lebron James is averaging over 10 assists for the first time in his career. Anthony Davis is averaging over 27 points per game and remains an elite defender in the league. And the resurgence of Dwight Howard has helped lift Los Angeles to the top of the Western Conference. The Lakers will be a tough out come playoff time for any team and they are number two on our NBA Power Rankings.

3. Utah Jazz 28-12
The Utah Jazz have won 10 games in a row and I believe wholeheartedly that they deserve to be number three on our rankings. Now while they have not played the toughest competition as of late, they won six of those games on the road. One of those wins was over the Clippers on December 28th. Donovan Mitchell and off-season acquisition Bojan Bogdanovic are both averaging over 20 points per game. Rudy Gobert protects the rim better than anyone else in the league. The Jazz is playing like a top tier team right now no doubt about it.
4. Los Angeles Clippers 28-13
The Los Angeles Clippers are still a top tier team in the NBA. The Clippers last loss to a playoff team was the Chicago Bulls on December 14th. No one wants to tangle with this team come playoff time, considering they have so many weapons. Whether it is Kawhi Leonard, Paul George or Lou Williams, this team does not lack scoring. They also have players like Patrick Beverley, who are ferocious defensively. The Clippers may sit fourth in the Western Conference, but they deserve to be number four on our Power Rankings as well.
5. Miami Heat 28-12
One of the more surprising NBA teams this year has been the Miami Heat. Jimmy Butler and Bam Adebayo are both looking like Eastern all-stars. Pat Riley has done a masterful job of finding young talents like Tyler Herro and Kendrick Nunn. Erik Spoelstra is in the discussion for Coach of the Year as Miami currently sits second in the East. This team has lost some tough games to teams like New York lately, but they always seem to bounce back well. They just sneak into our top five on the NBA Power Rankings.
Nearly Top Tier
6. Denver Nuggets (28-12)
The Nuggets currently sit third in the West, but what is this team's identity? Nikola Jokic has regressed from last year statistically. Jamal Murray and Will Barton struggle with consistency. And Michael Porter Jr. is still trying to figure things out in Denver. All that said, this team is still incredibly deep and that depth has won them a lot of games. The Nuggets still have 40 games to figure it out and I do believe they will. But who can this group knock off in a seven-game series? With no true alpha yet Denver is still on the fringe of being top tier.
7. Houston Rockets (26-14)
James Harden is having such an incredible season scoring the basketball as few have before him. At almost 38 points per game, he leads all other players by almost eight points per game. Despite his scoring, however, the Rockets keep dropping games when he is not shooting well. In just the past month, the Rockets have lost to the Pistons, Warriors, and Pelicans. Russell Westbrook and Clint Capela are playing well, but come playoff time will they get production from the rest of the team. That worries me and that is why Houston just misses out on being top tier in the NBA Power Rankings.
8.Boston Celtics (27-12)
The Celtics have cooled off after their hot start to the NBA season. They have won just five of their last ten games, including their loss to Detroit on Wednesday night. The Celtics have a ton of talented players like Jayson Tatum, Jaylen Brown and Kemba Walker. What they are lacking is the consistent play from the power forward and center position. The return of Enes Kanter is great offensively, but is Daniel Thies enough of an inside presence for Boston? Hopefully, they make a move at the deadline, because if not they will likely remain a fringe top tier East team.
9. Toronto Raptors (26-14)
The defending champions are finally back to nearly one hundred percent. Pascal Siakam, Marc Gasol and Kyle Lowry have all missed significant time this year for Toronto. Despite that, the Raptors remain 12 games above .500 and are a solid Eastern Conference team. What keeps Toronto from being a top tier team is that they lack a true superstar. Pascal Siakam is on his way to being one, but he may need one more season to do so. The Raptors, like Boston, have only won five of their last ten, which keeps them just outside the top five.
10. Philadelphia 76ers (26-16)
The Philadelphia 76ers have struggled quite a bit without Joel Embiid the past number of games. They have only won four of their last 10 games, but all of those losses were against playoff teams. While the Embiid injury is worrisome the emergence of Tobias Harris in that time has been a bright point. He recently scored 34 points against Brooklyn in a home victory. What keeps Philadelphia from being top tier is their lack of depth. Outside of their starting five, they do not get very much production. They will need that come playoff time.
Top-Middle Tier 11. Dallas Mavericks (26-15)
The Dallas Mavericks live and die through the play of Luka Doncic. Luka in just his second year has become a walking triple-double and an MVP candidate. What keeps him and the Mavericks just outside of the top ten is who else does he have? Kristaps Porzingis has been solid, but Tim Hardaway as the third-best player on Dallas is tough. Until Dallas can shore out this roster they are at best an average Western Conference playoff team. They just miss out on a top ten spot in our NBA Power Rankings.
12. Indiana Pacers (26-15)
Indiana has been consistently good all year, despite no Victor Oladipo yet. This is a team that could move up very easily once Victor does return. Malcolm Brogdon and Domantas Sabonis have stepped up in his absence. The Pacers sit fifth in the Eastern Conference despite only winning six of their last twelve games. The Pacers have a ton of depth and just need a star player in order to make some noise in April. Do not expect this team to remain this low on our NBA Power Rankings for long.
13. Memphis Grizzlies (19-22)
The most shocking team on this list has been the Memphis Grizzlies who have won six games in a row. During that stretch, Memphis has knocked off teams such as San Antonio and Houston. With Cleveland and New Orleans as their next two games, this streak could easily hit eight games. Ja Morant is the runaway rookie of the year and Dillon Brooks and Jaren Jackson Jr. have improved. While this team likely won't be making the top ten this year, the Grizzlies have been fun to watch. This young team will be a force in a few years and will move up the NBA Power Rankings in the process.
14. Oklahoma City Thunder (23-18)
Oklahoma City lost Russell Westbrook and Paul George in the summer, yet are still a playoff team. The emergence of Shai Gilgeous-Alexander has been huge for them. Holding onto Chris Paul, Danilo Gallinari, Dennis Schroder, and Steven Adams helped keep this keep competitive. Currently sitting seventh in the West, Oklahoma City looks like they will be a playoff team. They are very well balanced, just lack a true closer right now. Chris Paul's besting closing days are behind him. They have won seven of their last ten, but will likely remain in this category throughout the year.
15. Orlando Magic (20-21)
The Orlando Magic may be in the playoffs right now, but they are a very weak playoff team. The Magic lost Jonathon Isaac to injury and Nikola Vucevic has regressed from a year ago. Markelle Fultz has stepped up, but still, this team struggles to get guard production. This team still continues to find ways to win though, as they have won two in a row. Their most recent win over the Lakers shows they can surprise some teams. This is a higher-end, middle-tier team and will likely be hosting some playoff games this year.
Middle Tier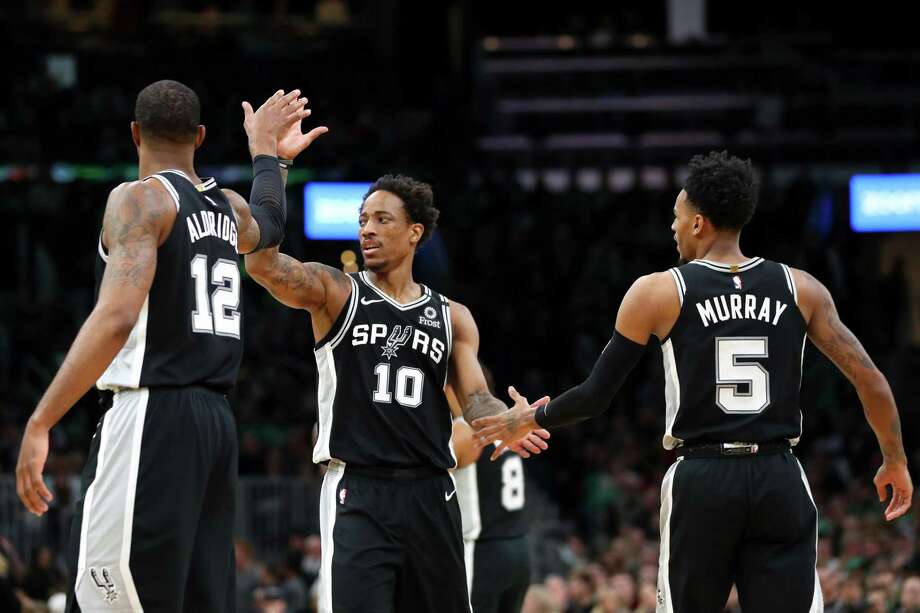 16. San Antonio Spurs (17-22)
It is rather shocking to see the Spurs outside of the playoff race. It is even more shocking that the Spurs are outside the top ten or fifteen in the league. But this is not the Spurs team of old. Demar Derozan and LaMarcus Aldridge are no Tim Duncan and Manu Ginobili. The Spur's strength was often their depth, but the current roster is still developing. The Spurs have won six of their last eleven but still remain on the outs playoffs wise. We are not ruling them out from moving up and claiming a playoff spot, but this team will need to improve to do so.
17. Portland Trail Blazers (18-24)
Portland is starting to figure things out after a rough start to their season. People forget it was just last year that Portland was competing in the Western Conference finals. Now they sit 10th in the Western Conference and almost two games out of the final playoff spot. Damian Lillard has been great once again and Carmelo Anthony has had a resurgence in Portland. What Portland needs to do is get CJ McCollum and Hassan Whiteside going more consistently. If they do then they could squeak out a playoff spot.
18. New Orleans Pelicans (15-26)
The Pelicans are a very young team and continue to improve every game. Lonzo Ball has stepped up, as the Pelicans have won seven of their last ten games. Brandon Ingram is a frontrunner for the most improved player award as well. He is averaging 25 points, six rebounds and four assists per game. Jrue Holiday has been solid and with Zion Williamson returning to action, the Pelicans could keep trending upwards. The bottom of the West is wide open and New Orleans is right in the thick of things.
19. Brooklyn Nets (18-22)
The Brooklyn Nets may be in the playoffs right now, but they are struggling to win games. They have only won two games in the last eleven, despite the return of Kyrie Irving and Caris Lavert. Deandre Jordan just went down as well, so this team is struggling to stay afloat. Brooklyn has all the pieces on paper to win, they just have to put it together. Kevin Durant likely won't be playing this year so others have to step up in the meantime.
20. Phoenix Suns (16-24)
Devin Booker and the Phoenix Suns are sliding after a good start to the year. The Suns were winning despite DeAndre Ayton's suspension, but have come back down to earth recently. They just lost to lowly Atlanta by double-digits, as well as Sacramento. Phoenix is another team that has solid pieces, players like Ricky Rubio and Aron Baynes. A strong second half to the year could mean playoff basketball. What is more likely is another lottery pick for the Suns.
Bottom Tier
21. Minnesota Timberwolves (15-25)
Minnesota has a superstar talent in Karl Anthony-Towns, but they still cannot seem to win consistently. Andrew Wiggins has taken a step this year scoring-wise, as he is averaging a career-high 23 points per game. But where are the other players stepping up? Jeff Teague has regressed, which is why they traded him for Allen Crabbe yesterday. Jake Layman has been injured and Josh Okogie is missing in action so far this year as well. Minnesota continues to be one of the most poorly run franchises, even with top players. They have won just five games in their last 22. Trending downward is an understatement.
22. Sacramento Kings (15-26)
The Kings narrowly missed the playoffs the past two seasons, but this year they have taken a step back. Marvin Bagley III and De'Aaron Fox have both missed tons of games and Buddy Hield has been their lone bright point. Off-season acquisitions Harrison Barnes and Bogdan Bogdanovic have both been average for the Kings. If the Kings could get healthy they could maybe improve in the second half of the year. What is more likely to happen is Sacramento picking up a top ten pick in the draft.
23. Chicago Bulls (15-27)
Chicago has a ton of potential, but consistent play from those players continues to elude them. Zach LaVine has become an elite scorer in the league, averaging over 24 points per game. Lauri Markaanen has taken a step back, as has Kris Dunn. Young players like Wendell Carter and Coby White show promise, but like many young players lack night in and night out production. Chicago has only won three of their last eleven and shown little life in the Eastern Conference. They will likely remain in this area of our NBA Power Rankings for the remainder of the season.
24. Detroit Pistons (15-27)
The Pistons could be sellers at the trade deadline, with Derrick Rose and Andre Drummond rumored to be trade targets. With Blake Griffin shut down likely for the season Detroit may be going into full rebuild mode. In the meantime, Rose and Drummond have had solid seasons, especially Rose. They did just knock off Boston on the road, but that was only their fourth win in their last sixteen. Bruce Brown has given Detroit solid minutes with others injured, but Detroit is still a bottom-tier team.
25. Washington Wizards (13-27)
Only one player has kept the Washington Wizards from hitting rock bottom: Bradley Beal. He is averaging over 27 points, six assists, and four rebounds a night without backcourt mate John Wall. Davis Bertans and Rui Hachimura have both missed a considerable amount of time, which has hurt this team greatly. Washington will continue to win the odd game with Beal leading the charge, but this is not a playoff team. Four wins over their last eleven prove that, but they are still five games out of a playoff spot.
Rock Bottom
26.Charlotte Hornets (15-29)
Michael Jordan's face says it all here, as the Hornets are once again cellar dwellers. Everyone knew this would happen after Kemba Walker left the team in the summer, even with the emergence of Devonte Graham. He too is in the running for the most improved player, but Charlotte certainly will not be the most improved team. The Hornets have won just two of their last fourteen contests and show little life. All Charlotte can hope for at this point is for the draft lottery gods to be in their favor.
27. Cleveland Cavaliers (12-29)
The Cavaliers need to ship out Kevin Love yesterday. He clearly does not want to be there and his value diminishes every day that he is on that roster. Darius Garland and Collin Sexton have shown they can be productive guards in the league. Cleveland now needs to build off of these young players to build towards the future. Cleveland has won only 11 games this year and 3 in their last eleven tries. Cleveland was never going to trend upwards and will be in this bottom five all year, especially if Love is moved.
28. New York Knicks (11-30)
The Knicks have actually improved since firing David Fizdale at the start of December. They have won four of their last ten and rumors are swirling that they are interested in Andre Drummond. An addition like Drummond could help them make a late-season playoff push, but right now this team is still awful.RJ Barrett continues to develop, but Kevin Knox does not. With few young prospects, the Knicks may need to draft well in order to accelerate this rebuild. Had they not won a few games lately they would likely be last on this list. But somehow other teams are even worse.
29. Atlanta Hawks (9-32)
The Hawks had a ton of promise coming into this year, but the John Collins suspension really set them back. Trae Young will almost certainly be an all-star, but the rest of the team is in shambles. Cam Reddish and Deandre Hunter are only rookies and the rest of the roster cannot play defense. They are the worst three-point shooting team in the league despite having the sharpshooting Young. Atlanta needs to find some frontcourt talent to pair with Collins and perhaps a defender or two. Perhaps the addition of Jeff Teague to backup Young will help, but they still need bigs. Atlanta will be lucky to win 20 games this year.
30. Golden State Warriors (9-33)
Golden State sitting at the bottom of this NBA Power Rankings list is almost a sham. Stephen Curry and Klay Thompson are both injured. Draymond Green and D'Angelo Russell seem to trade nights being injured. The Warriors have lost nine of their last ten games to the enjoyment of most basketball fans. What the league should worry about is Golden State getting such a great draft pick. If they add Cole Anthony or someone of that caliber they will bounce back quickly next year. Golden State may be last on our NBA Power Rankings, but they will not be next year.
Follow me on Twitter @SSBasketballPod for more great content!
Also, be sure to check out the Overtime Heroics Forums page join in the discussion!
Head over to our shop if you are interested in purchasing some Overtime Heroics gear here!
Have a weight-loss or muscle building New Year's resolution? Head on over to our partners at NutraKey. Whatever health goal you have, they can help. Use the link above or our promo code, OTH1 at checkout for 15% off!