Main Event: Curtis Blaydes vs Junior Dos Santos
UFC Fight Night 166 will happen on January 25th at PNC Arena, Raleigh, NC. The main event features two of the best heavyweights in the game as they look to edge closer to a title shot.
Curtis Blaydes
Curtis Blaydes has won two in a row after a defeat by Francis Ngannou. Blaydes has definitely had trouble with Ngannou in the past, as he has lost both previous matchups. However, when you look past Francis, Curtis has beaten many noteworthy heavyweights. He has taken out Aleksei Oleinik back in UFC 217, and Alistair Overeem in UFC 225, to name a few. Among those victories, Blayde's win streak consists of Justin Willis, whom of which Blaydes overpowered with his high-class wrestling, and Shamil Abdurakhimov, with a KO via an elbow strike. Coming into Fight Night 166, Blaydes has yet to get his opportunity at UFC gold. He will be looking to stay on track and move closer to a heavyweight title shot.
Junior Dos Santos
One of the best heavyweights ever will take center stage in Raleigh, NC. Junior Dos Santos, the former heavyweight champion, is coming off a knockout loss by Francis Ngannou. Dos Santos was taken out early in the first round in UFC Fight Night on June 29th. Before that fight, Dos Santos won three in a row including a knockout win against Derrick Lewis. The former champion has lost his previous two title challenges against Cain Velasques and Stipe Miocic. The legendary UFC veteran will look to get back on track against his dangerous opponent.
Final Words
As everyone knows with heavyweights, you get some wild fights! This bout is going to be wild, Blaydes has great striking and also comes from a wrestling background. Dos Santos is more of a striker, however, no stranger to the ground. Both fighters are hungry to win for different reasons, and this is their time to shine.
Co-Main Event: Rafael Dos Anjos vs Michael Chiesa
Rafael Dos Anjos
Former lightweight champion Rafael Dos Anjos has been in a slump rather of late. Going just 1-3 in his last four fights, Dos Anjos has lost to excellent fighters. These include Colby Covington, Karmu Usman, and Leon Edwards. The absolute best in the division have defeated RDA, so it appears the UFC has lowered the expectations for him. Rafael is not what he used to be. However, he is still a very skilled fighter that is very well in the mix of the best lightweights. His only win in his last four bouts came from Kevin Lee, RDA will be looking to re-establish himself in a crowded division.
Michael Chiesa
The fight purpose for Michael Chiesa is quite simple in Fight Night 166, it's to take the next step. He can do just that by beating the diverse skillset of Dos Anjos. Chiesa has won his last two against Carlos Condit, taking him down an impressive six times. Also defeating Diego Sanchez winning via decision in which he showcased a dominant performance. The future for Chiesa is very bright and the next step in becoming a champion is happening this weekend.
Final Words
Dos Anjos and Chiesa will meet in a potential turning point for both fighters. Dos Anjos needs to right his ship and dominate with a win. While Chiesa, if he gets a win, can rise to the next level and take on more noteworthy contenders. This matchup has many storylines riding, and for very good reason. Which fighter will experience a rise or drop in the crowded UFC division?
Jordan Espinosa vs Alex Perez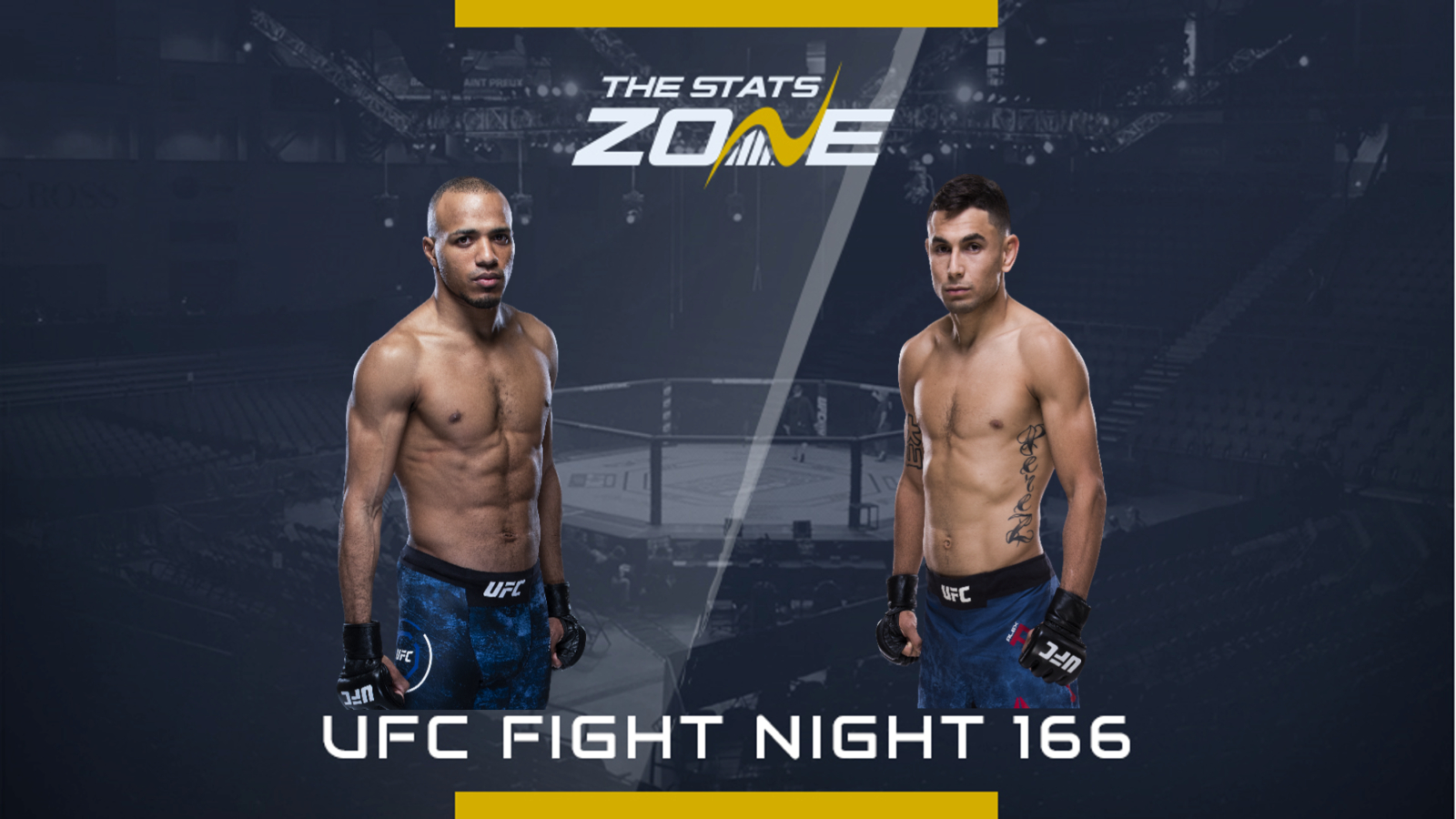 Jordan Espinosa
Next up in a diverse main card, is a couple of UFC flyweights. Jordan Espinosa is a submission specialist who has made a solid name for himself in the Dana White Contender Series. Before losing to Matt Schnell, in which he submitted Espinosa, he went an impressive five-fight winstreak. Of those five, Jordan finished three of them as he climbed up the latter. Now he will have to face a similar style fighter in UFC Fight Night 166.
Alex Perez
Facing off against Espinosa will be a former TPF fighter, Alex Perez. Alex has fought a very respective three times in 2018 and once in 2019. His last win was on March 30th against the young Mark De La Rosa, in which he won via unanimous decision. Perez hasn't seen UFC gold, however, he won the TPF championship in 2015.
Final Words
This flyweight scrap should be an exciting one indeed, as the two are similar in styles. Both have a well-rounded game and can finish each other either way.
Hannah Cifers vs Angela Hill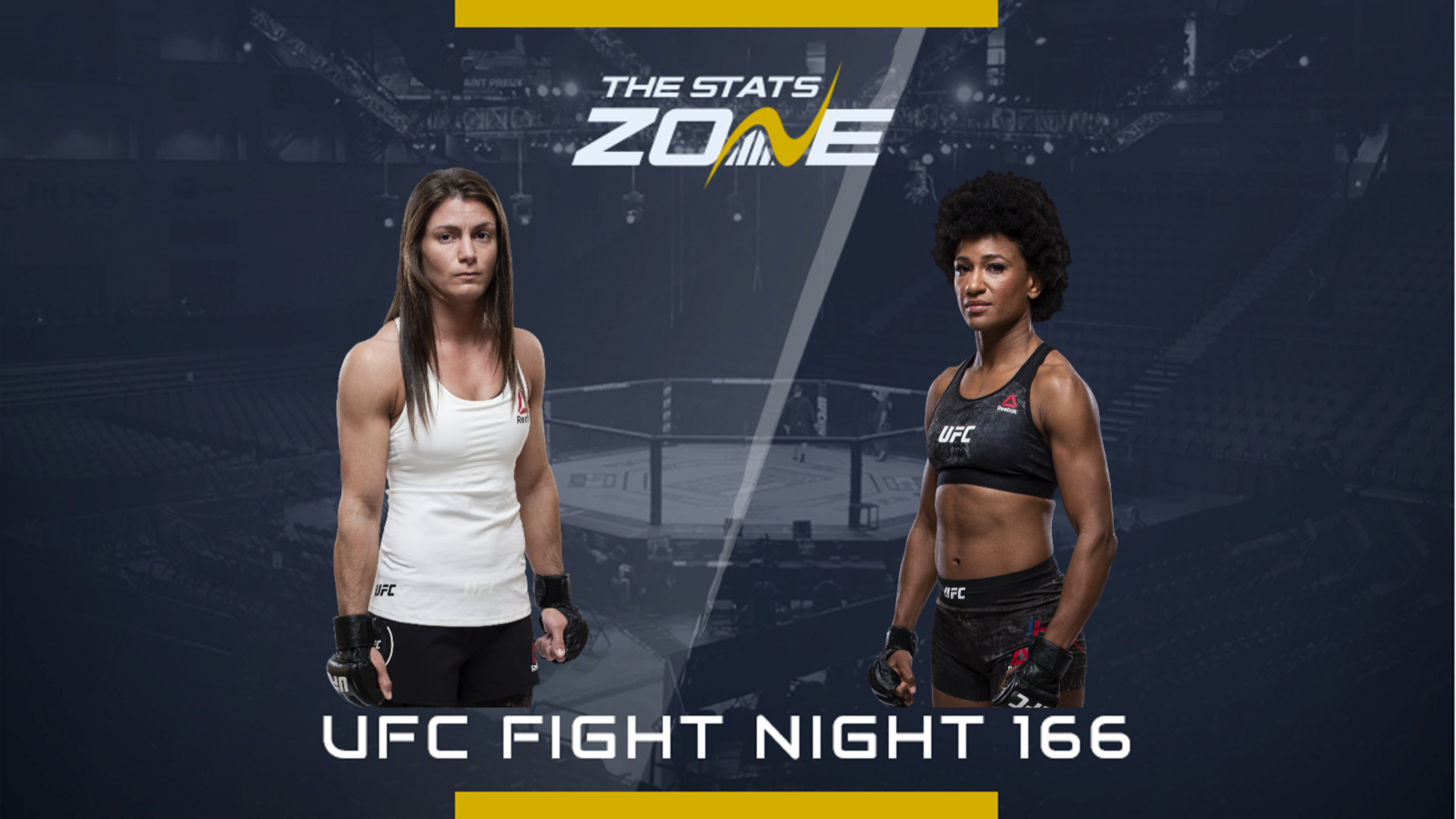 Hannah Cifers
Now for a women's strawweight bout that is the only one on the main card. In this fight, Muay Thai specialist Hannah Cifers will be looking to win her third in a row. Cifers has won her previous two fights by decisions against Polyana Viana and Jodie Esquibel. Hannah has earned a solid record in her MMA career standing at 10-3. She will look to add to that on Saturday night.

Angela Hill
Standing opposite of Cifers will be Angela Hill. Angela was a former champion fighting in the Invicta FC, winning the belt back in 2016 against Livinha Souza. She later defended her belt against Kaline Medeiros to cap off the great year of 2016. However, her last four fights have been average, as she has won two out of those four.  All of which coming in 2019, the active Angela Hill will look to start off her year with a win.

Final Words
One thing that is evident about both of these ladies' careers is their decision totals in their fight history. Cifers has six out of thirteen, while Hill has compiled eleven out of seventeen. Both of these fighters seem to know how to go the distance. Can one of them shine big with a finish?

Jamahal Hill vs Darko Stosic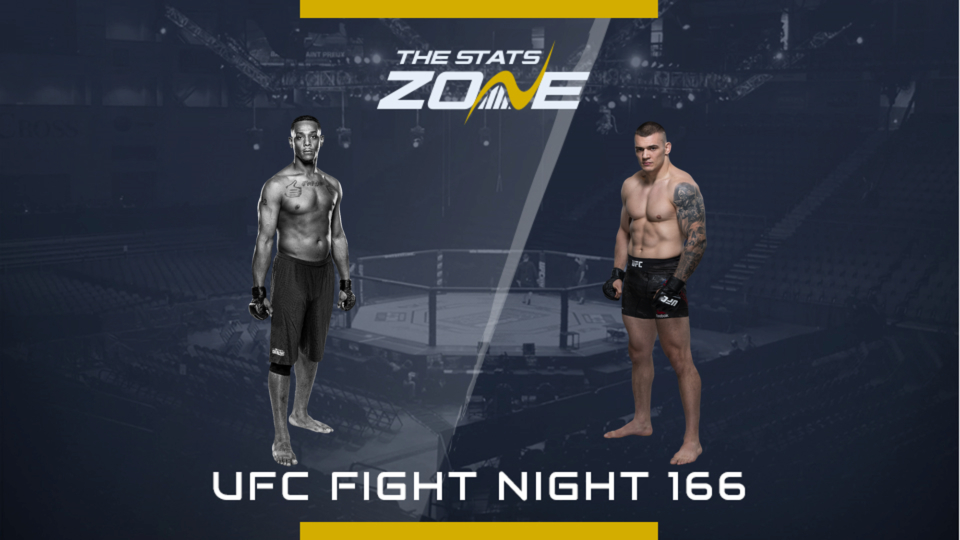 Jamahal Hill
Dropping down from the main event of Fight Night 166 is a light heavyweight bout to begin the main card. Jamahal Hill is undefeated with a record at 6-0, as he has previously fought with KnockOut Promotions. Hill's last fight was on Dana White's Contender Series with a knockout victory against Alexander Poppeck. Hill to looking to continue his young career, starting off with a successful UFC debut.

Darko Stosic
Standing in the way of a successful debut is Darko Stosic. Darko only has three UFC fights under his belt and has only gone 1-2 over that span. After finishing Jeremy Kimball in his first UFC fight, Stosic has lost back-to-back unanimous decisions. The first Fight Night of the decade is about to kick off.

Final Words
Both fighters still have very young UFC careers and it should be interesting who will come out on top. Could we see a rise to the top for Jamahal Hill? Or will Stosic put it on hold?

---
Follow me on Twitter at @HunterSills2 for more of my content!
Come discuss this and much more at the Overtime Heroics forums!
Visit our merch shop for all the latest gear!
Be sure to check out our partners at Repp Sports! They offer the first-ever crowd-sourced, no carb, no sugar, energy drink called RAZE and much more! Use the link above or add the promo code OTH1 at checkout to get 15% off your order!