Pound-for-pound lists are controversial in the boxing world. Some swear by them, arguing their favorite fighter is the King of the Ring as a result. Others put no stock in the lists, deeming them nothing more than a popularity contest. We here at Overtime Heroics believe the truth is somewhere in between; the lists are a great place to start conversations, which is why we've decided to publish our first pound-for-pound list.
Even so, there are many considerations and points of contention. Can you rank someone as a top pound-for-pound fighter despite them having won a title in just one weight class? Is the "eye test" acceptable justification, or do you need a thoroughly convincing resume? Are heavyweights even allowed to be on the list? Our writers used their own criteria to determine their lists, there were no set rules. Fighters who were voted first on a list received ten points, second got nine, third got eight, etc. until tenth place got one point.
1. Vasiliy Lomachenko
Record: 14-1, 10 KO
Division: Lightweight
Titles: WBA & WBO

Perhaps the most prolific amateur of all time, Lomachenko quickly rose through the professional ranks. He's one of the most technical boxers in the sport and routinely outmaneuvers opponents with ease. His lone loss came via split decision in his first title shot, which came in just his second professional fight. He will likely defend against mandatory challenger and recently crowned IBF champion Teofimo Lopez in April in what is a highly anticipated clash of seasoned champion and young star.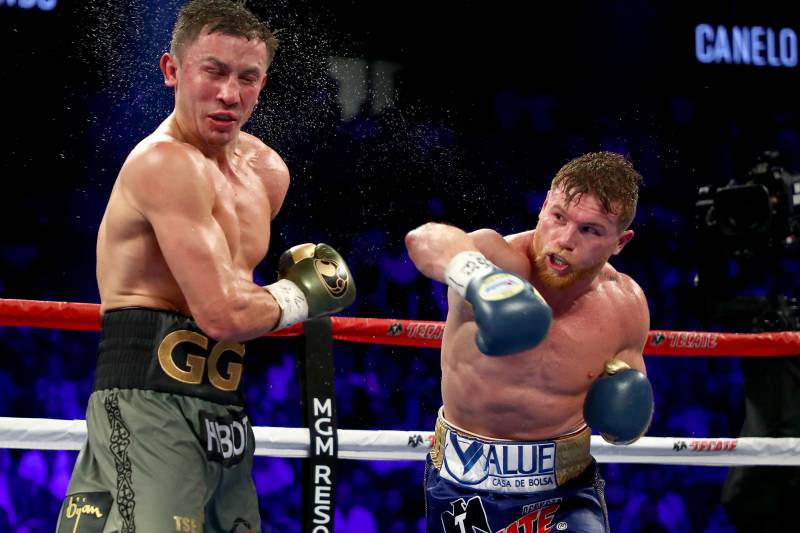 2. Canelo Alvarez
Record: 53-1-2, 36 KO
Division: Middleweight, Super Middleweight, Light Heavyweight
Title: WBA (Middleweight)

Alvarez has been subject of much debate over the past few years. It began with a drug test that returned positive for Clenbuterol prior to his first fight with Golovkin, which he blamed on tainted meat he'd consumed. The fight was called off before eventually playing out in late 2017. Many believe Alvarez was gifted a draw after judge Adalaide Bird turned in a widely criticized card in his favor. Regardless, his resume is nearly impeccable. He has won titles in three weight classes and a secondary title in a fourth, his most recent coming from a KO of light heavyweight champion Sergey Kovalev. His next opponent is yet to be decided, but the most likely option seems to be a fight with Billy Joe Saunders for the WBO super middleweight title, which would make him a legitimate four-division champion.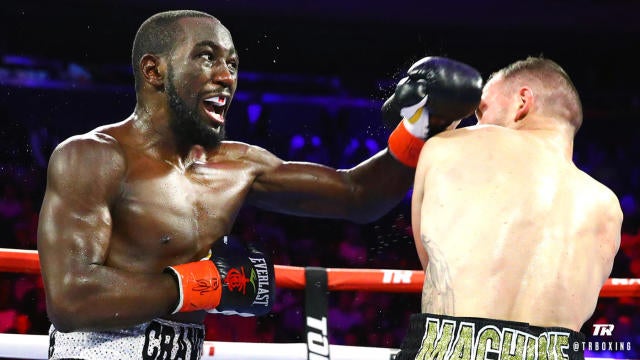 3. Terence Crawford
Record: 36-0, 27 KO
Division: Welterweight
Title: WBO

Crawford definitely passes the eye test and many place him as the king of the pound-for-pound list. The only problem is that his resume leaves some to be desired. He's the lone "top" welterweight on Top Rank's side of the street, which has been a massive barrier between "Bud" and a megafight with Spence, Pacquiao, Thurman, Garcia, or Porter. Promoter Bob Arum just announced that he was interested in working on a two-fight deal with UFC, having Crawford fight McGregor once in the octagon then again in the ring. The seriousness of this claim is questionable, but it could be in Crawford's future.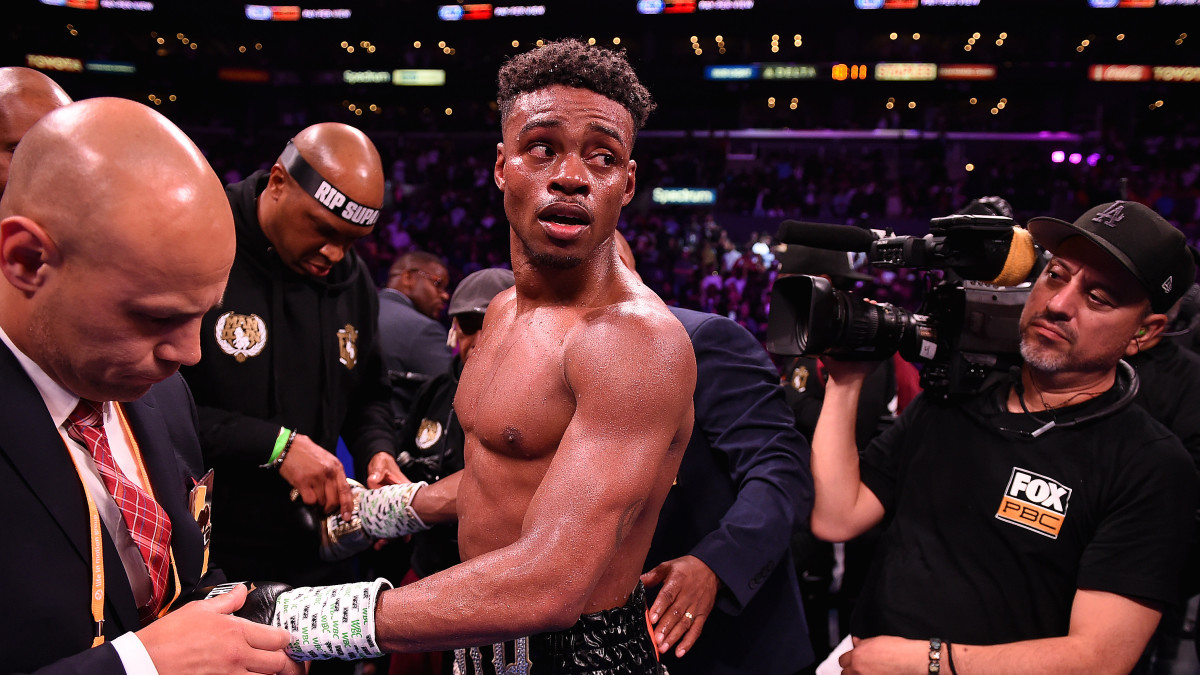 4. Errol Spence
Record: 26-0, 21 KO
Division: Welterweight
Titles: WBC & IBF

Despite his devastating car accident setting Spence back temporarily, he has a legitimate argument as the best at welterweight. After out-boxing and out-classing Mikey Garcia in March he went to war with Shawn Porter, knocking him down once en route to a split decision win. Many lauded these two performances, as he out-did each of the two at their own game. Though originally slated to fight Danny Garcia in his next bout, Spence's car accident set him back and Garcia took a fight with Ivan Redkach in the interim.
5. Naoya Inoue
Record: 19-0, 16 KO
Division: Bantamweight
Titles: WBA & IBF

Inoue won the bantamweight division of the World Boxing Super Series (WBSS) in an unexpectedly difficult matchup with veteran Nonito Donaire. Unfortunately for Inoue, there's little interest in smaller divisions from the bigger markets, so his promotion has only been able to take him so far.
6. Oleksandr Usyk
Record: 17-0, 13 KO
Division: Cruiserweight, Heavyweight
Titles: N/A

At cruiserweight Usyk ran through all of the competition laid out before him, including each of his WBSS opponents. His move to heavyweight was marred when his original opponent, Tyrone Spong failed a drug test. Usyk wore down replacement Chazz Witherspoon until Witherspoon retired in the corner after the seventh round. It's still undecided as to whether Usyk will be able to hold his own at heavyweight, but with a potential fight against Anthony Joshua, looming it won't be long before the answer is revealed.
7. Juan Francisco Estrada
Record: 40-3, 27 KO
Division: Super Flyweight
Title: WBC

In an era of superb flyweight and super flyweight boxers, "El Gallo" Estrada stands among the best. While not flashy, Estrada utilizes excellent fundamentals in the ring. His footwork is economical, yet helps him achieve the angles he needs to defend while also getting off his own shots. Estrada's intelligence and instincts are some of the best in the modern era of the sport, and his ability to adjust during a fight is what really raises Estrada from a good fighter to a great one.
The Mexican fighter has won multiple world titles in two weight divisions, flyweight (112 pounds) and super flyweight (115 pounds); even more impressive is who he beat to win those titles and who he has faced throughout his career, win or lose. In his first world title fight in 2012, he lost a close decision to Roman "Chocolatito" Gonzalez in a tremendous, back-and-forth, yet highly skilled bout. Later, Estrada faced the likes of Brian Viloria, Hernan Marquez, Giovani Segura, Carlos Cuadras, and Srisaket Sor Rungvisai—a who's who of current or former world champions at 112 and 115 pounds. -Caryn Tate
8. Gennady Golovkin
Record: 40-1-1, 35 KO
Division: Middleweight
Titles: IBF, IBO

Golovkin has not had an inspiring outing in about a year and a half, the second time he fought Canelo. Despite this, many believe he won the first of the two and some believe he won the second. Though he's fading Golovkin is still one of the best in the business. After a surprisingly close decision win against Sergiy Derevyanchenko, Golovkin will likely have at least one tune-up fight before another major fight against Canelo, Jermall Charlo, or Demetrius Andrade.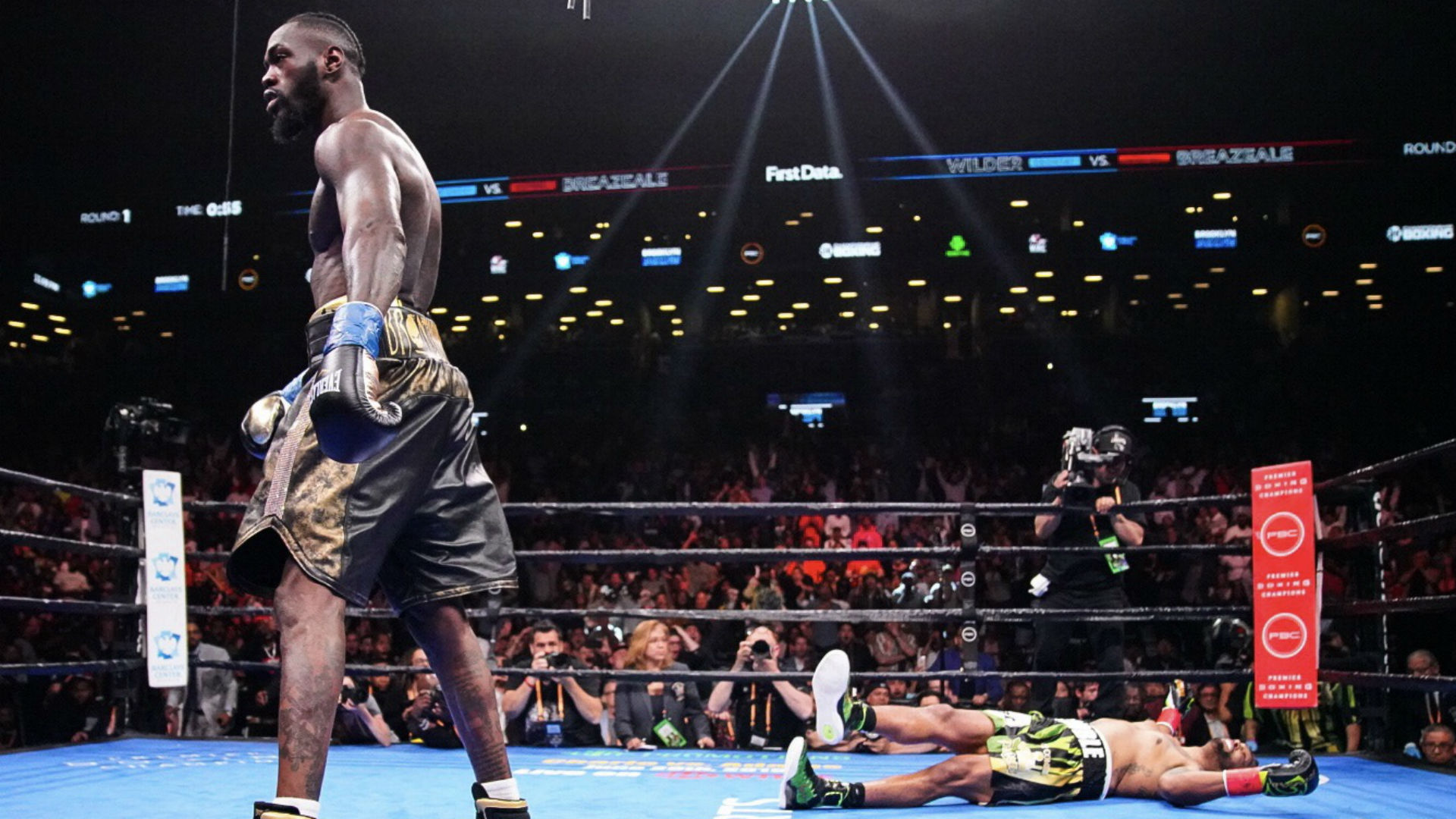 9. Deontay Wilder
Record: 42-0-1, 41 KO
Division: Heavyweight
Title: WBC

Deontay Wilder produced what was likely the most entertaining pair of fights in 2019. He nearly detached the head of Dominic Breazeale in the first round of their May clash, then crumpled Luis Ortiz in the seventh round of their rematch in November. "The Bronze Bomber" may lack the boxing prowess of many of the others on this list, but he is one of the hardest hitters of all time. All these accomplishments are amplified by the fact that he regularly gives up 30-50 pounds to his opponents, which is approximately 14-23% of his body weight of about 215. In February he will look to knock out Tyson Fury, the only man who has escaped being knocked out by Wilder's devastating power.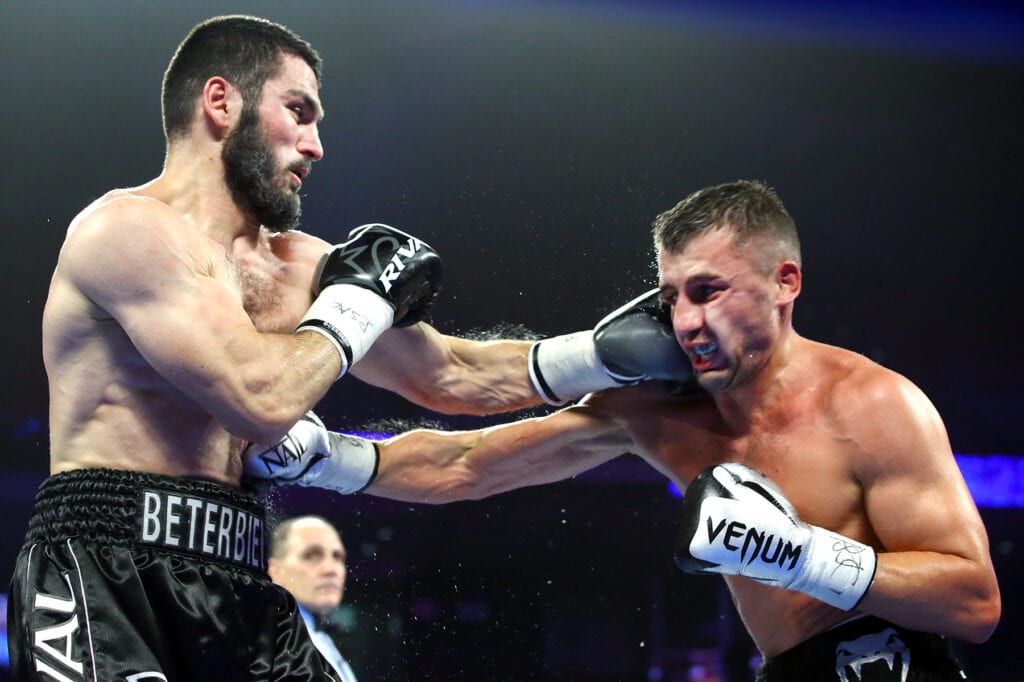 T-10. Artur Beterbiev
Record: 15-0, 15 KO
Division: Light Heavyweight
Titles: WBC & IBF

Beterbiev entered his October bout with Oleksandr Gvozdyk essentially even, as far as betting odds go. The fight was an interesting stylistic matchup where Gvozdyk put forward strong defensive skills and impressive boxing technique while Beterbiev fought straightforward and landed a lot of significant blows that eventually did Gvozdyk in. Beterbiev's name has been in the rumor mill as a potential opponent for Canelo, but it seems more likely he'll have an easier fight next.
T-10. Manny Pacquiao
Record: 62-7-2, 39 KO
Division: Welterweight
Title: WBA

After losing a unanimous decision to Jeff Horn in mid-2017, Pacquiao looked like he could be bound for retirement. After all, he was 39 years old and had already cemented his legacy as one of the greatest in the history of the sport. Instead he challenged for a belt two years later, defeating Keith Thurman and writing what's likely one final chapter of his legacy.
Individual Pound-for-Pound Rankings
| | | | | |
| --- | --- | --- | --- | --- |
| | Hunter Warren | Natasha | RL Woodson | Overall |
| 1 | C. Alvarez | V. Lomachenko | V. Lomachenko | V. Lomachenko |
| 2 | T. Crawford | C. Alvarez | N. Inoue | C. Alvarez |
| 3 | E. Spence | T. Crawford | E. Spence | T. Crawford |
| 4 | V. Lomachenko | N. Inoue | T. Crawford | E. Spence |
| 5 | N. Inoue | E. Spence | S. Alvarez | N. Inoue |
| 6 | O. Usyk | O. Usyk | O. Usyk | O. Usyk |
| 7 | D. Wilder | G. Golovkin | J. Estrada | J. Estrada |
| 8 | G. Golovkin | J. Estrada | D. Wilder | G. Golovkin |
| 9 | J. Estrada | M. Pacquiao | A. Beterbiev | D. Wilder |
| 10 | M. Pacquiao | A. Beterbiev | J. Taylor | Beterbiev/Pacquiao |
What's Next
With many of these elite fighters facing top-notch opposition in coming months, we'll be able to have a greater understanding of just what they're capable of doing at this point in their careers. And, as with everything in boxing, any punch can change entire careers.
Follow Natasha, RL, Caryn, and me on for more boxing content.
Discuss this and everything to do with sports at the Overtime Heroics forums!
New designs are dropping in our merch store! Be sure to check out the latest threads!
pound-for-pound pound-for-pound pound-for-pound