We are less than one week away from the trade deadline in the NBA and the rumors are heating up. Of course, it's hard to know what is real and what is just chatters. Contending teams are looking to make moves and lottery teams are trying to decide should we trade off assets or hold off until the off-season. Rumors are like rain chances some reports are higher than others.
5 yr(s) / $127,171,313 (Two years left)
Teams rumored pursuing Drummond: Atlanta Hawks, New York Knicks, Boston Celtics
Andre Drummond's name has been bouncing around for weeks now. The Detroit Pistons are definitely sellers this trade season. After Blake Griffin was lost for the season the Pistons have already started to look to next season. Drummond is an unrestricted free agent after next season. The Boston Celtics, Atlanta Hawks, and New York Knicks have all been rumored to be interested in Drummond.
50 percent chance of this trade
The Pistons are reportedly looking for a high first-round draft pick and this has caused some teams to go cold on this proposal. The Celtics who are the only contender linked to Drummond might be motivated to make a move since they are considered one of the top teams in the East. Of course, it comes down to the Celtics are willing to part with first-round picks and if the Pistons are willing to take on contracts like Gordon Hayward. Drummond's contract comes to end next year so teams have to take that into account as well.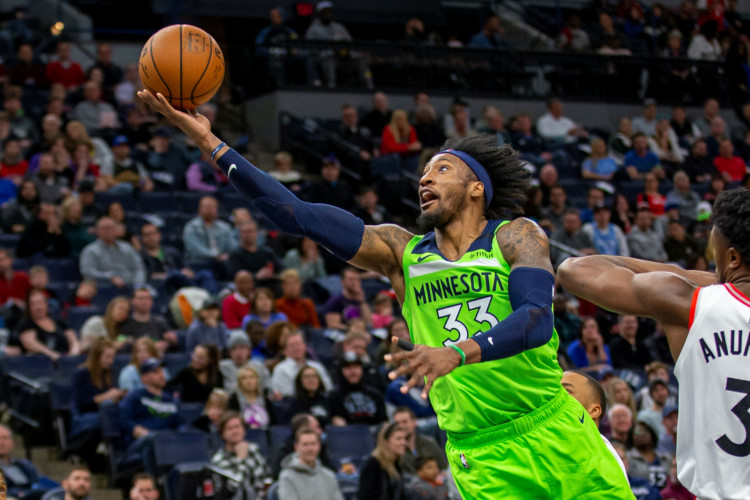 4 yr(s) / $46,879,127 (Three years left)
Teams rumored LA Lakers, LA Clippers and Dallas Mavericks
Robert Covington is on a team-friendly contract that has including this year three years left at average $12.1 million a year. Covington is a coveted wing that combines 3-point shooting with above-average defense. LA Lakers, LA Clippers and Dallas Mavericks are the teams that have been linked to Covington.
Sixty percent chance of this trade
The Timberwolves are another team that will be lottery-bound again this year. With a reasonable contract, the Wolves will have plenty of suitors. Knowing this they will probably drive a hard bargain. With only five days left until the trade deadline, multiple contenders will try to pry Covington away which makes this more than just a rumor.
The teams rumored to be pursuing Covington all need wing help especially the Lakers who shooting has been the biggest issue so far this season.
Teams Rumored Atlanta Hawks
The Houston Rockets are going through a slump to start the new year. The Rockets have few tradeable options. Eric Gordon cant be traded this year and the Rockets are a top-heavy salary team.
10 percent chance of this trade
The Rockets are already thin on the front line with Mike D 'Antoni electing to go small most games. Capela has been in and out for the last few games. The Rockets don't have a backup power forward and don't play Isaiah Hartenstein or Tyson Chandler on a regular basis. Also, the one team interested the Hawks are probably not letting John Collins go and Alex Len and Deandre Hunter are not enough in this trade