Throughout this football offseason, we have looked at three smaller FBS schools in Alabama. We will now shift our focus to the state of Georgia. While Georgia and Georgia Tech are widely known, we want to take the time to recap another team in the state. This team hails from Statesboro, Georgia. This team sits almost three and a half hours west of the capital city of Atlanta. The team we are referring to is the Georgia Southern Eagles. The Eagles call the Sun Belt Conference home and are still trying to find traction at the FBS level. Let us see how Georgia Southern faired in 2019.
2019 Recap
How does one follow up a 10 win season in 2018? They earn another bowl game appearance. While the win total was not the same, earning your second straight bowl bid is something to celebrate. The Eagles registered a 10-3 record in 2018, culminating with a win over Eastern Michigan in the Camellia Bowl. However, in 2019, Georgia Southern finished 7-6. The Eagles recorded conference wins over South Alabama, Coastal Carolina, Appalachian State, and ULM. For the second straight year, Georgia Southern defeated their archrival, Georgia State by a final score of 38-10.
As a result of winning seven games, the Eagles earned a spot in the Cure Bowl. The Liberty Flames were the opponent. The Flames got the better of the Eagles by a final score of 23-16. A hard-fought 2019 may have ended on a sour note. However, Georgia Southern did good things this year and they hope to continue building their program in 2020.
2020 Preview
The 2019 schedule provided lots of tests for this Georgia Southern program. Furthermore, 2020 will be no different for the Eagles. They have a non-conference schedule that features road games against Boise State in September and Ole Miss in November. In addition to their two road games, the Eagles play host to Campbell on September 12 and Florida Atlantic on September 19. Before playing Ole Miss, Georgia Southern will have a tough conference schedule to navigate through. The Eagles will play road conference games against Coastal Carolina, Georgia State, Louisiana, and ULM. On the other hand, Georgia Southern will host conference opponents Appalachian State, Texas State, Troy, and South Alabama. Last year, the Eagles went 5-1 inside the friendly confines of Paulsen Stadium. Georgia Southern looks to defend home-field advantage in 2020.
2020 Prediction
The Sun Belt instituted the conference championship game in 2018. Since then, Georgia Southern has defeated Appalachian State twice in a row. The Eagles hope in 2020 they can get over the hump and win their division. On paper, it appears that Georgia Southern will finish 2-2 in the non-conference. Additionally, the Eagles can win, at most, six or seven conference games. Give Georgia Southern wins over Coastal Carolina, ULM, Texas State, and South Alabama. Add in wins against Troy and Georgia State and the Eagles will finish 8-4. As a result, the Eagles may fall out of the Sun Belt Conference Championship discussion. If Georgia Southern can defeat Louisiana or Appalachian State, in addition to the wins alluded above, the Eagles could find themselves playing for a Sun Belt Championship.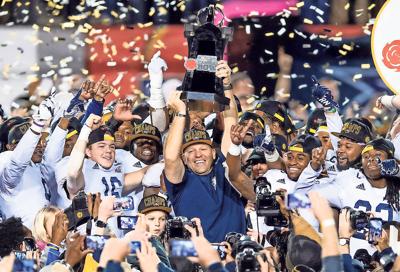 Conclusion
Head Coach Chad Lunsford continues to build a solid foundation in Statesboro. This will be the Eagles seventh year at the FBS level. During their seven years, Georgia Southern has made three bowl games. The Eagles hold a 2-1 record in those games. As the program continues to grow, Coach Lunsford hopes to take his team to the next level. Winning the Sun Belt East will go a long way in bringing attention to the Georgia Southern program. While winning your division is good, winning the Sun Belt conference is even better. This Georgia Southern team can certainly win the Sun Belt in 2020. Keep an eye on this Eagles program as they progress through the 2020 season.
---
Follow me on Twitter @JayDoug2015 for more great content.
Come discuss this and much more at the Overtime Heroics forums!
Be sure to check out our partners at Repp Sports! They offer the first-ever crowd-sourced, no carb, no sugar, energy drink called RAZE and much more! Use the link above or add the promo code OTH1 at checkout to get 30% off your order!