1. Joe Burrow, LSU
Joe Burrow had one of the best seasons at the quarterback position in college football history. He broke the record for single-season passing touchdowns en route to a Heisman Trophy and a National Championship.
The most impressive thing to me about Burrow's season was the fact that he played top-notch competition week in and week out. No moment was too big for Burrow, as he shined in the brightest of spotlights, time and time again.
What makes Burrow so great is his ability to read and diagnose a defense pre-snap. More often than not, he knew exactly where he was going to throw the ball, well before it was snapped.
Burrow doesn't have the elite arm strength that some of the other guys in this class have. However, his ball placement, timing, and accuracy are the absolute best of any signal-caller in this class. He's surprisingly mobile, very aware in the pocket, and can extend plays and make some big-time throws in and out of the pocket.
2. Tua Tagovailoa, Alabama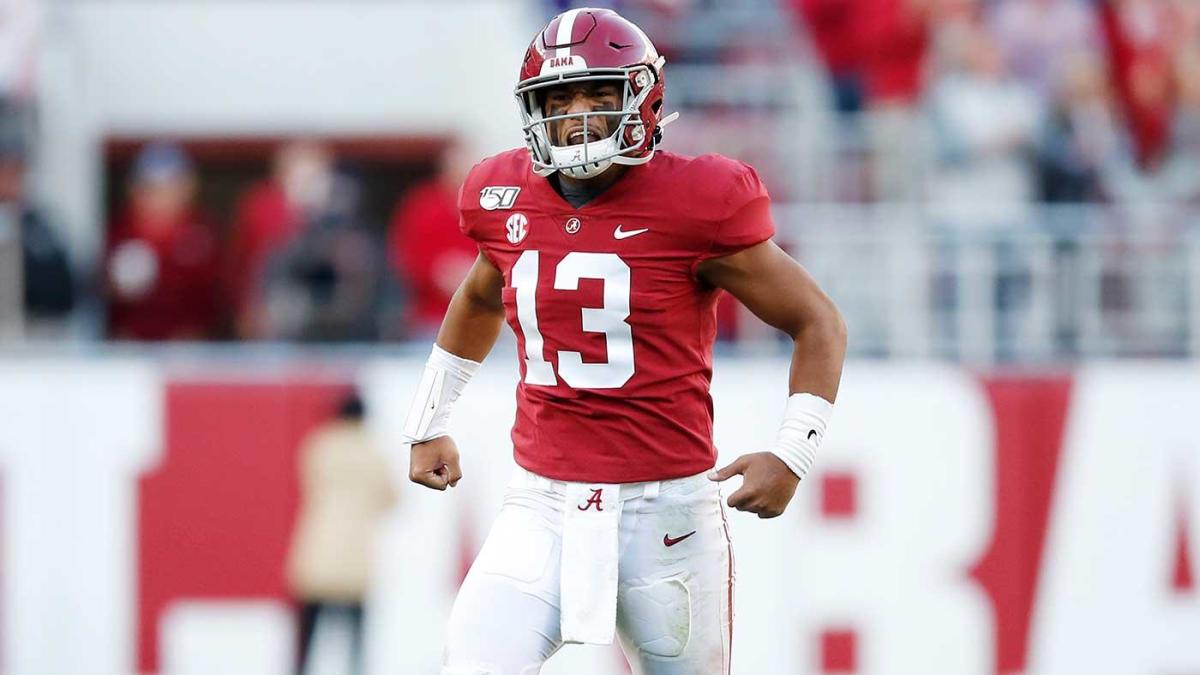 If it weren't for injuries, there would be some serious debates on who the best quarterback in this class is. At the beginning of the season, many people considered Tua the likely number-one overall pick in the draft.
Due to a hip injury, Tagovailoa was forced to miss the final three games of the year. Everyone is waiting to see whether or not he participates in the NFL Combine and/or the Alabama pro day. Tua said he was hoping to "win his medicals," and if he does, you're looking at a top-five pick in April.
His arm strength is average, but he does everything else at such a high level that he is being called the left-handed version of Drew Brees. His ball placement, pocket mobility, and improvisation skills are exceptional. He showed great timing in the Alabama offense and rarely made bad decisions.
Tua was surrounded with some of the best talent in college football during his tenure at Alabama. His receiving corps was arguably the best group of players in the country. The elite talent around him sometimes made his job a little too easy. Tua has never struggled with interceptions, but he can be a bit reckless when carrying the football. Fumbles plagued him in Tuscaloosa, and one can only hope that he's able to limit those in the NFL.
Tua is a top-five player in this class when healthy and should hear his name called early in April. The sky is the limit for him.
3. Justin Herbert, Oregon
Few players had as good of a week at the Senior Bowl as Justin Herbert. A natural introvert, Herbert was doubted for not being a good leader due to his vocal presence, or lack thereof. During Senior Bowl week, he showed the ability to unite a group of guys who had never played together. He took home the Senior Bowl MVP award, playing only quarter, despite his team losing the game.
Herbert has all of the physical traits you look for in a franchise quarterback. He's got the size, arm strength, and mobility of a game-changer and potential All-Pro. He has learned to not only fire bullets when needed but to throw a changeup with the touch to make it easier on his receivers.
With that being said, Herbert has also been inconsistent at times, struggling against better teams. His decision making has been questionable at times, but everything you look for is there. It's up to the coaches that have him to develop him and help him reach his potential.
4. Jordan Love, Utah State
After a stellar 2018 campaign in which he threw for 32 touchdowns and only six interceptions, we saw a steep dropoff in his production. In 2019, Love's numbers dipped to just 20 touchdowns and a whopping 17 interceptions. Despite his struggles statistically, I wouldn't be doing Jordan Love justice if I didn't go into more detail about what caused this significant decline.
After exploding onto the scene as a sophomore, Love faced plenty of adversity in his junior season. Utah State brought in a new coaching staff, and Love lost the majority of his supporting cast. In fact, Utah State lost its leading rusher, tight end, and three leading wide receivers. They even lost four of their five offensive linemen, with the only returning player being sophomore left tackle, Alfred Edwards.
Even after losing nine of the 11 starters on offense, Love still showed promise. Several of his interceptions were a result of drops, and he often had trouble trusting his receivers when a big play was needed.
Love has a strong arm, a beautiful deep ball, solid mobility, and possesses a Mahomes-Esque play style on the field. After seeing the success the Chiefs have had with their young quarterback, many NFL teams will be looking to replicate that success with Jordan Love at the helm.
5. Jacob Eason, Washington
Two words. Arm strength.
Jacob Eason has plenty, and then some. After transferring home to Washington from Georgia, there were high expectations for the Husky offense. Although they didn't quite meet those lofty expectations, Eason still showed flashes of promise.
Formally known as a fastball pitcher, Eason has learned to dial it back a notch when needed. He has plenty of arm talent, and he knows it. That tends to get him in trouble when Eason starts to trust his arm too much. He will force throws into windows, assuming that the zip behind it will guide the ball into his receiver's hands before the defensive back can break it up. He won't be able to do that in the NFL against better competition.
I like the tools that Eason possesses, but there are a few things to his game that alarm me, rather than impress me. When he's under pressure and looking to escape, he likes to completely turn his back to the defense as he rolls out to the left. Ultimately, he ends up losing more yardage than you would like, and it prevents him from keeping his eyes downfield.
My biggest concern with Eason is off the field. After starting his college career at Georgia, Eason ended up getting hurt and losing the starting job to Jake Fromm. In an effort to become a starting quarterback, Eason decided to transfer and ended up at Washington. After being forced to redshirt a year before he could play, it was rumored that Eason failed to master the playbook. When you play the most crucial position in football, it's monumental that you memorize the playbook, knowing exactly where everyone lines up, what their assignments are, and what your checks and audibles are. Eason failed to do that. That causes me to worry if he can be a leader off the field and whether or not he will put in the work needed to become a viable starting quarterback in the NFL.
6. Jake Fromm, Georgia
If you're looking for a very competent starting quarterback with a high floor, a leader who can manage games and not lose them, Fromm is your guy. But if you draft him in search of the next Patrick Mahomes, Tom Brady, or Aaron Rodgers, you will be disappointed.
Fromm is a great leader, he has a high football IQ, and he will work harder than anybody on your roster. Those are great qualities to have, but they don't paint the entire picture on Fromm. His arm is not very strong, and he didn't progress as much from his freshman season to the end of his junior year like you would have hoped. I don't want to call Fromm a finished product, but you know what you're getting when you draft him.
Fromm is not going to beat you with his legs, and he's rarely going to overthrow any of his receivers when taking a shot downfield. His throws can take a while to get to the target when they are outside of the hashes. He also has a bad habit of flipping the ball on deeper dropbacks. It doesn't seem to affect him, but it's not mechanically sound and could present a problem down the road. If you need someone to step in and contribute right away, he's the guy. If your team is in rebuild mode and doesn't have the talent to surround Fromm, you're going to be shopping for another quarterback sooner rather than later.
7. Jalen Hurts, Oklahoma
Jalen Hurts had a phenomenal college career during his time at both Alabama and Oklahoma. He's a very dynamic player who is among the most exciting players in the nation to watch. Unfortunately, exciting players don't necessarily breed success.
Hurts is a true dual-threat quarterback who can turn any play into a touchdown. Many people like to point to Lamar Jackson as a reason to be optimistic about mobile quarterbacks. What they fail to point out is Lamar Jackson is actually a competent and talented passer. Not every mobile quarterback can do what Lamar does; otherwise, the NFL's most valuable player wouldn't be revolutionizing offensive football.
Hurts has high character and a work ethic that is beyond belief. He has the ability to extend plays and sense pressure, despite not even having eyes on the guy who is creating it. He's very poised and will do anything and everything it takes to win games. The intangibles are off the charts.
Since Hurts is so efficient when scrambling, he tends to leave the pocket and take off when it isn't necessary. He has been unable to locate open receivers at times due to his run-first mentality, and he doesn't always make it past his first read before taking off. Hurts tends to float deep balls downfield, giving the defender time to make a play, and he's not as accurate when he's throwing away from the middle of the field.
Hurts will need a coach who is fully devoted to building the offense to suit his play style to help him find success at the next level.
8. Anthony Gordon, Washington State
Anthony Gordon is a prime example of why you should watch a player and NOT look at the stats. Gordon was second in the nation in passing yardage and passing touchdowns, trailing only Joe Burrow. Despite having stellar seasons statistically, Mike Leach's quarterbacks haven't had a good track record in the NFL. Many of the all-time passing leaders in college football history were a product of a high-octane, air-raid style offense, such as Anthony Gordon.
Gordon does a lot of things well, but he doesn't do anything at an elite level. Due to the offense he played in, Gordon was able to get the ball out quickly to allow his receivers to make plays in space. He has a very quick release and is able to get the ball out without taking many sacks. He's fearless on the gridiron, which can sometimes end up being a spectacular play or a horrendous decision. If the play doesn't develop quickly enough for Gordon, his footwork becomes sloppy, causing him to roll out in a lethargic manner.
Gordon is the type of quarterback you love to take a shot on in the middle-to-late rounds, with hopes of him becoming the next diamond in the rough. However, he is still a developmental project that may never last at the professional level.
9. Cole McDonald, Hawaii
Cole McDonald is very similar to Gordon in terms of being a project quarterback that filled the box scores, largely in part to a pass-friendly offense. Hawaii used a run-and-shoot based attack, allowing McDonald to put up big numbers in 2019.
Cole McDonald has a great arm with all the strength needed to get the ball into a tight window. He's more than capable of taking off and eating up yardage with his legs. He has no problem throwing bombs down the field in hopes of a big play and doesn't let a negative play affect his home run mentality.
Watching Cole McDonald throw can make you cringe at times. He has a very long, awkward throwing motion that leads to some wild, errant throws. He's able to make it work for the most part, but when he's off, it's not pretty. Another concern is his decision making. He's been known to throw directly into coverage, sometimes right to the defender. I'm not sure if he has a hard time reading a defense pre-snap, or if he doesn't see the underneath defender in zone coverage. Either way, it doesn't look very good.
Like many of the guys in the later rounds, there are moments where McDonald shows his potential, but it will take some time and work to get him where he needs to be. If a coach can help him better understand defenses and what they are doing, there is a realistic path to success in the NFL.
10. Bryce Perkins, Virginia
Bryce Perkins had a fantastic career at the University of Virginia. He has been a staple of Bronco Mendenhall's success during his short tenure in Charlottesville. Perkins established himself as a leader, carrying his team to their first win against their rival Virginia Tech in 15 years, their first-ever berth to an ACC Championship game, and an appearance in the Orange Bowl.
Perkins is a mobile quarterback, providing as much, if not more, on the ground as he did through the air. He can be accurate enough when throwing to different levels of the field but doesn't always do it consistently, especially with deeper throws. His athleticism at the position is among the best in the draft. At times, Perkins looks solid when pressure comes, and he has to navigate his way out of the pocket, and at other times, like against Notre Dame, he seemed utterly unaware of the pass rusher.
Perkins is good enough to be a solid backup in the NFL, but I'm not sure if he'll ever become a bonafide starter at the next level.
---
Follow me on Twitter @Alex2TheSimpson for more of my content and follow @OT_Heroics!
Discuss this and everything to do with sports at the Overtime Heroics forums!
Be sure to check out our partners at Repp Sports! They offer the first-ever crowd-sourced, no carb, no sugar, energy drink called RAZE, and much more! Use the link above or add the promo code OTH1 at checkout to get 30% off your order!