We will look back at the past two seasons of Nick Chubb as he went from a second-round pick of John Dorsey to bursting on the scene in the Oakland Raiders game. Chubb has been the silent, humble, lead by example type guy any organization would want. We will discuss if, after two seasons, can we call Nick Chubb the best player on the Browns roster?
Revisit How Chubb got Here
Nick Chubb was a top tier back in college football for the Georgia Bulldogs. Early in his career at Georgia, Chubb had a devastating knee injury he fought through to come back as a force to be reckoned with late in his career at Georgia. His senior year saw him get his explosion back. The only difference was that he was sharing the backfield with fellow NFL draft pick Sony Michel.
After the Bulldogs fell short in the College Football Playoff losing to future teammate Baker Mayfield and Oklahoma. Nick Chubb started the process of getting ready for the NFL draft. The Cleveland Browns drafted Nick with the 35th overall pick in the second round. He was a surprise pick for the Browns and fans around the NFL as Dorsey had never taken a running back that high. Nick was the second player picked by GM John Dorsey in that round after picking an offensive lineman with the 33rd pick.
Nick's 2018 Season had an Odd Start
Nick started the 2018 season as the third-string back for the Browns his rookie season. The Browns already had Duke Johnson and, during the offseason, signed Carlos Hyde. Hue Jackson was still the Head Coach and Offensive coordinator Todd Haley was brought on board to run the new offense with Tyrod Taylor at quarterback. Nick's first chance to make an impact came in week three against the Oakland Raiders in the second quarter. He took a handoff from Baker and went up the middle and bounced to his right. Next thing you know, 63 yards later, he is in the endzone for his first career touchdown.
Nick came back later in the game and exploded again. The game is close, and Nick takes the handoff again from Baker and starts to the left. He makes a slight cut back and goes right up the middle of the field. Chubb then breaks through the Raiders defense and takes it 41 yards to the house. This was Nick's welcome to the NFL moment. He ran only three times for over 100 yards and two touchdowns. This sparked a lot of discussions not only within the Browns but also nationally. After this game, Carlos Hyde was traded inside the next two weeks, and the reigns were given to Nick to be the bell cow.
Nick Chubb is a Big Play Hitter
So, not only did Chubb have the 63 and 41-yard touchdown runs against the Raiders, but that was not his only homerun style runs. Nick was playing very consistent and was reliable. He was leading our rushing attack and scoring touchdowns when we needed it.
The game at home against the Atlanta Falcons was one for the record books. It was in the third quarter, and the score was 21-10 Browns. Atlanta got the Browns pinned deep at the eight-yard line. Nick takes a handoff from Baker and starts to the right side of the line. Once Nick gets the ball, he finds a crease and cuts up the field. Next thing you know, Chubb is gone for a 92-yard touchdown run. This was the longest run in Cleveland Browns history.
Nick had an awe-inspiring rookie season falling just short of 1,000 yards with 992. He had eight rushing touchdowns and two receiving. Chubb does not get credit for his hands. In the 2018 season, Nick had 20 receptions for 149 yards. The Browns had their starting running back for 2019 without a doubt, and it was going to be an excellent season for Nick Chubb.
2019 in review for Nick Chubb
The Browns 2019 season started with another coaching change, and first-year coach Freddie Kitchens was saying this team was going to run the ball. Most of us Browns fans were thrilled with this. Nick proved to be that reliable back that every team looks for. Chubb ran for 1,494 yards and eight touchdowns. He caught 36 balls for 278 yards, but no touchdowns. Nick was a little uncharacteristic from 2018 as he did have three fumbles, and two of them came in the same game against the Patriots.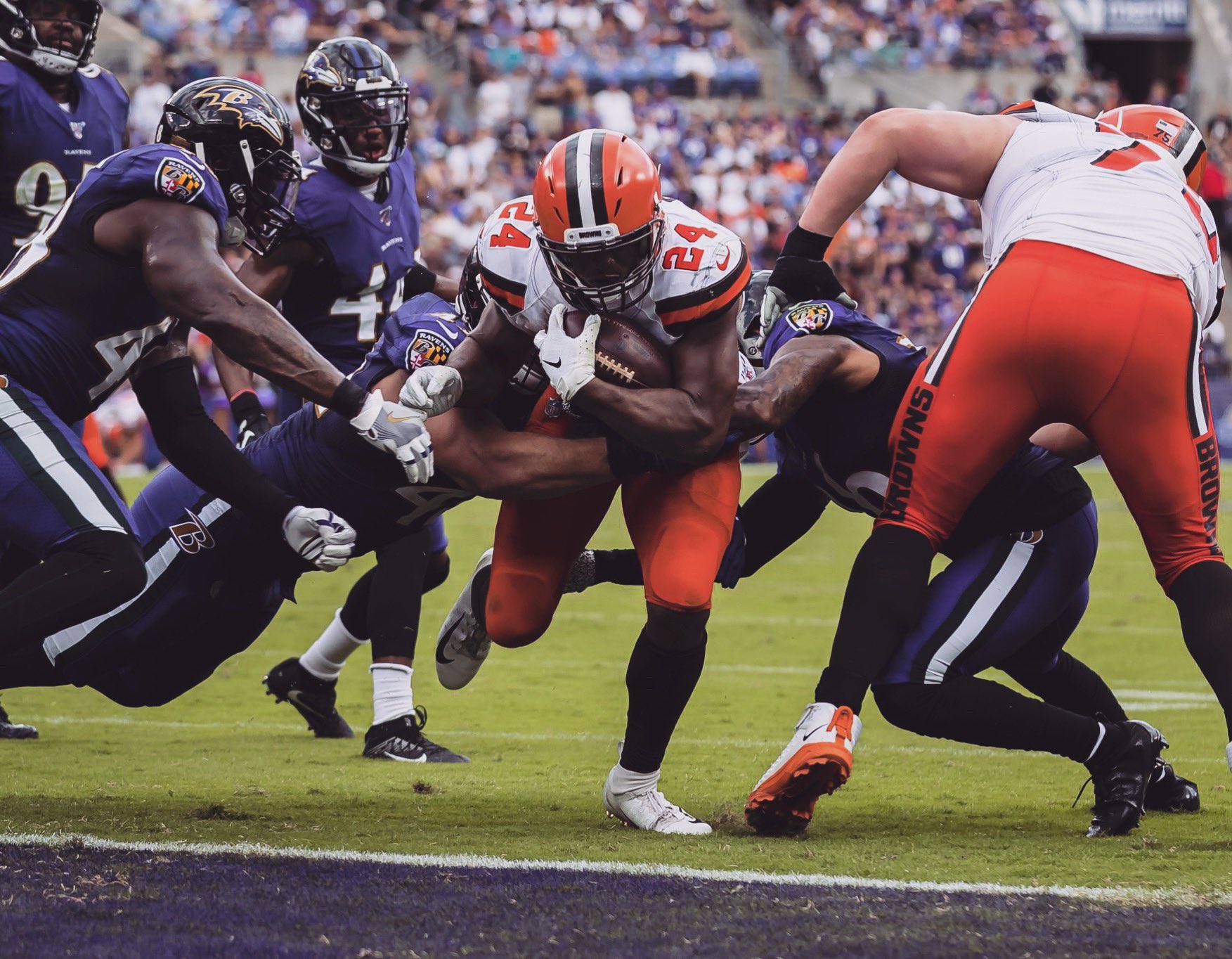 Nick Chubb is an iron horse and hardly ever says a word during a game. When the Browns played the Baltimore Ravens at home in October, Nick was mic'd up by NFL Films. This was the quietest of a mic'd up session you will ever hear. But, one thing on this recording that struck me the most was the conversation between him and Odell Beckham Jr.
Odell says to Nick; I would love to score me a touchdown, and Nick replies, I want to win the game. This is Nick Chubb and why the Browns fans love him. We want all our players to be humble and not care about stats. All we want to see are wins. It doesn't hurt when Nick can run for over 100 yards, Baker can pass for over 200, and either Jarvis Landry or Beckham Jr. has themself a game too.
What will 2020 bring for the Browns
Well, the Browns have made a change at the Head Coach spot and turnover in the Front office. At least for Nick, one thing has stayed the same, and that is his running backs coach, Stump Mitchell. Mitchell was one of three coaches kept on after Kitchens was let go. Head Coach Kevin Stefanski brings an offense that could help Nick be better than in 2019.
The wide zone scheme is perfect for running backs that can read where the hole is and are physical. I'm very excited to see how Chubb will do statistically, but the Browns need to get a bit more athletic up front first to run this offense. If the Browns can solve the question marks they have on the offensive line, this offense can become a top ten unit.
---
Follow @EdStange and @OTHeroics for more great content! Also, join us for more debate in our sports forum.
You can find other articles like this at Overtimeheroics.net or look for our football page on FaceBook. OTH_Football
Be sure to check out our partners at Repp Sports! They offer the first-ever crowd-sourced, no carb, no sugar, energy drink called RAZE, and much more! Use the link above or add the promo code OTH1 at checkout to get 30% off your order!