Throughout this football off-season, we have recapped the smaller schools around the state of Alabama and Georgia. With our FBS teams checked off, it is now time to move down to the FCS level. One of the teams in the state of Alabama is the Samford Bulldogs. The Bulldogs call the Southern Conference home at the FCS classification. The team from Birmingham finished one win away from a .500 record this past season. As we get ready for 2020, let us look at how the Samford Bulldogs faired in 2019 and what we can expect from this team next year.
2019 Recap
Samford began 2019 with a pair of losses to Youngstown State and Tennessee Tech. The Bulldogs proceeded to win their next three games. Two of their wins came against conference opponents Wofford and The Citadel. They also defeated in-state opponent Alabama A&M. With a 3-2 record, Samford lost two straight conference games to Furman and VMI. A win over East Tennessee State brought their record to an even 4-4. The Bulldogs then lost back-to-back games against Southern Conference opponents Mercer and UT-Chattanooga. A win over Western Carolina gave Samford a 5-6 record overall. Even with an outside shot at a .500 record, the Bulldogs had to travel to Auburn, Alabama. The Auburn Tigers defeated Samford by a final score of 52-9. Despite finishing 5-7, four of those losses were one-possession games. A different bounce here or there could have resulted in a banner year for the Bulldogs. While losing close games hurts, Samford hopes to their experience and success carries over to next year.
2020 Preview
2020 is filled with an action-packed schedule. The Bulldogs will face Tennessee Tech, Florida State, and Kennesaw State in the non-conference. A 1-2 record in these three games seems like a best-case scenario. Despite being down, Florida State should be able to win. Additionally, Kennesaw State has been at the top of the FCS for the past few years. It will take something drastic to defeat both opponents. Samford's home conference schedule includes Wofford, Western Carolina, Mercer, and VMI. The road conference slate for the Bulldogs features East Tennessee State, Furman, The Citadel, and UT-Chattanooga.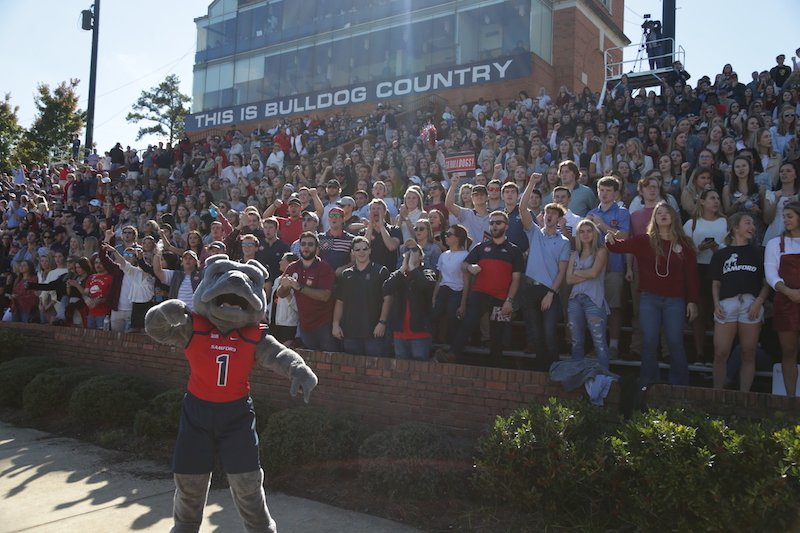 2020 Prediction
The 2020 conference schedule looks favorable with winnable games both at home and on the road. Samford can finish their home schedule 4-0. Additionally, every game on the home schedule is winnable and can help in the conference standings. Because it is harder to win on the road than at home, the Bulldogs will finish 2-2 on the road. The road teams Samford could lose to are Furman and UT-Chattanooga. The one home game that could be a toss-up would be the conference opener against Wofford. The ceiling for wins in 2020 will be 7-4. Worst case, the Bulldogs will finish 6-5. The schedule does not seem hard enough for Samford to finish with a negative record in 2020.
While the projected win total is seven, the Bulldogs could surpass that with some upset wins. With Florida State being down, Samford could go into Doak-Campbell Stadium and shock the world. The Bulldogs could also upset Kennesaw State if things fall the right way. You can also see the Bulldogs split their road games against Furman and UT-Chattanooga. If we see these scenarios take place, it will bring Samford's record to 10-1. Even though this may be an off the wall prediction, it could very much come to pass in 2020.
Conclusion
The Samford Bulldogs have made the FCS Playoffs five times in their program's history. The last appearance came in 2017 when they finished 8-3 and second in the Southern Conference. The Bulldogs lost to Kennesaw State in round one of the FCS Playoffs. In addition to their five playoff appearances, Samford has won only one Southern Conference Championship. While 2020 is expected to be a difficult year for the Bulldogs, Coach Chris Hatcher has other plans. Coach Hatcher and his team hope to return to glory by adding anther conference championship and FCS Playoff appearance. Keep an eye out for this Samford Bulldogs team in 2020. Furthermore, look for the Bulldogs to climb up the Southern Conference ranks and make a Cinderella run towards the FCS National Championship.
---
Follow me on Twitter for more college football news stories.
Discuss this and everything to do with sports at the Overtime Heroics forums!
Be sure to check out our partners at Repp Sports! They offer the first-ever crowd-sourced, no carb, no sugar, energy drink called RAZE and much more! Use the link above or add the promo code OTH1 at checkout to get 30% off your order!