Let's do the fun thing everyone does after the first day of free agency and grade the Browns moves. Grading free agency is kind of a crapshoot but it is fun. most fans should be really happy with the move the Browns made yesterday. Especially the signing of Jack Conklin to his mega-deal. Without further ado here we go. (Players names link to individual FA articles)
Deal: Four-years $44M deal with $23M guaranteed
Grade: A-
The Browns already have David Njoku at tight end, and new head coach Kevin Stefanski has said he will have a chance in 2020. Then the Browns went out and paid Austin Hooper a lot of money to join him. Does this spell the end of Njoku? Maybe not. Stefanski used a double tight end set more than anyone in the NFL last season. Baker performs best in the same scheme. With Hooper's ability to block and make plays and Njoku's talent and athleticism, makes this Browns signing an A+. The fact they gave a tight end that has had injuries and limited starts knocks it to an A-.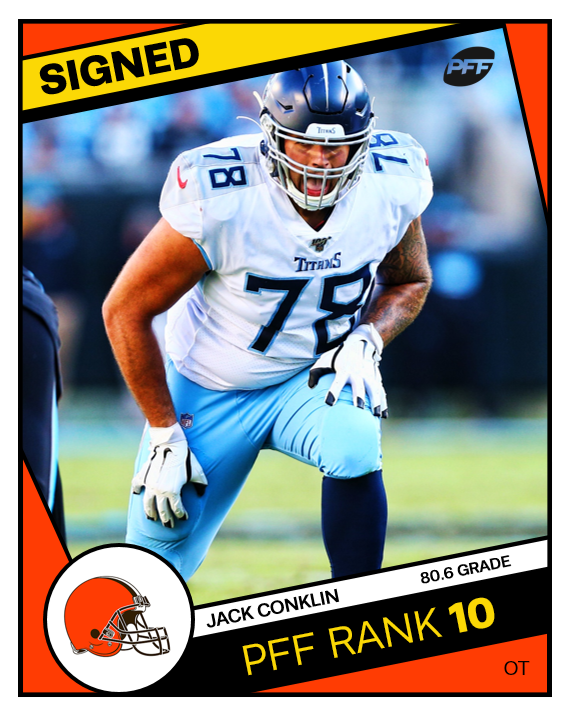 Deal: 3-year deal with the Browns for $42M with $30M fully guaranteed, per @RosenhausSports. He earns $20mil in the first year.
Grade: A
This signing is A+ when it comes to need and surprisingly to fit. Conklin has graded out very well when asked to run the stretch zone in the past. That should provide a big punch to an already excellent ground attack. The other side of this is that Conklin has graded at only 64.2 in pass sets per Pro Football Focus. That is average at best, and he did allow four sacks. With an overall grade of 80.6, he was by far the best tackle on the market, and the Browns filled a huge need. Another strong move by the front office of the Browns. The only reason this falls a bit to an A is the monster contract(required) and low pass-blocking grade.
Deal: Three years $18 million deal, $10 million guaranteed
Grade: B+
The last of the Browns' first-day signings brings in a reliable veteran backup to starter Baker Mayfield. Based on Mayfield's sophomore season, he could also qualify as an insurance policy. This could be why the Browns frontloaded his deal also. Should Mayfield revert back to his old form they could cut ties with very little cap hit. If Keenum stays the backup and provides the veteran presence expected in the quarterback room, then this ends up an A. The reason for the jump is that the move pushed your young quarterback as it should have and 10 million is worth that in the NFL. So far, so good from the Browns new front office.
Remaining contract(Spotrac): Two years $3.05 million
Grade: A
Janovich is a good fullback coming off an injury-filled 2019. If he is back to full health, he provides what this team needs in the stretch zone running attack. Janovich is a powerful lead blocker with the ability to make a few plays. Also, I am aware this is not a free agent signing, but it is still a significant move made by this front office. At only 26, this gives the Browns another young veteran to continue building the core of the team. So far, this front office has been spot on in addressing every need. Remove the injuries, and this is another A+ caliber move.
Deal: One Year no financials
Grade: B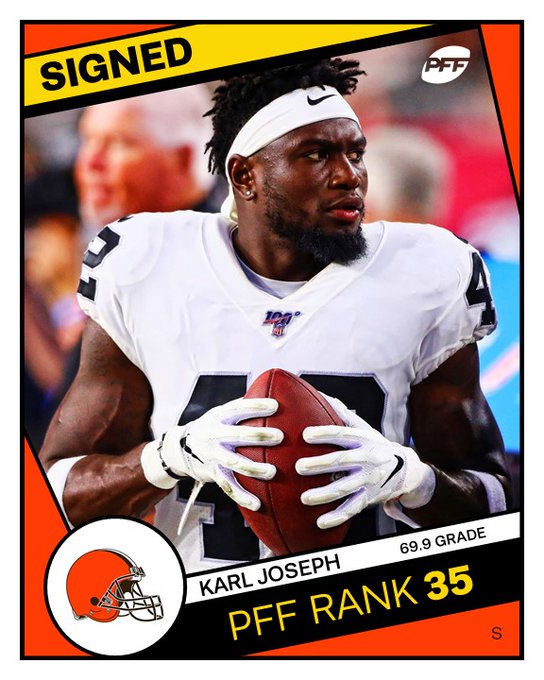 Joseph played in only nine games last season due to an injured foot. The former first-round pick has been a solid run stuffer for the Raiders but lacks in coverage. The 26-year-old was the 35th ranked safety last season with a 69.9 overall grade from Pro Football Focus bolstered by an overall grade of 82.2 when lined up in the box.
The Browns defense gave up 144.7 yards per game on the ground last season. Joseph should help that number go down in 2020. This is another smart move by the front office simply because they only needed to lock him in at one year, and he is a solid player. They also have not restricted themselves from adding another safety through free agency or a trade. Last but not least, they have also allowed the chance for any young safety already on the roster or that they may draft to be eased into the defense instead of forced into it. Andrew Berry is proving to be very adept at the free-agent game so far this offseason.
Deal: One year no financials
Grade: C+
They can't all be As and Bs when dealing with free agency. Goodson brings a thumper that is supposed to be a help in stopping the run game. According to Pro Football Focus last season, he graded at 57.7 in run defense. It was a small sample size of 245 snaps, and Goodson has proven to be more effective in previous seasons against the run. He is also an efficient tackler with only seven missed tackles over the last two seasons. The current C+ could climb if Goodson and Joseph can combine to improve the Browns run defense in 2020.
Deal: 1-year deal worth $3.5M fully guaranteed
Grade: B
Billings comes to the Browns from the Bengals. He brings starting experience, 37 games, to the defensive tackle rotation. He is also only 25-years-old and possesses a ton of talent that he has yet to tap fully. This deal will allow the Browns to fill a need and see if he can tap into that talent to be a part of the future maybe. This signing is another strong pickup by the young Andrew Berry as he continues to fill needs with smart choices.
Deal: one year $3.5 million deal that can escalate to six million dollars via incentives
Grade: B
The Browns add depth to the secondary with the signing of Johnson. This grades at a B based on the fact that Johnson was excellent last year as a third corner for the Bills last season. A 71.9 grade from Pro Football Focus placed in 22nd among cornerbacks. He also provides depth on special teams. Not all signings have to be big names to be great ones, and this one certainly looks as though it qualifies as that.
Deal: One year for one million dollars
Grade: B-
The Browns may have got a steal with this contract. Natson is known to be a special team ace, and those are always needed. The Browns seemed to have ignored that fact for what feels like ten years now. With a reasonable deal, Andrew Berry has added help to another phase of the game. Berry is setting this team up not to be required to find and fill any one position in the draft. Obviously, left tackle is still a need, but the Browns could make any pick they want at this point.
Deal: One-year, $2.25 million
Grade: B
Sendejo is the Browns first signing over the age of 30 this offseason. At 32, he brings a wealth of experience to a young secondary room. He is also a long time Viking that should help Kevin Stefanski set the tone next year. He produced 45 tackles, two for loss, four passes defended, and three interceptions. This is another solid move to bring in a veteran that can still produce into a young locker room. Andrew Berry and Stefanski should be lauded for the deals they have made so far this offseason.
Deal: two-year $6 deal(could go to $7 million)
Grade: A
Clayborn brings a wealth of experience to the defensive line room as a mostly career back up. He has played for Buccaneers, Falcons, and Patriots. He spent last year back with the Falcon after a year in New England. Clayborn can play all over the line at 6'3′ 280 pounds. Last year for the falcons, he put up 18 tackles, four for loss, four sacks, and two forced fumbles in 439 snaps. He had his best season with 9.5 sacks and two forced fumbles. Clayborn went from starter at the beginning of his career to a strong rotational lineman that plays within 400-500 snaps. Perfect fit to spell anyone on the line.
---
Follow me on Twitter for more great content @WeirdJBronavich
Discuss this and everything to do with sports at the Overtime Heroics forums!
Be sure to check out our partners at Repp Sports! They offer the first-ever crowd-sourced, no carb, no sugar, energy drink called RAZE, and much more! Use the link above or add the promo code OTH1 at checkout to get 30% off your order!