This article is the second in a series revealing the 100 players who comprise the newly-established Golden Hall. For more information, please read:
Without further ado, Overtime Heroics presents the Golden Hall Tenth Team.
The Red Sox should have won the 1986 World Series. But for a managerial mistake, opposing team scrappiness, and an otherwise-stalwart first baseman's error, Boston would have ended its drought and forever idolized Roger Clemens as the young ace of that championship run. In a similar vein, Clemens should be remembered as one of the greats of all-time. But, for his use of prohibited steroid use and Congressional testimony, he would have been.
Clemens's stats led voters to include him in the Golden Hall. Against superior competition and in an offensive-dominant era, the Rocket struck out 4,672 batters while sporting a career WHIP of 1.173. In twelve different seasons, he pitched with an ERA under 3.00. Clemens owns the third-best WAR and twelfth-best ERA+ of all-time. At the end of each season, his name was almost always among the leaders in every pitching category.
The Georgian catcher brought a World Series title to San Francisco and a World Baseball Classic title to the United States for the first time in both cases. A defensive leader and renowned pitch caller, Posey caught three no-hitters and the first Giants immaculate inning in 23 years.
Yet, it is Posey's hitting that likely endeared him to Golden Hall voters. For his career, Posey has slashed a very respectable .302/.370/.456. His 2012 campaign is undoubtedly his best. He posted 24 home runs and led the National League in batting average and OPS+.
First Base: Buck Leonard
Perhaps the greatest clutch hitter in the history of the game, Buck Leonard led his Homestead Grays to three World Series titles and another four championships. With nearly a hundred plate appearances in 21 World Series games, the senior half of the Thunder Twins (the other being Josh Gibson) sported an astounding OPS+ of 169.
The North Carolinian ranks fourth all-time in regular-season OPS+ and sixth in on-base percentage. He placed in the top ten in the Negro Leagues in multiple offensive categories for more than ten seasons each in on-base percentage, home runs, wins above replacement, and fielding percentage. These numbers made Leonard one of the most dominant hitters in the history of baseball.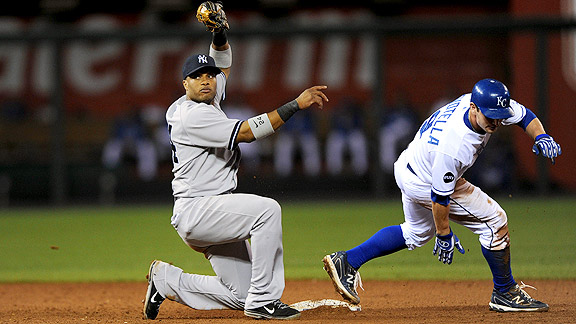 Named to be a star, Robinson Cano met the demands of his destiny. The Dominican led his nation to international glory in capturing the World Baseball Classic. The star of the undefeated team, Cano led the classic in hits, doubles, and total bases. Combine that with a .469 batting average and the WBC title, and Cano rightly earned recognition as the Classic's most valuable player.
His major-league marks are on par with his WBC performance. The eight-time All-Star became an offensive phenomenon while fielding from second. His career slash line of .302/.352/.490 is impressive alone and all the more so when combined with his 324 home runs.
Though he did so in ways that may forever tarnish his reputation, Cano is rightfully considered among the greatest second basemen.
In September 1987, a talented third baseman finally reached the big leagues. Edgar Martinez spent the preceding months honing his batting in Calgary after leading Southern League third basemen in fielding percentage the year before. After four seasons in the minors, Martinez made the most of his break into the majors, hitting .372 over 13 games.
Yet, he would have to fight for his roster spot for two more years. The Mariners already had a third baseman, and the team did not consider Martinez for any other starting spot. At long last, he was tasked with replacing a poor-fielding Darnell Coles. Martinez subsequently became the regular third baseman until an injury forced him into the designated hitter role.
His career slash of over .300/.400/.500 is matched by only 18 other major leaguers. "The Double," his series-winning, walk-off hit in the 1995 American League Division Series, is often credited with saving Major League Baseball in Seattle and getting Safeco Field built. With impressive career numbers, single-season accolades, and a legendary local status, Martinez fits comfortably on the Golden Hall's Tenth Team.
Alan Trammell is literally an unprecedented shortstop. Before the career-Tiger completed his eleventh campaign, no player at the most demanding fielding position in the game accomplished what Trammell did. He hit over .340, launched more than 20 home runs, and drove in more than 100 of his teammates. Trammell buttressed these numbers with a 155 OPS+ and proving himself as Mr. Clutch with 16 game-winning runs batted in. He did this while maintaining a solid defensive posture.
Trammell was plagued by injuries throughout his career but still managed to finish in the top ten in fielding percentage among shortstops in 11 different seasons. Combining his offensive and defensive prowess, the Californian finished in the top ten in WAR in four campaigns. No article about Trammell is complete without mention of his double-play partner Lou Whitaker. The duo turned more double plays together than any other pair in history.
In an age when violence was a more common remedy, Al Simmons received a spanking in fourth grade for declaring his wish to become a professional baseball player. The Wisconsinite persevered through parental disapproval to become one of the greatest left fielders of all-time.
Spending the majority of his career with the Philadelphia Athletics, Simmons won two World Series. In those games, he clubbed a .329 batting average with six homers. In six different seasons, he placed in the top ten in OPS+ and home runs. On another five occasions, Simmons finished in the top ten in WAR. Bucketfoot Al was a superb outfielder, finishing in the top ten of fielding percentage in 11 campaigns.
The Dutch have a surprising tradition of playing baseball. Introduced to the Netherlands by an English-language professor after a vacation to America, the game caught on in Amsterdam and Haarlem. Those early years were not pretty. Some staples of the game at the highest level, like taking advantage of a poorly-performing pitcher, were frowned upon for years. A time limit of two hours for games was standard. Most embarrassingly, visiting American sailors and missionaries regularly drubbed the Dutch champions in exhibition matches.
Yet the Dutch kept at it. The game caught on to greater success in the Dutch Caribbean. The Dutch major league has survived a World War and now has almost a century of play under its belt. The Netherlands placed fourth in two consecutive World Baseball Classics. The islands of Aruba and Curacao regularly produce major league talent. Andruw Jones is, arguably, the greatest of these.
Jones earned MVP votes in five different seasons after posting impressive numbers at the plate and in the field. His best season was likely 2005. The Curacao Kid slugged 51 home runs, drove in 128 Braves, and won the Gold Glove at center. He captured 10 Gold Gloves, hit 434 home runs, and made five All-Star games over the course of his 17-year career.
Before Clemente, Pittsburgh had Big Poison. With an origin story straight out of Americana, Paul Waner was born to play baseball. He spent his childhood hitting corncobs in Oklahoma with his younger brother Lloyd. An astigmatism gave him a natural advantage: the ball (or cob) appeared the size of a grapefruit.
Waner seized this opportunity to its fullest extent. He posted a career batting average of .333 and collected 3,152 hits. He is among the top 50 of all-time in career on-base percentage. Waner led the National League in runs, hits, doubles, and triples twice. He won an MVP Award and received votes on seven other occasions. His number 11 is retired by the Pirates, and his inclusion in the Golden Hall is no surprise for any astute baseball fan.
Nine More to Come!
Be sure to check back soon to discover the greats who make up the rest of the Golden Hall!
---
Follow me on Twitter at @GoldenHalloFame and follow us @OT_Heroics for more great content!
Also, be sure to check out the Overtime Heroics Forums page to join in on the discussion!
Check out our partners at Repp Sports! They offer the first-ever crowd-sourced, no carb, no sugar, energy drink called RAZE and much more! Use the link above or add the promo code OTH1 for 30% off at checkout!