Ever since the UFC first began in 1993, great upsets started to form. At the time, they accounted for some of the most memorable moments in all of sports. This series comes in the wake of the COVID-19 pandemic, which has, unfortunately, canceled the upcoming UFC events. In these troubling times for fight fans, this six-part series will provide you with the UFC's greatest upsets. Some of them provoke your memories and you think, "I remember seeing that", or "Oh yeah, that was crazy!" So, without anymore interruption, let's dive straight in to number 5 on the list.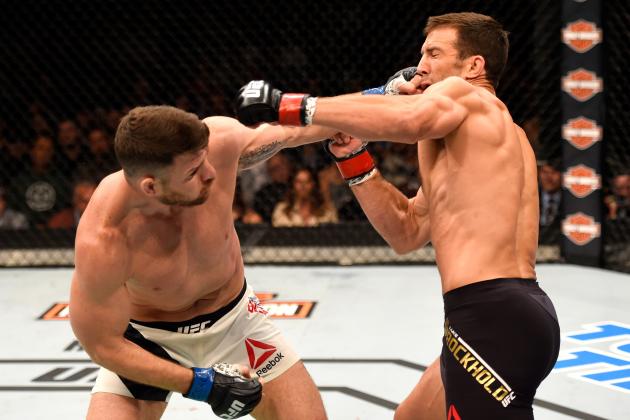 UFC 199 Bisping vs Rockhold 2
UFC 199 took place on June 4th, 2016, in Los Angeles and featured the rematch of Michael Bisping vs Luke Rockhold. The first bout ended via 2nd round submission by Rockhold. A one-armed guillotine choke put away Bisping, the fellow middleweight in UFC Fight Night 155. However, the next time they faced each other, it would fare different. In a fight that was scheduled to have Chris Weidman face off with current middleweight champion Rockhold, Weidman sustained an injury which pulled him out. That would be the makings of the #5 greatest UFC upset, bring the championship home for Bisping!
Shortly there after, the UFC announced Bisping to be the replacement for Weidman for a shot at the title. Fans would certainly approve of that, as the two had a history with one another. Even though styles make fights, relationships intensify them. On just 17 days notice, Bisping accepted the fight and set out to train against his old rival. On that Saturday night in his 26th UFC fight, the Englishman would bring the belt home. Three minutes and 36 seconds in the very first round, Bisping earned the knockout victory, which stunned Rockhold, along with the whole world. His aggressive style proved to be the key factor in the fight. A right hand caught Luke early in the round, and later a powerful left hand. This victory earned Bisping, in his 30-win MMA career, a spot with the all time greats of the sport.
The Post Reaction
It wasn't just Rockhold who was stunned at the result that night, no pun intended. The entire world took notice and gained respect for Bisping. "This is freaking incredible" wrote ESPN MMA writer Brett Okamoto. "Don't know how to feel right now" Chris Weidman wrote on Twitter. Boy, how the speechless fighter must have felt after seeing what should have been him in this position. The entire sports world, including then-New Orleans Saints running back Mark Ingram wrote, "OHHHH MMMYYY BISPING!!!", immediately after the shocking conclusion.
Now, of course, there has some negative feedback from the UFC 199 main event of the evening. Luke Rockhold post-fight had said "That guy is a piece of s***, and I want to f****** kill him next time." "I will have my belt back", Rockhold had stated during the press conference post-fight. "If you give me this rematch, I will put him away. I will respect him more, but I will put him away." Bisping responded by saying "Your head was bouncing around like a pinball machine, I'll knockout him out again."
Nobody was giving Bisping a chance after Weidman was taken out of the main event. Rockhold was thought to taste victory once again and defend his title. But, it was Michael Bisping who not only earned victory, but sweet revenge. This win would make him one of the greatest in the sport.
---
Follow me on Twitter @HunterSills2 for more of my content!
Join this topic or create your own on the Overtime Heroics forums!
Be sure to check out our merch shop for all the latest gear!
Our partners at Repp Sports offer the first-ever, crowd-sourced, no carb, no sugar energy drink called RAZE. Use the link above or use our promo code OTH1, to get 15% off!
ufc upsets ufc upsets