The achievement of becoming a two-division champion is one of the rarest and most difficult in mixed martial arts. Anyone that can lay claim to it becomes an automatic living legend.
In his article, we'll be looking at fighters that can make that gargantuan leap and become a pillar in ONE history.
Martin Nguyen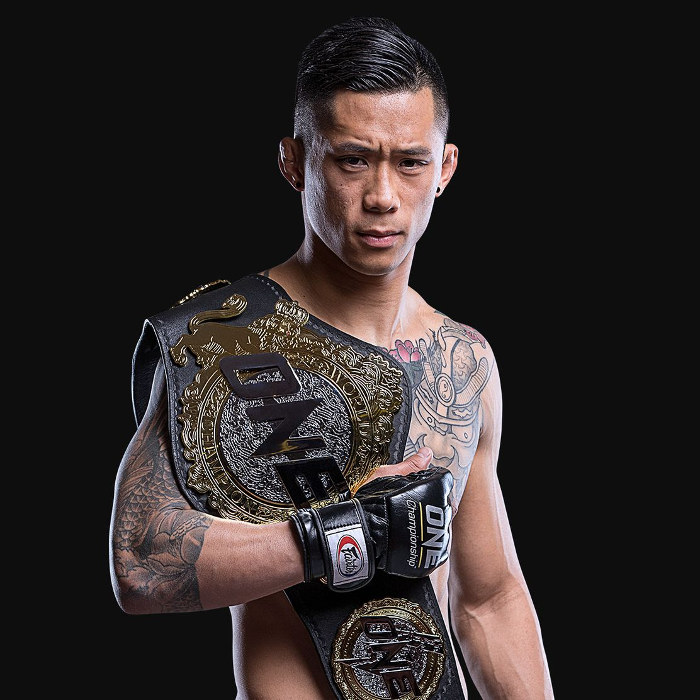 Okay, since he already became a two-division champion, this is cheating a bit. However, his inclusion here hangs on the premise that his status as the champ-champ is incomplete.
Unfinished Business
There's an adage in combat sports that a champion only proves he's the champion when he defends it.
Martin Nguyen never defended his Lightweight title. That's an important asterisk many people will be quick to add when analyzing his career.
His Hard Knocks teammate Aung La doesn't have the same problem. The Burmese Python emphatically defended both belts in spectacular fashion against quality opponents.
Even Nsang's harshest critics will concede that his status at the top of both divisions is as legitimate as they come. Unfortunately, the same can't be said of Nguyen's status in the Lightweight ranks.
It's fair to say that this situation is primarily Nguyen's doing. Instead of consolidating his hold over the two belts he has, he got greedy and tried going for a third.
The stress of going through those changes in weight ultimately contributed to his decision of vacating the Lightweight crown. A disappointing situation that's put a question mark not just on him, but on the entire division as well.
Martin Nguyen has unfinished business in the Lightweight division. There's nothing than watching him take care of it.
Sam-A Gaiyanghadao
Back in 2018, it was difficult to see or even imagine anyone that can beat Sam-A Gaiyanghadao. His technical mastery and timing broke opponents apart without getting much back in return. He would have been champion forever.
Then Jonathan Haggerty happened.
The victory was the biggest upset in Muay Thai history and Sam-A didn't have another fight in the division.
Reclamation
Now, Rodtang is the king of Flyweight, while Sam-A's built a new domain in Strawweight. With both of them looking as unstoppable as they've ever been, a clash seems all but inevitable.
If all goes according to plan, both Sam-A and Rodtang will clean up their respective divisions and will have nothing to do except move to other another division.
It's more likely that Sam-A will get the temptation of making the first move back to Flyweight simply because he knows he already did it once. To take back what was once his and make ONE history as the first Muay Thai two-division champion is a glorious prospect that's too good to ignore.
Xiong Jingnan
The cross-divisional rivalry between Strawweight champion Xiong Jingnan and her Atomweight counterpart is one of the most compelling the promotion has had in a while.
Angela Lee moved up to challenge Xiong after she cleaned her own division out. After knocking out the undefeated champion, Xiong then moved down to double her gold. Unfortunately, Lee got the better of her there and each belt stayed put.
With the record even, the only logical conclusion is a rubber match. But in which division should it happen?
Nowhere But Atomweight
In interviews with ONE, Lee said that her wish list for 2020 includes another shot at the Strawweight belt. A very optimistic wish, to put it mildly.
Without even mentioning the work she has to put through in defending her belt against a growing list of possible contenders, there's also the big issue of her record.
Thanks to Michelle Nicolini, Lee is 0-2 in Strawweight. She has zero justification for any gold other than her own. Xiong, on the other hand, has no such problem.
The Strawweight champion only needs to make her desire to fight the winner of the Lee/Zamboanga fight known and the match is hers without protest. If Lee makes a similar claim, Tiffany Teo, Michelle Nicolini and Ayaka Miura may have a few things to say about it.
A rubber match at Atomweight is the most realistic outcome as it presently stands. If there will be ever be a female two-division champion, Xiong Jingnan will have the next crack at it.
Bibiano Fernandes
After Bibiano Fernandes finally settled his rivalry with Kevin Belingon, there's nothing left for the Bantamweight champion to do.
Belingon was the only one that really posed any questions for the living legend. Now that that's over, the division needs to sort itself out to find a new contender.
This leaves Bibiano with nothing to do in the meantime, except challenge his fellow champions.
Flashy Possibilities
What makes the prospect of Bibiano moving to another division is that he can legitimately go in any direction he wants.
He already has a win over Martin Nguyen, so the rematch would have built-in intrigue. This makes a move up to Featherweight a tempting prospect.
However, there's little question that he'd pose a significant challenge to whoever wins the Moraes/Johnson fight at Flyweight. Bibiano is seen by many as one of the best fighters outside the UFC. A potential match between him and either Johnson or Moraes will generate greater interest beyond ONE's usual scope.
Whichever way Bibiano chooses to move, there's a legitimate possibility of him holding two belts aloft at the end of the night.
Joshua Pacio
In an interview after Joshua Pacio won the rematch with Yosuke Saruta, Team Lakay coach Mark Sangiao said his young ward has the potential to become a two-division champion.
"Give him another two to three years in his current division, and he may follow the steps of Martin Nguyen where he can go up a weight class,"

-Mark Sangiao
Many may dismiss the statement as the usual encouragement of a coach, but we need to look at what Pacio has done in his career so far.
Beaten two veteran wrestlers in Naito and Saruta, edged out a decision against a BJJ black belt in Silva and wowed the world with the Passion Lock against Mitsatit. All this at the ripe old age of 23.
It's safe to say that the young champion has yet to even hit his prime. With the entire team improving by leaps and bounds over the last few years, it's impossible to predict a ceiling for anyone in the group.
This pick is a standout from the rest of the list. Unlike the other four that can fight for their second belt as soon as possible, Pacio isn't quite there yet. It's a fearless forecast that he may be ready to take the nest step sometime next year or 2022.
The only question is if he can hold onto his belt long enough to make his coach's dream a reality.
Do you agree with this list? Did we miss out on a current champion that can dominate and become a two-division champion? Let us know and lay out your case on why they could and should have a belt over each shoulder.
---
Follow me on Twitter at @BjornPossel and follow us @OT_Heroics for more great content!
Also, be sure to check out the Overtime Heroics Forums page to join in on the discussion!
Check out our partners at Repp Sports! They offer the first-ever crowd-sourced, no carb, no sugar, energy drink called RAZE and much more! Use the link above or add the promo code OTH1 for 30% off at checkout!