The New York Giants are in a good spot right now. Yes, they just had a 4-12 season, and fired their head coach, and have a top 5 pick for the second year in a row. On the surface, all of that doesn't sound great. However, sometimes you need to look at the glass half full. They seem to have found their next franchise QB in Daniel Jones. They have one of the best running backs in the NFL in Saquon Barkley. Along with this, they have a surprisingly deep assortment of skill players including Sterling Sheperd, Evan Engram, and Darius Slayton. Even the offensive line with the Kevin Zeitler trade and Will Hernandez drafting has improved significantly. The defense is still a work in progress, but overall while it has been a rough couple of years, the future looks bright.
Not to mention their new head coach, Joe Judge. He seems to fit the part more than Pat Shurmur, the Giant's old head coach, did. Shurmur is a great offensive coordinator, but he lacked the leadership and presence needed to be a successful NFL head coach. Joe Judge, on the other hand, from his introductory press conference, should give Giants' fans hope.
While all of this is fantastic, a lot more needs to be done before this team is back to being the Super Bowl winning franchise it once was. That starts with this year's draft and the 4th overall pick the Giants have. What happens with this pick will significantly impact the Giant's success in the near future, and there are a few different routes they can take.
Protect Your Franchise
With a potential franchise quarterback in Daniel Jones, the Giants need to build around him and worry about the rest later. That means getting him the skill players and protection and any other tools he needs. He is the engine that makes the team run, so set him up for the maximum possible amount of success.
Left tackle is the glaring weak spot on that offense and needs to be addressed sooner rather than later. Nate Solder and his record-setting contract have proven to be a terrible signing. He allowed 57 pressures last season, the most of any offensive lineman in the NFL. Solder needs to do a better job protecting Jones' blindside. A young quarterback's confidence is the most fragile thing in the NFL.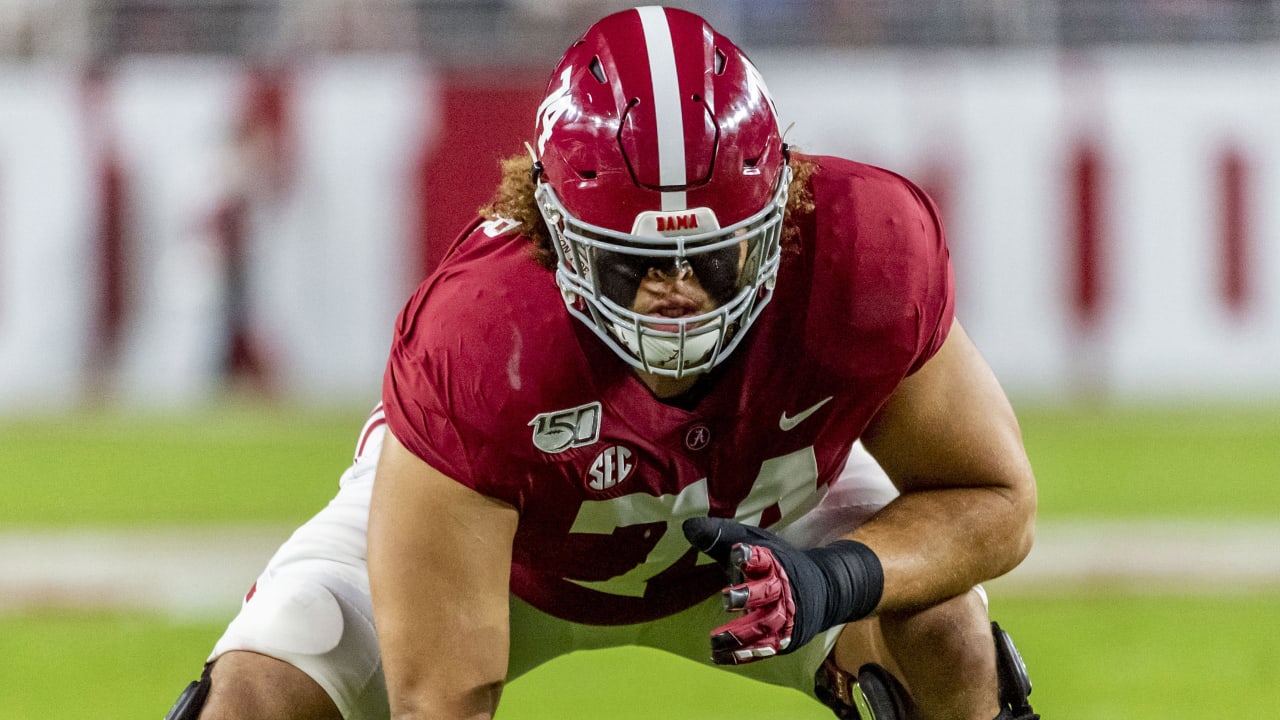 Jedrick Wills is arguably the best offensive lineman in this class. He has pro-ready feet and technique and went against NFL caliber defenders every other week. He also has extensive experience in pass protection due to the way Alabama runs their high scoring offense. Wills would be an immediate plug and play bodyguard for Danny Dimes as he continues to grow and eventually take New York back to the promised land. We'll have to see if Gettleman feels the same way.
Defensive Reinforcements
While the Giants do need to improve at elite left tackle, they recognize how terrible that defense is. They need help at just about every position, and it won't be an overnight fix. It can start in this draft if Isiah Simmons is on the board at 4. Simmons any other year would be the clear cut number 1 defensive player, and even while being in the same class as already crowned future hall of famer Chase Young, people still believe Simmons might be the better prospect.
Dave Gettleman has never taken an offensive lineman in the first round of a draft. If Simmons is on the board sitting there on draft day he might continue that trend. Once again, while securing a potential franchise left tackle is more important for Daniel Jones, it won't fault him if New York takes Simmons instead. Simmons can literally line up just about anywhere on the field, having played over 100 snaps at five different positions for Clemson in 2019. He had 299 snaps at inside linebacker, 262 at slot cornerback, 132 at free safety, 116 at outside linebacker, and 100 at strong safety.
He looks like the new evolution of NFL defenders, this "positionless" football you keep hearing more and more about. I'm not sure how successfully he will translate to the NFL and if he can truly be this quasi/hybrid positionless player everyone seems to think he can be, but the foundation is there. He could be the leader of that defense for years to come. This would also help Daniel Jones not need to put up 30+ points every game just to have a chance to win. It would be nice to see after the unmitigated disaster the Giants defense has been over the past 2 seasons.
Assemble an Arsenal
There's only one thing that's absolutely certain about the NFL draft: absolutely nothing is certain. Any player taken at any pick could bust and be out of the league without ever having a single noteworthy play. The draft is a gamble. Every prospect, no matter how much you believe they will be a surefire superstar, is a dart on a board trying to stay on. Even first-round picks only have barely above a 50% success rate, and they're the cream of the crop.
With this in mind, conventional wisdom would suggest rather than putting all your eggs in one basket, have more opportunities to hit and miss. The Patriots trade down every year and build depth throughout the roster. That's one of the reasons they're playing in January every season. As tempting as it might be to take that left tackle or an impact defender, maybe the wiser choice would be trading out of that spot and building more of the team. The defense needs help everywhere, and there are some decent offensive tackle prospects that should be available later on in the draft
It may be hard to pass up on Wills or Simmons, but the front office has to do what's best for the team. As we continue to see year after year, draft position doesn't really correlate with NFL success. Multiple recent pro bowlers and NFL stars were taken in the 2nd and 3rd and later rounds, established and successful players like Micheal Thomas and Dalvin Cook and Darius Leonard. Even breakout stars for the Giants like Will Hernandez and Darius Slayton were not day one picks.
Gettleman Needs to Get it Right
Let's give Gettleman this: He's been a better GM than people give him credit for. He took Saquon Barkley at 2nd overall in the 2018 draft even with all the potential franchise QB's available. Saquon is now a top 5 runningback in the NFL. He took a risk on Daniel Jones but it looks to have worked out, so far at least. He also stole Darius Slayton in the 5th round and traded for Kevin Zeitler to improve the offensive line while simultaneously dumping Olivier Vernon's terrible contract.
Regardless of all that though, this draft will be crucial to the Giant's future success. Same for Gettleman's job security. There are rumors going around that he's on the hot seat. Another losing season this year could be his last for the Giants. The pressure is on him to finally get the Giants back to being a winning team, especially in a division with a rival GM who turned a 7-9 team into a Superbowl winner the following season
Whether it's a blindside protector for Jones or the most intriguing defensive prospect in recent memory or assembling and stockpiling more picks to build more parts of the team, whatever he chooses he needs to get it right. The Giants could be on the cusp of being surprise contenders sooner than anyone expected. The pieces are there. It's up to Gettleman to find a way to put them all together.
---
Follow me on Twitter for more great content @sportsmedicated
Discuss this and everything to do with sports at the Overtime Heroics forums!
Be sure to check out our partners at Repp Sports! They offer the first-ever crowd-sourced, no carb, no sugar, energy drink called RAZE, and much more! Use the link above or add the promo code OTH1 at checkout to get 30% off your order!