Per ESPN's Jeremy Fowler, the Browns are interested in the biggest free agent left on the market, Jadeveon Clowney. He also mentions that most feel they have been the closest, per NFL circles, on getting a deal done. The 27-year-old Clowney began free agency asking for $20+ million per year. Recently, per reports, he is lowering his asking price to $18-19 million. With $35+ million and Olivier Vernon's $15.5 million, if they choose to cut him, they have the money.
The Browns have now shown interest in both Everson Griffen and Clowney, which clearly shows they want to beef up the edge opposite Myles Garrett. Add that to the depth they have brought in with Andrew Billings and Adrian Clayborn, and you see some similarities to the 49ers of last season. Joe Woods clearly wants a deep rotation to bring in waves.
Is he worth the money?
Over his career, Clowney has never had a double-digit sack season. Considering the hype surrounding him, you would think he has had a few of them. Is that a guy worth $18+ million a year? Most would say no right there, but we will dig deeper to see what other value he has. Sacks are only part of being an elite edge player.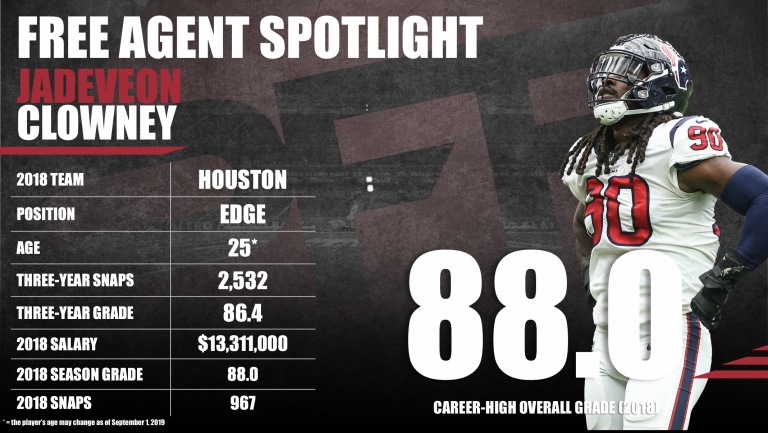 Pass rushing
As stated above, Clowney does not have the eye-popping sack numbers as most "elite" pass rushers have. His career-high for a season is 9.5 sacks in 2017. The other part of this is that while Clowney only has 32 sacks in six years he has made an impact in nearly every other aspect of the game. In those same six seasons, he has 252 pressures, 71 tackles for loss, and seven forced fumbles. That is an average of 42 pressures per season so he is effecting the quarterback. Clowney is an effective pass-rusher but with a high grade of 78.8 from Pro Football Focus in 2017 he is still a notch below elite.
Could he be better with Myles on the other side? Not likely. Clowney played with J.J. Watt and Marcellus Wiley and still was not able to punch double digits in sacks. In this case, what you see is what you get from Clowney. Again, while he provides enough, it is not $20 million a year pass rushing. Now, if you want to talk about his ability to defend the run, that is another story.
Run Defense
Clowney's run defense is by far his clear elite skill. He has 71 tackles for loss in six seasons, an average of nearly 12 per season. Most of those have come in the last four seasons after injuries impaired his first two. Clowney has been a great run defender throughout his career. His numbers from 2017 till now though have been ridiculous. Here is a snippet from PFF top 50 free agents (#7 overall) about Clowney and just how elite his pay has been.
"Clowney put up an 88.0 overall grade in 2018 – the highest mark of his career – and he followed up with an 87.3 grade after a trade to the Seahawks despite seeing his sack total drop from nine to three. Clowney has the 11th-best overall grade among all edge defenders since 2017, including the third-best mark against the run (91.3), but his pass-rush grade of 83.9 ranks just 25th among that same group. Pass-rushers earn massive contracts for their ability to get after the quarterback, but Clowney has always been good, not great, in that department. The price tag may be too high for many teams, but Clowney brings top run defense and solid pass-rush to the table, though his game has never really lived up to his draft hype and he's never matched the production of other dominant edge defenders."
Not much more you can say but that is $20+ million a year run defense.
In the end, Clowney brings a solid pass rush combined with elite rush defense opposite Garrett if brought to Cleveland should the Browns keep working on it. Is he a 20+ million a year player? No. Is he worth the $18 million he is now asking for? Still a no. The problem is this is free agency the numbers are always going to be bloated. That being the case you start at $18 million and find out how much more you are willing to pay from there.
Browns Fit
From a Browns standpoint, he would fit as part of the line they are building. He brings an elite skill and a solid skill to the table. With a run defense that could not stop anyone last year, he would be a huge addition. Even though his pass rush is not elite, he is still a better player overall than Vernon. While handing a massive contract to a player coming off a career-worst season might not seem like it makes much sense, he is still an exceptional talent when healthy. That is the other concern with handing Clowney significant money. He has played 16 games only once in his career because of injury. Andrew Berry has done a phenomenal job on paper this offseason and Clowney could the cherry on top. The question is whether the cost and production make it the right cherry.
---
Follow me on Twitter for more great content @WeirdJBronavich.
Discuss this and everything to do with sports at the Overtime Heroics forums!
Be sure to check out our partners at Repp Sports! They offer the first-ever crowd-sourced, no carb, no sugar, energy drink called RAZE, and much more! Use the link above or add the promo code OTH1 at checkout to get 30% off your order!