Auburn has relied on a dominant defensive line to build it's defense around for years now. The list of dominant lineman is extensive for the tigers of the past decade. But this year, the task of leading the defense falls on a different unit; the linebackers. Auburn's defensive line is losing more than any single unit in 2019, losing three NFL caliber players to the draft. Nick Coe, Derrick Brown, and Marlon Davidson all project to the next level and all will be difficult to replace. However, Auburn has enough talent on the front four to ensure the unit is not a weakness in 2020.
The Future is Bright for the Auburn Defense
The strength of the defense in the upcoming season lies in Auburn' s linebackers. K.J. Britt provides excellent senior leadership, and should continue to serve as the anchor for the Auburn Defense. Britt is one of the top linebackers in the conference, earning first team all-SEC in his first season as the starter. He is the total package from the linebacker spot, totaling 69 tackles, ten for loss, two and a half sacks, and a forced fumble in 2019 alone.
The presence of Britt will also benefit 2019 freshman all-American Owen Pappoe. Pappoe was the lightning to Britt's thunder in 2019, totaling 49 tackles, two sacks, a forced fumbled, and broke up two passes in his first season at the collegiate level. If Pappoe builds off of what he did during his freshman campaign, he and Britt will be one of if not the best linebacker tandems in the country.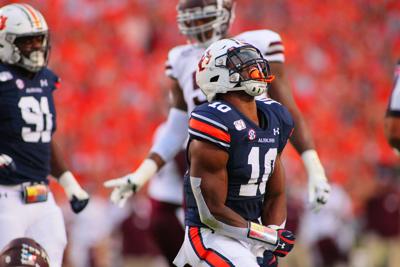 Auburn will not be pressed for depth in the linebacker room. Zakoby Mcclain is a rising star as a junior. He was a key piece in the Auburn defense last season. He totaled 55 tackles, five and a half for a loss, half a sack, three forced fumbles, and an interception. Simply put, Mcclain gets to the football.
This trio of tacklers will provide a playmaking boost much needed to a defense in every sense in a state of flux. Even still, if each player can build on last season, and produce at a high level, it will be another elite season for the Auburn defense.
---
Follow me on Twitter @CMRsports882 for more of my content and follow @OT_Heroics!
Come discuss this and much more at the Overtime Heroics forums!
Be sure to check out our partners at Repp Sports! They offer the first-ever crowd-sourced, no carb, no sugar, energy drink called RAZE and much more! Use the link above or add the promo code OTH1 at checkout to get 30% off your order!