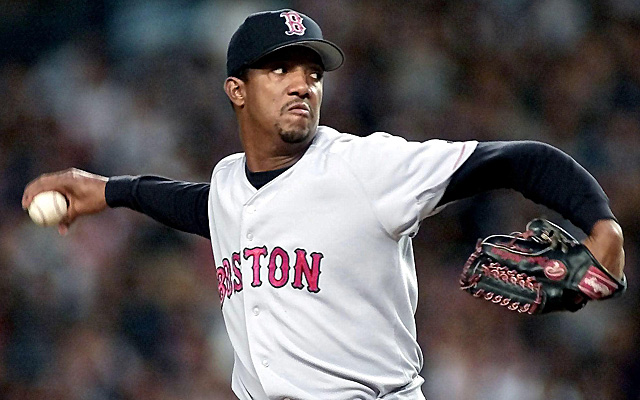 This article is the third in a series revealing the 100 players who comprise the newly-established Golden Hall. For previous entries, see:
The Ninth Team appeals to this author's fandom and home, with three Cubs and two Arkansans making the lineup. One problematic Chicago National Leaguer prevents this list from being a personal favorite. It's funny how these kinds of lists come together sometimes, and I hope you enjoy this installment in the Golden Hall series.
Without further ado, Overtime Heroics presents the Golden Hall Ninth Team.
The goal of pitching is simple: limit the number of runs by giving up as few hits and walks as possible. Sabermetricians developed a statistic to measure this: walks plus hits per inning pitched (WHIP). The all-time major league WHIP is 1.356. In other words, pitchers have, on average, allowed between one and two runners per inning. Pedro Martinez nearly halved this figure. In offensive-heavy 2000, Martinez set the single-season record with a WHIP of just 0.737. The righty was so dominant that in a typical inning he did not allow a single whole runner on base.
The three-time Cy Young Award winner arguably had the most dominant seven-year run in history. The era of steroids obliterated home run records. Yet, Martinez posted ERAs of 1.90, 2.89, 2.07, 1.74, 2.39, 2.26, and 2.22. He led his league in strikeouts per nine innings, ERA+, and fielding independent pitching on five separate occasions. Martinez ranks third all-time in career ERA+, seventh in WHIP and strikeouts per nine innings, and seventeenth in wins above replacement. The Golden Hall would be incomplete without the Dominican wonder.
In 2006, the Arkansas Travelers played their last game at Ray Winder Field. The historic stadium opened in 1932 and became a must-see for any fan of minor league baseball. When the Travs moved across the river to a new home field, management decided a new name was appropriate. There was no doubt that the new moniker had to include one of the greats to hail from Arkansas and a former Traveler himself: Bill Dickey.
The Yankees backstop set the standard for catching. Dickey finished in the top ten for throwing out runners percentage on eight occasions, and he placed among the top ten in fielding percentage in 11 different seasons. A constant offensive threat, Dickey finished his career with a more than respectable slash line of .314/.382/.486 while walking almost three times as often as he struck out. Even with missing two years while fighting the fascists in World War II, Dickey received MVP votes in nine different seasons. Bill Dickey easily belongs in the Golden Hall.
As the season concluded, Moses Walker was cut by his team. The catcher had a decent year, beating the league mean in batting average and OPS+ by considerable margins. His fielding was decent, and his stats surely would have been better but for one of his pitcher's refusal to follow his signals (resulting in injuries). Yet, his release was not exactly a surprise. Walker was cut because he was African-American, and Cap Anson was the racist who set things in motion.
Anson had long been a troublemaker. Twice expelled from school for bad behavior, the Iowan found a home in the rough and tumble baseball of the Dead Ball Era. With the Chicago White Stockings (today's Cubs), the captain and his teammates tied two World Series, were national champions four times, and claimed six pennants. Anson became the first big leaguer to amass 3,000 hits, routinely appeared in season leaderboards in multiple offensive categories, performed exceptionally well in post-season play, and slashed a career line of .334/.394/.447. These numbers likely persuaded voters to include him in the Golden Hall.
Yet no mention of Anson is complete without detailing his true legacy: the creation of the color line in baseball. Before that September release, the White Stockings scheduled an exhibition game against Walker's Toledo Blue Stockings. Anson refused because Toledo had an African-American player on the roster. Chicago took the field only after threats not to split the game's proceeds. The White Stockings narrowly won, and Toledo went on to claim the Northwestern League pennant. The following season, the Blue Stockings joined the major leagues. A rematch was set with Chicago, but only on Anson's condition that African-Americans would be prohibited from play.
Three years later, Anson again caught up to Walker, this time issuing his demand in an exhibition with the Newark Little Giants of the International League. Within two years, "Organized Baseball" banned all African-Americans. Anson's stats are the stuff of legend, but it is his racism that makes his legacy infamous.
After a nearly two-year absence, Chicago's number 23 decided to return from retirement to the sport where he had achieved his greatest success. Like Jordan before him, Ryne Sandberg would again thrill audiences with his athletic prowess. This author's first favorite player was the heir to Ernie Banks as the face of the Cubs. His accomplishments helped make this number 23 as famous as his basketball counterpart (well, maybe in Chicago anyway).
The Spokanite excelled at fielding at second. Sandberg places tenth all-time in career fielding percentage among second basemen. In 13 seasons, Sandberg finished in the top ten at his position. In nine of these campaigns, he was awarded the Golden Glove.
His offense was not too shabby either. Sandberg's career slash line of .285/.344/.452 is more than respectable for most great middle infielders, especially when combined with his 282 homers and 403 doubles. In his MVP year (received votes in six other seasons), Ryno slugged a 140 OPS+ and his a major league-leading 19 triples. Sandberg proved clutch, too, hitting remarkably well in his two postseason trips.
"I know he's got good stuff, but I just don't like him."
-Ron Santo, on a Colorado Rockies pitcher taking forever between pitches
Ernie Banks was rightfully known as Mr. Cub, the face of the franchise. Ron Santo may very well have been its voice. After 14 seasons on the field, Santo spent another 20 calling games from the WGN Radio booth. He eschewed any notion of detached objectivity and inserted his passion for the North Siders into his broadcast. Fans could experience their joy (and more often anguish) right alongside Santo, as his pleas for hits or despair at defeat were heard across the wide spectrum cast by that AM net.
His playing career was as equally passionate. Known for his heel clicks, Santo exhibited a joy on the field that translated to success. In seven different seasons, Santo earned MVP votes. A team player, he led the National League in walks four times and sacrifice flies on three occasions. Twice he led the league in on-base percentage. As a third baseman, Santo placed in the top ten in fielding percentage at his position in eight seasons. His career 70.5 WAR is good enough for 65th all-time among position players.
Arky Vaughan learned by practicing in front of one of the all-time greats but without any clear instruction on how to improve. After leading the National League in errors, the Pittsburgh Pirates called upon their great shortstop of yesteryear, Honus Wagner, to teach fielding to the young player. However, Wagner would just tell Vaughan to run to the ball and throw hard and accurate. #DuhHonus.
The misleadingly named Californian spoke with the Arkansas accent of his parents, leading to his nickname. Just as his name was deceptive, so too was his defense if one wants to understand his overall talent. Vaughan was an offensive juggernaut. He thrice led his league in runs, triples, on-base percentage, and walks. He seldom struck out and finished with a career line of .318/.406/.453. His numbers were so impressive that he received MVP votes in eight of his 14 seasons.
Some great ballplayers do not quietly go into that good night. For every batter than ends his career with a home run or pitcher with a strikeout, there is another who resorts to dubious means and then languishes on the fringes of baseball. Manny Ramirez falls into that latter camp, and that is how he wound up with the Kaohsiung Rhinos of the Chinese Professional Baseball League at the twilight of his career.
Having made mention of steroids, it is time to focus on the reasons voters chose Ramirez. First and foremost: that swing. The grace, power, and precision are nearly unmatched. This combination helped Ramirez procure 555 home runs with an OPS+ of 154. Baseball writers thought Ramirez so talented that he received MVP votes in 11 different seasons. Pitchers feared him to the tune of 216 career intentional walks, and he twice led the American League in this category. His slash lines were consistently great, and the Dominican led his league in on-base percentage, slugging percentage, and OPS three times each. Ramirez's dominance continued into the postseason, where he ended the Curse of the Bambino and earned World Series MVP honors.
I was a weird kid, and, for some reason, I latched onto Duke Snider as my favorite player from the 1950s. Fortunately, there are some good reasons that justify selecting the great Brooklyn Dodger. Snider exhibited humility in his early career. After an impressive first few years, Snider's play suffered somewhat, and the New York papers were merciless in their criticism. Succumbing to the pressure and not wanting to hold his ball club back, Snider asked to be traded. Fortunately for the Dodgers, the front office wisely declined that request.
Snider redeemed himself by bringing Brooklyn its first title in 55 years while hitting four home runs with an OPS of 1.210. He put up great individual stats, too. With individual season wins above replacement scores of 7.6, 8.1, 8.6, and 9.2, Snider had several remarkable seasons. He led the National League three times in total bases and runs, twice in slugging and OPS, and eight times finished the season with MVP votes. For his career, the Californian hit 407 homers with a .540 slugging percentage.
It is actually surprisingly often that the all-time major league leader in a negative category makes the Golden Hall. Nolan Ryan leads in walks, and Albert Pujols claims the mantle as the player to have ground into the most double plays (look for both in future posts revealing the remaining inductees). Perhaps there is just something about being good enough to stick around for long enough that a player is going to pick up some ignominious honors. Reggie Jackson is the all-time strikeout leader in all of baseball, and yet he rightfully belongs in the Golden Hall.
In postseason play, Mr. October hit the fifth-most home runs and ninth-most total bases while helping his teams claim five World Series titles. In regular-season competition, Jackson was almost as impressive. Contemporaries saw him as one of the best, awarding him MVP once and giving him votes on 12 other occasions. He led the American League in home runs and OPS+ four times. In his career, Jackson mashed 563 homers, 463 doubles, and 2,584 hits. Oh, and just for fun, he swiped 228 bases.
Conclusion
Be sure to check out previous installments of the Golden Hall. The Eighth Team is next!
---
Follow me on Twitter at @GoldenHalloFame and follow us @OT_Heroics for more great content!
Also, be sure to check out the Overtime Heroics Forums page to join in on the discussion!
Check out our partners at Repp Sports! They offer the first-ever crowd-sourced, no carb, no sugar, energy drink called RAZE and much more! Use the link above or add the promo code OTH1 for 30% off at checkout!