Here is a 32-team mock draft for the upcoming 2020 NFL Draft. Expect to see tweaks and changes within the days leading up to the draft, which will be released as other articles:
2020 NFL First Round Mock Draft
Burrow proved himself in his final year at LSU, but will he be able to bring the same swagger and skill in efforts to turn around the Bengals' franchise?
---
The Redskins are simply picking the best overall player in this draft. Young will be wreaking havoc across the NFC East for years to come.
---
3.) LAC – (trade DET): Tua Tagovailoa (BAMA), QB
The Chargers swap 2020 first round picks with Detroit and also send a 2020 5th round and 2021 4th round pick.
The Chargers have hidden their cards long enough as they finally make their move to get a franchise Quarterback. The question is, will Tua be their answer?
---
First-year coach, Joe Judge, is looking to bring an era of tough and physical football back to New York, and Isaiah Simmons is a great example of Judge's mentality.
---
Although it seemed that the Dolphins would go after Tua Tagovailoa, their master plan of landing Herbert in the aqua and orange will finally come to fruition.
---
6.) DET – (trade LAC): Jeffrey Okudah (OSU), CB
Detroit moved back three spots, gained some more picks all while landing their CB for the future.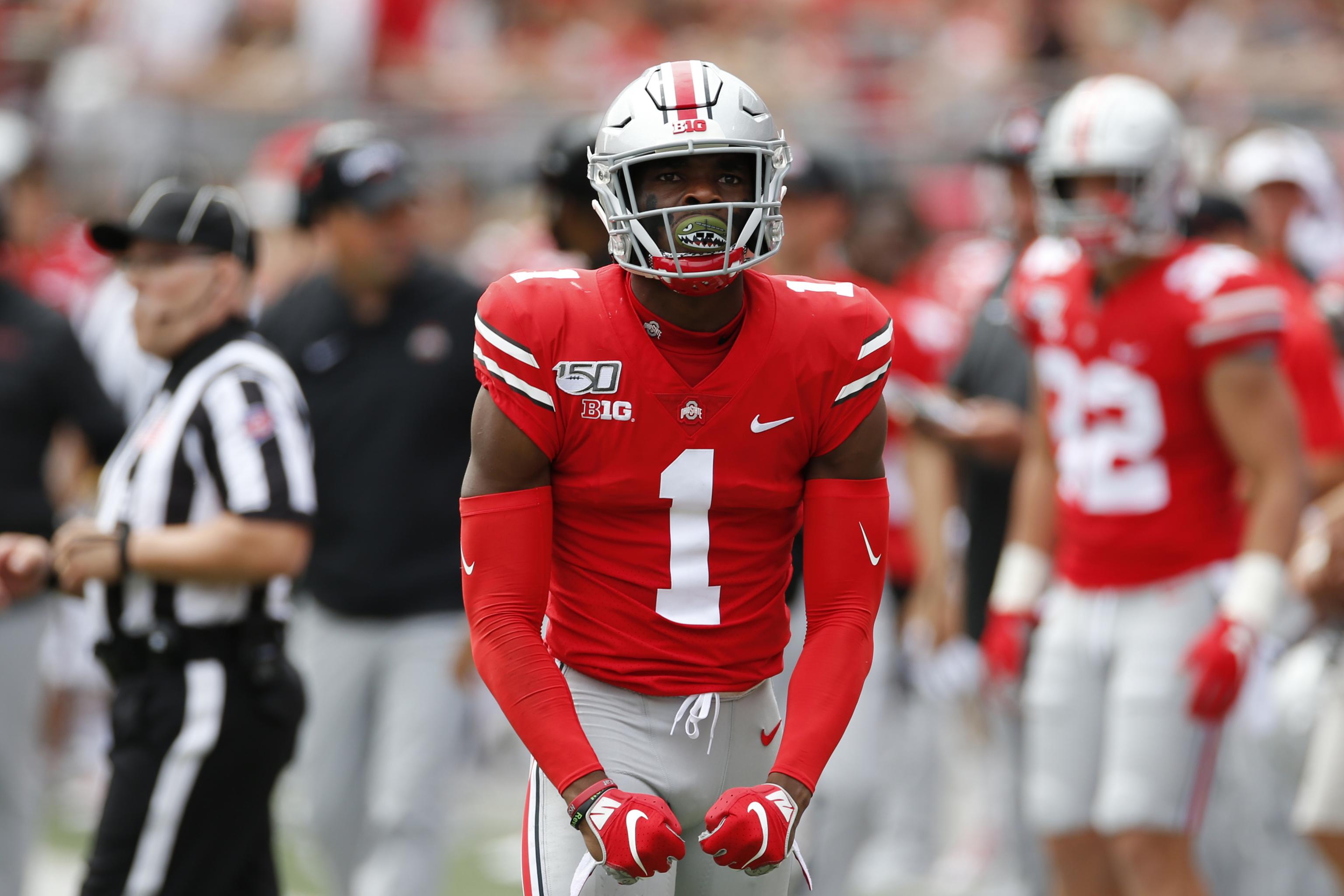 ---
Brown is the best interior defensive lineman in the 2020 class, and he solidified himself a top 10 draft pick when he was named the All American Bowl's Defensive Player of the Year.
---
Now that the Cardinals have their Quarterback of the future and have surrounded him with offensive threats, they must bolster their offensive line. Who better than the best lineman in the draft?
---
For his size, Wills Jr. is freakishly athletic and can be converted to play every offensive line position; expect him to be a Week 1 starter for Jacksonville.
---
The Browns follow suit and draft a Left Tackle themselves. This is Cleveland's biggest void and with correct development and coaching Mekhi Becton has to opportunity to be the Brown's next Joe Thomas.
---
Jeudy is the first Wide Receiver off the board from this deep class. He has every attribute that big-time NFL wideouts possess and the Jets pull the trigger on him.
---
As the light of Derek Carr's career starts to flicker a bit, CeeDee Lamb is his savior. The Antonio Brown fiasco will all be worth it once Lamb touches down in Las Vegas.
---
13.) MIA – (trade SF): Andrew Thomas (UGA), OT
The 49ers start the draft with three overall picks, and two are in the 1st round. They trade the Dolphins the 13th overall for rights to the 26th and future 2020 draft picks.
The Dolphins already locked up their Quarterback of the future in Herbert, so they get a big time SEC tackle to ensure his protection for years to come.
---
Kinlaw is all over draft boards, but the Bucs lock him down as their interior run defender in a division with elite running backs: Kamara, McCaffrey, and newly added Gurley.
---
Ruggs is the last of the "Big 3" receivers to get drafted, but that doesn't take away from his prospective abilities. Drew Lock will be doing a lot of celebration dancing come draft night.
---
C.J. Henderson is the first defensive back to be drafted in 2020. The SEC corner back can cover a plethora of different types of WRs and fits in perfectly with the fast paced Falcons' defense.
---
17.) DAL – K'Lavon Chaisson (LSU), EDGE
If there is one thing that Chaisson can do very well, it's get to the Quarterback. He's a step down from Chase Young, but he has quickly progressed in college and it will be the same at the next level.
---
18.) MIA – Josh Jones (HOU), OT
Yes, you're reading this correctly. The Dolphins go ahead and snag another tackle to protect Justin Herbert.
---
After they draft a slick WR in Lamb the Raiders head to the opposite side of the ball and get Fulton. He is a play maker that particularly excels in press man to man coverage on islands.
---
After holding off on the WR earlier in the first round, the Jags get a slot-corner's worst nightmare in Justin Jefferson. His elite route running mixed with his size will create scary match ups in the slot on Sundays.
---
Queen's uniqueness has found him in a lot of different spots on Big Boards. He is the protoypical NFL Linebacker because of his explosiveness to the ball in the run game and ability to pass defend.
---
Gross-Matos does not do anything perfect, but he is so well rounded that there aren't any glaring holes in his game. He will be able to progress in Minnesota while learning from one of the best in the game, Danielle Hunter.
---
It's very easy to picture Murray in a New England Patriots uniform. If there is anything the Patriots need to boost morale is an energetic Linebacker who can defend the run as well as any defensive player in the draft class.
---
Mckinney is the first Safety off the board as the Saints take him. Mckinney isn't ready to be an everyday NFL starter quite yet, so the addition of Malcolm Jenkins will allow him to observe and improve on his future ability.
---
The Vikings WR corps was shaken up a bit in the off-season, but Mims will provide an injection of youth to the group. His ability to catch anything near him alongside his intangible size and speed will provide Cousins with yet another vertical threat.
---
26.) SF – (trade MIA) Grant Delpit (LSU), S
Delpit is another prospect that has been jumping up and down boards because of his tackling ability. He goes to a San Francisco defense that wouldn't need to rely on him heavily which will allow him to grow into his NFL self.
---
The Seahawks draft a raw edge rusher in Epenesa. He looks to fill the gap that Jadeveon Clowney leaves behind in Seattle.
---
Although the Ravens offensive line was one of the best in 2019, the group is growing old. Jackson proves to be a fundamentally sound tackle that will be able to be brought into a talented group of linemen in Baltimore.
---
Diggs has a unique combination of speed and skill and has former experience at the WR position. The titans look to strengthen a secondary that struggled deeper into the playoffs last season.
---
30.) GB – Jeff Gladney (TCU), CB
Being that the Packers don't pick again until the 62nd, they draft a cornerback that may have been there for a decent portion of the second round. They don't want to take their chances of losing out on a player like Gladney.
---
After Emmanuel Sanders' quick stint in the Bay Area, the 49ers fill the void with a generational talent in Tee Higgins. Some have said to stray away from Higgins, but his big play ability and willingness to win in college should translate to the NFL.
---
32.) PHI (trade KC) – Jalen Reagor (TCU), WR
The Eagles trade their 2020 third round pick, a late round pick, and a 2021 second rounder to Kansas City knowing that the Chiefs aren't looking to pay a Rookie 1st round contract.
Reagor can play both on the outside and in the slot, and the Eagles are in desperate need of wide receivers no matter their alignment. He will have to be ready to make an impact early on in his Eagles career.
---
---
Follow me on Twitter for more great NFL and Philadelphia Eagles content @luke_stans. Also, follow @OTHPhilly for Philadelphia Sports coverage.
Discuss this and everything to do with sports at the Overtime Heroics Forums.
Be sure to check out our partners at Repp Sports! They offer the first-ever crowd-sourced, no carb, no sugar, energy drink called RAZE and much more! Use the link above or add the promo code OTH1 at checkout to get 30% off your order!