Ian Rapoport has just reported that the Jaguars have severed ties with wideout, Marqise Lee. What does this mean for the Eagles? A lot.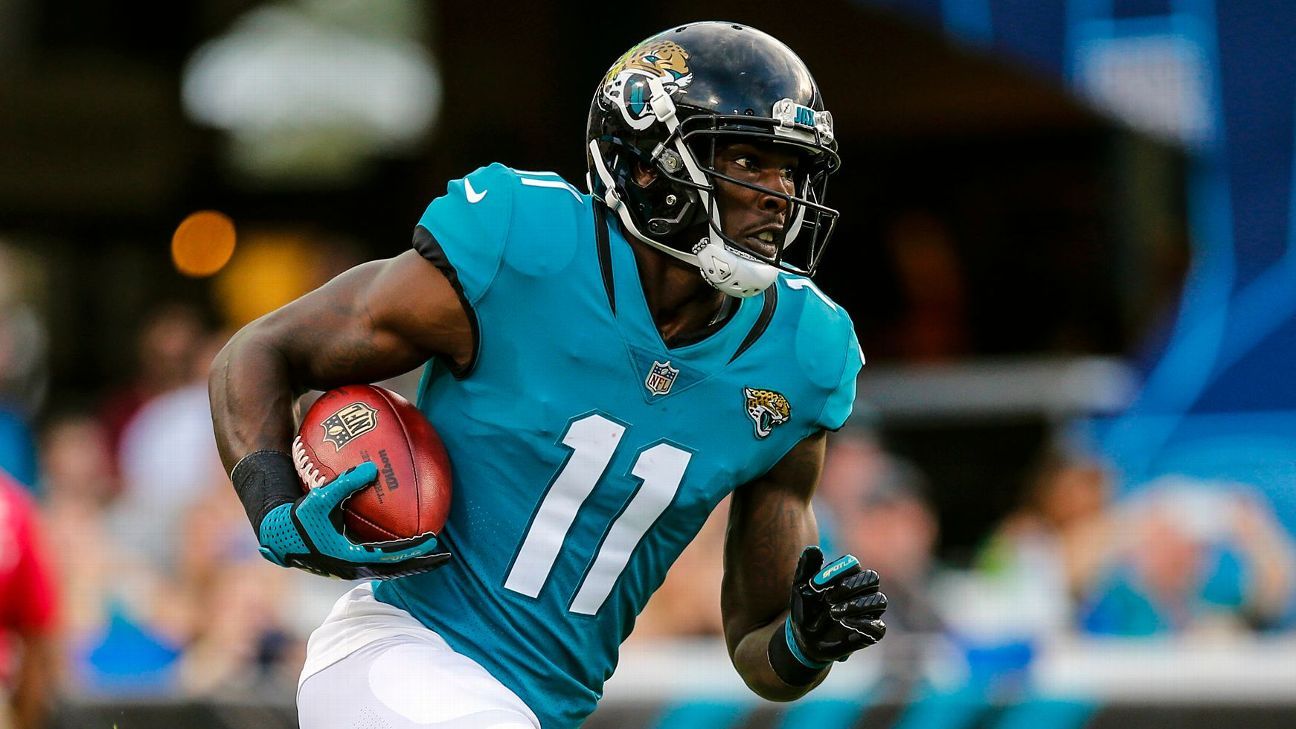 Draft Implications
It has been noted that the Jaguars were thinking about going after a young Jerry Jeudy, CeeDee Lamb, or Henry Ruggs in the 2020 NFL Draft, and this move may have just solidified these accusations. Jacksonville's WR room now consists of DJ Chark, Dede Westbrook, Keelan Cole, and Chris Conley. Now if they were willing to draft a wideout before they released Lee, they most likely are leaning towards snagging yet another elite rookie receiver in this draft after their recent roster decision.
This means that the Eagles chances at a drafting one of the renowned first-round receivers might have just become more slim. Jacksonville has the No. 9 pick on Thursday night, and they are one of five teams that have been teasing at the idea of taking a prospective Eagle off of the board. It is worth noting that Lee is both healthy and medically cleared, so Jacksonville must have wanted to free up some much needed space for Draft night.
Why the Eagles Need Lee
It is quite obvious that the biggest off-season need for the Eagles right now is at the wide-receiver position. The Jags drafted Lee in 2014 out of the University of Southern California, and he had a total of 59 games under his belt in the NFL. lee had a solid 2017, and his most productive year came in 2016 when he had 63 receptions for 851 yards and three touchdowns.
His last two years have not been very productive, as he tore his ACL in 2018 and is coming off a shoulder injury in 2019. Lee has tremendous speed and he is a defense's nightmare after the catch. He is a big play threat and has the distinctive ability to free himself from defenders and find open space. His movements are smooth and has fluid body control which allows him to attack the ball in the air while staying under control. Lee would be able to alleviate some of the pressure off of an older but similar receiver in Desean Jackson.
According the Playerprofiler.com, Lee currently has the 38th overall speed score in the NFL due to his initial quickness off of the line of scrimmage and his 4.52 40 yard dash time. His catch radius ranks among the middle of the pack, but for his size Lee is quite rangy. In 2017 he ranked 16th in target share, and was one of the top speed receivers in the NFL. There is no doubt in my mind that he could return to his 2016-17 self, and immensely help the Eagles, who now may not be able to secure a top tier WR in the 2020 Draft.
Financial Aspect
Marqise's contract with the Jaguars lasted until the 2022 season which is when he would have become an unrestricted free agent. It was a 4 year, $34mil deal with $16.5mil in guaranteed money and a signing bonus of $7mil. I could see the Eagles signing Lee to a 2 year, $8-12mil deal that would not include much of a signing bonus, much similiar to Desean Jackson's. The Eagles would pay Lee for a fresh start and give him the chance to extend his Eagles career in 2022, which is when he was supposed to become a Free Agent.
The Eagles have about $25mil in cap space as of today and this is more than enough space to fill a much needed gap on the Eagles depth chart. This move would also open up plenty of opportunities for the Eagles when the NFL Draft kicks off on Thursday night.
---
---
Follow me on Twitter for more great NFL and Philadelphia Eagles content @luke_stans. Also, follow @OTHPhilly for Philadelphia Sports coverage.
Discuss this and everything to do with sports at the Overtime Heroics Forums.