Fighters come in all shapes and sizes. Some are master technicians, while others are tireless cardio machines. However, there are a select few whose first and only plan is to punch people in the face.
In this article, we'll be looking at six of the hardest hitters in ONE Championship. But first, we need to set a few rules on how we do this.
Only MMA fighters will be included. Muay Thai fighters and kickboxers can have their own article.
Fighters will be judged on a pound-for-pound basis.
Consistency of knockouts is considered to weed out the lucky punches.
Now that we've got all that out of the way, let's begin.
Li Kai Wen – The Raging Underdog
The Chinese "Underdog" first burst onto our screens when he won the Beijing Featherweight Tournament at ONE: Dynasty of Champions [Beijing] in 2016. However, nobody would really know what he was capable of until two years later.
After an unfortunate run-in with Martin Nguyen, Wen went back to the drawing board to solve the remaining questions in his game. The answer he found is – WAAAAAAAAAAAAGH.
Wen met Roel Rosauro in the undercard of ONE: Quest for Gold in 2018. As soon as Rosauro gets hit, he goes into survival mode. Rosauro literally runs away as more hands drop on his head.
Rodian Menchavez only had 43 seconds in his ONE debut, as Wen puts him to sleep with the first solid hit.
When Wen went against Emilio Urrutia at ONE: Pursuit of Power he battered the Honey Badger for three straight rounds until he looked like a horror movie.
In his last fight against Paul Lumihi, he literally sprints from his corner to try a flying knee. It doesn't land, but an uppercut later in the round does and that was all she wrote.
There are only three ways a Li Kai Wen fight will end. You go to sleep in the first minute, you run away, or you torture yourself by hanging on and then get put out of your misery.
Li Kai Wen is aggression personified. I am semi-convinced that he has Red Bull instead of blood in his veins. His game plan is to put his fist on your face as quickly as possible. At 24, it's terrifying how much stronger he can get.
Dejdamrong Sor Amnuaysirichoke – Refined Power
Kru Rong spent his entire MMA career in ONE and fans know all too well what he can do with his hands and knees. They're a big part of why this relative old-timer became the first Strawweight Champion.
Dej is the smallest man and the oldest man on this list. However, his history beyond the cage and within it for the last half-decade speaks plainly about why he's indisputably one of the hardest hitters in ONE.
He has more knockouts in the ONE cage than self-styled knockout artists like compatriot Shannon Wiratchai and Alain Ngalani. His knockout resume includes both Rene and Robin Catalan, Adrian Mattheis, and Jeremy Miado; avenging one of the biggest upsets of 2018.
His power is something innate. Dej is at an age where every other athlete in all of sports is considered a relic. But at 41 years old, he's still a legitimate threat in the top tier and isn't showing any signs of slowing down.
His latest fight was (surprise, surprise) a TKO victory over PAK Fight Club Champion Muhammad Imran to stake another possible run at the Strawweight crown.
Kevin Belingon – Silencing Everyone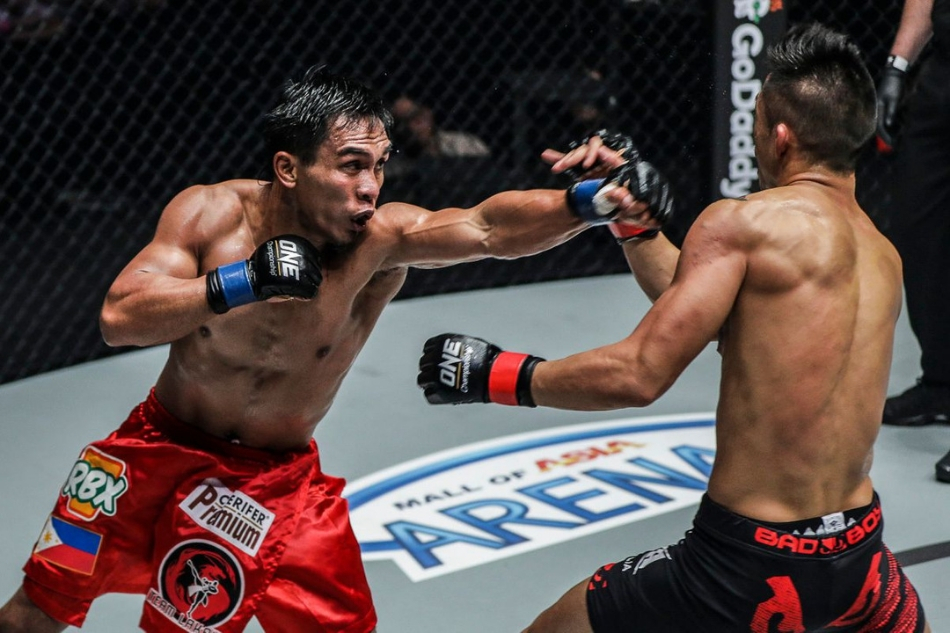 You can't have a more appropriate nickname for Kevin Belingon than the Silencer. Though his MMA career with ONE had a rocky start, the Lakay fighter became a fan-favorite with his knockout friendly style.
Belingon's first three wins in the promotion were knockouts that didn't go past the second round. After his first defeat to Bibiano Fernandez, Belingon went on an absolute tear to torch the entire division on his way back up.
This stunning run from 2016-2018 only had victories for Belingon and was the site of some of the most exciting finishes in the ONE library. He stole Toni Tauru's soul in the co-main event of ONE: Kings of Destiny and kicked Andrew Leone's liver out of his body eight months later.
Every time ONE announced a Kevin Belingon match, it was instantly the most anticipated one in the card outside any title fights. Eventually, his reputation as one of the hardest hitters in the division convinced management to give him another shot at Bibiano, giving birth to one of the best rivalries in the promotion.
Even after all this time, not much has changed in Belingon's fighting style. He has enough wrestling to defend against grapplers, but he's only ever going to knock heads in.
This is proven by the fact that he has zero submission wins since 2012. Even Timofey Nastyukhin had a couple of Triangle chokes and RnCs back in the day.
Expect the Silencer to keep racking up the knockouts when the world goes back to normal.
Martin Nguyen – Right-Hand Bomb
Out of anyone in this list, we can say Martin Nguyen literally punched his way into ONE history. The first double champ of the promotion got to where he is with one move – the overhand right.
His wins over Marat Gafurov for the Featherweight belt and Eduard Folayang for the Lightweight belt are immortal moments in the sport's history. The fact that both happened in the same year only adds to the prestige of this legendary run.
Don't make the mistake that these are out of left field exceptions though – these are the rule. As of 2020, Nguyen has seven official knockouts with ONE, nearly all of them against top-tier opponents.
After all the success his striking has brought him, Nguyen insists that he's not a striker. Because of his early training as a wrestler, the Featherweight champion prefers to think of himself as an all-around fighter. Although it's not difficult to see which side of his game is producing more results.
Nguyen has a simple weapon, but until someone survives it the belt probably isn't going anywhere any time soon.
Aung La Nsang – A Python with Hands
In 2018, Aung La Nsang went against Alexandre Machado for the vacant Light Heavyweight belt. The Burmese Python got a knockout win and a light bulb went on in his head.
Oh yeah. I can just punch them in the face.
From then on, the guy that only had a single knockout in his ONE career suddenly rattled off four big finishes in quick succession, cementing his status as one of the hardest hitters in the promotion.
Mohammad Karaki, Ken Hasegawa twice, and Brandon Vera all fell to the newly discovered power hiding within the hero of Myanmar.
None of those three are chumps either. Karaki was undefeated before running into Aung La. He was the Desert FC Middleweight Champion and the PFC Middleweight Champion before coming to ONE.
Ken Hasegawa was a Deep Megaton Champion. That's their everyone can join, come in as heavy as you want, no weight class category. I don't think I even need to talk about Brandon Vera's resume.
It's literally been three years since the Burmese Python finished a fight via submission, and it would probably take a heck of a chin for him to abandon his new Plan A.
Christian Lee – Ground and Pound Guru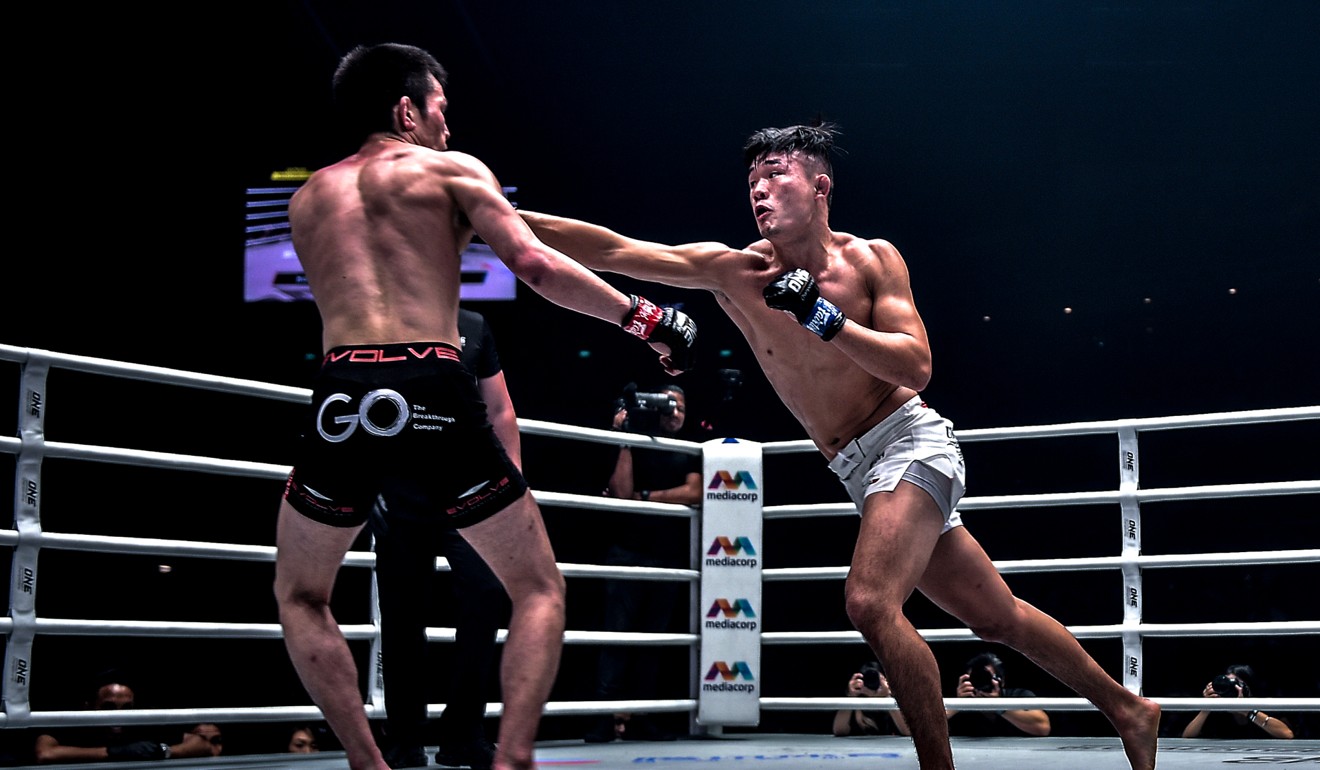 Okay, before anyone jumps down my throat, I'm just as shocked by this as most of you. With all due respect to Christian Lee, he doesn't necessarily come top of mind when it comes to the hardest hitters in the promotion.
It might be his physique or lack of highlight reel walk-off knockouts but people have a hard time remembering the times Lee legitimately took out his opponents via strikes. He did this eight times in his career so far and he's only 21. Many people would argue that he's not even grown into his body yet.
The reason why his reputation as a striker isn't at the level it should be is related to how they happen. As a wrestler, his striking repertoire is pretty much ground and pound. While proving effective, it's hardly as memorable as a knockout. But it counts.
In addition to his win over Shinya Aoki, Lee has TKO'd Edward Kelly, Kazuki Tokudume, and Kotetsu Boku. This was all in Featherweight, of course, we'll still have to wait and see if his power translates into the Lightweight division.
Bonus: Thanh Le – Future KO King
Since his ONE debut at ONE: For Honor, Thanh Le has done nothing but knock people out. He's yet to see the third round, scoring a three-fight winning streak on his way to a possible title shot against Martin Nguyen.
This man is a brutal striker that will most likely eclipse everyone on this list if given the chance. Anyone overlooking this man is in for a nasty surprise when he starts swinging. Le has no Plan B, either he knocks you out, or he knocks you out; there is no alternative.
He's one that everyone should keep their eye on.
Who do you think are the hardest hitters in ONE? Did we miss out on your favorite KO master? Let us know and layout your case on why they should be included.
---
Follow me on Twitter at @BjornPossel and follow us @OT_Heroics for more great content!
Also, be sure to check out the Overtime Heroics Forums page to join in on the discussion!
Check out our partners at Repp Sports! They offer the first-ever crowd-sourced, no carb, no sugar, energy drink called RAZE and much more! Use the link above or add the promo code OTH1 for 30% off at checkout!