In a recent interview with Whitelaw Sport, Thanh Le revealed that he was supposed to be the next one to challenge Martin Nguyen for his Featherweight title in April. However, the event was cancelled before ONE could make an official announcement.
This doesn't surprise us in the least, as we did include him as one of the men that could potentially challenge Martin Nguyen. But, beyond his terrifying knockout power, what do people really know about him?
Built for Fighting
Like many of his fellow athletes, Le got an early start in his journey through martial arts. His father was a taekwondo practitioner that opened his own gym in Metairie, Louisiana, and began training his son at age eight.
Le describes his childhood pretty much being spent in the gym.
But even though he was inundated in the martial arts world for most of his life, Le didn't consider it as a possible career. He was an ordinary sensible dude that had a full-time job while training on the side. Basically a normie, like the rest of us.
But one day, he just decided to fight.
We went and saw some local fights and me and my buddy Carlos Vera were like, 'This looks kind of cool, I think we should try to do it […] So we both ended up taking a fight two or three months down the road. We knew we had to train the other sports – boxing, jiu-jitsu, wrestling, all that other stuff – but we took a fight without any of that extra training.

Thanh Le, 2019
On September 21, 2012, Thanh Le put on the gloves for his first amateur fight at Renaissance Mixed Martial Arts and hasn't looked back since.
Thanh Le's Secret Weapon
When looking at Thanh Le, there are many things he can do physically and psychologically to cripple his opponents. He's got a superhero physique, an intimidating aura, and a Donald Cerrone-esque "another day in the office" approach to fighting.
His highlights on ONE and Legacy Fighting Alliance (LFA) will show that his knockout power is his best asset. While he probably has top-10 UFC level power in his hands, they're not THE most powerful weapon in his arsenal.
The scariest thing about Le was revealed in his fifth professional fight. The main event of World Fighting Championship (WFC) 31 against Josh Quayhagen* back in 2014.
The fight was a first-round knockout for Le. But what most people didn't realize is that Le broke his jaw from a big shot just prior to knocking Quayhagen out. On-site paramedics said that the injury allegedly required immediate surgery.
That is what I think Le's real secret weapon. More than a handful of fighters have been blessed with fight-ending power in their hands. But, it's hard to think of men who would have the grit to have their jaw broken and then finish a fight.
To put it another way, the man literally broke his chin and still wasn't knocked out.
*Trivia – Josh Quayhagen fought Cosmo Alexandre twice in Bellator 52 and 80. He won the first but lost the second, both via Unanimous Decision.
Big Breaks
The jaw injury put Le on the sidelines for more than a year. However, the timing of his return to activity couldn't be better, as it opened a window of opportunity to The Ultimate Fighter 22.
This is the one where McGregor coined the "snake in the grass" nickname for TJ Dillashaw. It's also the season that introduced everyone to Ryan Hall.
Le showed off his taekwondo chops against Andres Quintana to get in the house; learning a lot with his time in Team Faber. Unfortunately, he wouldn't get much further, as he got caught in a rear-naked choke by Martin Svennson in the second round of their fight.
The good thing about it though, is that he showed enough flashes of his brilliance to get an invite to Dana White's Contender Series two years later.
In the meantime, he signed with LFA and made a quick run for their Featherweight belt. He finished Alex Black and Bobby Moffet. Le would lose the title to Kevin Aguilar but would make his debut with ONE a year later.
The Real Fists of Fury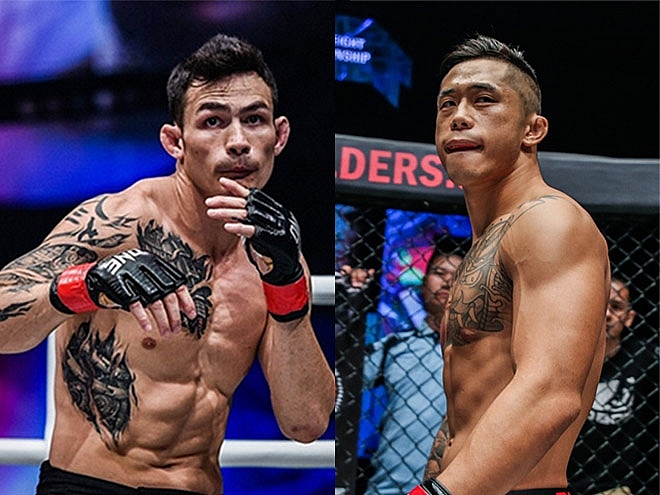 In his eleven months with the promotion, Thanh Le finished Yusup Saadulaev, Kotetsu Boku, and Ryogo Takahashi.
According to Le, if COVID-19 never happened, he would have fought Nguyen for the Featherweight title on either the 10th or 17th of April according to a schedule of events announced in mid-February.
Expect this fight to be a marquee match-up when the world goes back to normal.
Thanh Le has the power to finish anyone, as well as the chin to weather Nguyen's fabled overhand right. Will it be enough to take the title?
Will the tattooed, hard-hitting Viet-Aussie be replaced by the tattooed, hard-hitting Viet-American?
---
Follow me on Twitter at @BjornPossel and follow us @OT_Heroics for more great content!
Also, be sure to check out the Overtime Heroics Forums page to join in on the discussion!