After existing for a near-decade, ONE Championship finally unveils its first-ever rankings. This is something that's been missing for the promotion and the fans have been asking for a long time.
According to ONE, the rankings will serve as a transparent guide to fighters as they chase their dreams towards a title fight. The rankings are based on criteria such as wins and losses, most recent performances, and quality of competition.
Now that it's finally here, what do we think about it?
Not very happy to be honest. Close scrutiny of the ONE Championship rankings reveals that the criteria either conflicts with the actual results or wasn't applied altogether.
Many of their choices make no sense.
Atomweight MMA Rankings – Meng Bo? Are You Serious?
This should have been the easiest list to make. There are so many talented women in this division and there are even a handful of them that are still undefeated?
How in the world were Stamp Fairtex, Itsuki Hirata, Jihin Radzuan and Priscilla Hertati Lumban Gaol beaten by Meng Bo? She has one solitary win with the promotion against Laura Balin who's 0-4 with ONE Championship.
She literally fails on both the wins and opponent quality criteria and ONE thinks she's sitting at No. 2? So whoever wins between Lee/Zamboanga, the next person to get a title shot is Meng Bo? Why? Because she beat Zhang Weili seven years ago?
The rant is basically the same with No.3 Lin Heqin. She only has one fight in ONE and shouldn't outrank Mei Yamaguchi or any of the other women I already mentioned.
Who looked at this and thought this reflected reality in any way?
Women's Strawweight – Why is Angela Lee Here?
This is the part of the list where things where most of the confusion comes from. As you go through each of the items, you'll notice some fighters ranked in a division where they have literally no wins in.
This could be explained away by saying the panel took into account the success such a fighter had in another division. Which begs the question, why have divisional rankings in the first place?
Are we saying that if a fighter completely dominates one division but bombs out in another they still deserve consideration as the best in that other division? If so, then throw out the win/losses criteria completely.
I bring this up because Angela Lee is number three in the Strawweight rankings. Unstoppable is literally 0-2 as a Strawweight. Her record in this division is comparable to Samara Santos.
Heck, Martin Nguyen is 0-2 at Bantamweight and I (rightfully) don't see him anywhere in the rankings of that list.
The only reason she could be in the Top 5 is if the division only has four fighters. Considering Maira Mazar is in the Top 5, I just might be onto something.
Men's Strawweight Rankings – Where is Suzuki?
The Strawweight rankings are probably the most competitive out of the entire list, as most of the people in the Top 5 are former champions or title challengers.
It's debatable whether Yoshitaka Naito should be higher than Rene Catalan since D' Challenger beat Nobita on his way to the title shot.
But the big question for this list is, where is Hayato Suzuki? The Japanese fighter is the only person with the right to challenge Pacio for the belt right now. In fact, they were scheduled to face each other at ONE: Eternal Glory before Suzuki was injured.
Sure you can knock him down a peg from the No. 1 contender status for inactivity. But excluded from the Top 5?
I'm a fan of Lito Adiwang, my first article was about how he could definitely become a champion someday. But there's no way he places higher than Suzuki in the ONE Championship rankings right now. Especially if we're talking about how far fighters have to go to get a title shot.
Suzuki has more wins with ONE (if we're excluding ONE Warrior Series), and he's beat better quality opponents (Joshua Pacio included).
The only way Adiwang outranks Suzuki is if the Japanese is no longer a fighter at the promotion, and last I checked, he still is.
Featherweight Rankings – Confusing Cross-Divisional Criteria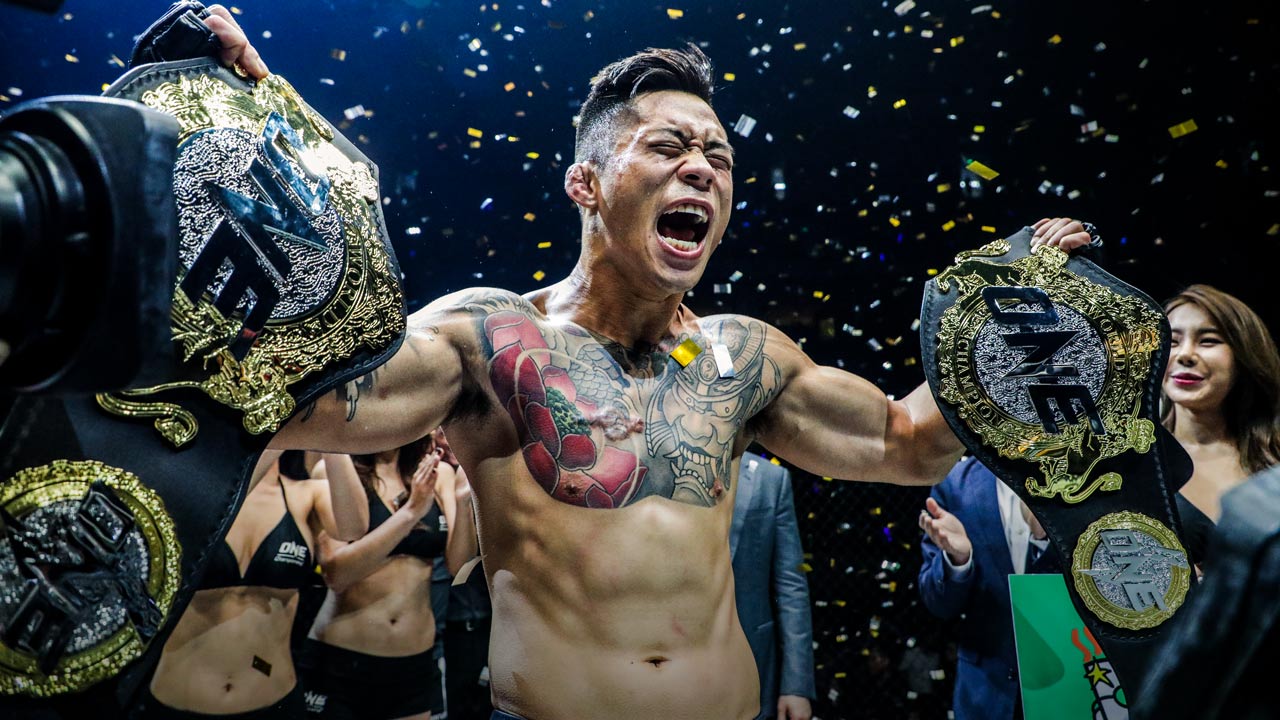 This list in the ONE Championship rankings is what made me question the most recent performance part of the criteria. The confusion just comes from the placing in reference to the most recent performances of each fighter and inclusion based on wins and losses.
Tetsuya Yamada is 3-3 with ONE. He's ranked higher than Garry Tonon. A man that's undefeated at 5-0 all of which were finishes.
There are a bunch of people I'd put in there over Yamada based on the given criteria as well. Narantungalag Jadambaa former champion, 6-3 in ONE; Li Kai Wen 9-2 in ONE on a three-fight winning streak, all finishes.
Heck, since they included Christian Lee in there for what I assume is his record at Featherweight, why not put Marat Gafurov in? The Russian is a former Champion whose record and quality of opponents far outstrips Yamada's. In fact, Gafurov's latest win was over Yamada.
If anyone tries to say Gafurov isn't included because he's a Lightweight now, so is Christian Lee. If Lee can move to another division and retain his place at Featherweight, why not Gafurov?
The possible argument is it's because Lee is the Champion at Lightweight, following that logic, why isn't Martin Nguyen included in the Lightweight list?
Considering fighters to be in the Top 5 of a division when they are no longer in that division while ignoring fighters who are in similar or exactly the same situation is confusing and irritating.
Flyweight Rankings – No Geje?
Look, I know the last thing most people remember about Geje Eustaquio was Yuya Wakamatsu knocking him out at ONE: Dawn of Heroes. But is that really enough to knock him from the Top 5 spot?
Sure, it's arguable that McLaren's record at Bantamweight translates to consideration at Flyweight, since that seems to be a thing throughout these rankings.
But if we're going to back to the criteria that ONE put up, Geje still has more wins with ONE and has had better quality opponents.
Not only is Geje a former Champion, but he also has wins over every other Champion in the Flyweight division. Does one knockout really have that much of an effect, especially considering that his latest fight was a knockout win?
Where Are The Big Boys?
As many people on Facebook and Twitter have already mentioned, there aren't any ONE Championship rankings for Welterweight, Middleweight, Light Heavyweight and Heavyweight.
While ONE has said that they would release those rankings in the future, there is a painfully obvious reason why the heavier weights were delayed. They don't have enough fighters.
ONE has definitely struggled in filling out the roster of its heavier divisions, with most local talent being naturally light. That's why the Champions in these divisions often go years in between fights.
Brandon Vera, for example, has only fought once a year since coming to ONE, not even fighting at all in 2017. The only reason Aung La stays busy is that he has two belts to defend.
The story changes a bit at Welterweight because though the division isn't exactly crowded, there's definitely enough people there for a Top 5. Perhaps they held that one back to make the releases look even.
Final Thoughts
How in the world did they come up with these?
The choices that I have problems with already don't make sense on their own. But it gets ten times worse when you consider the ONE Championship rankings "criteria".
These decisions completely fly in the face of how they say they were judging these fighters by. This is the guide they'll use to decide who gets a title shot? Are they serious?
These are the careers of human beings who put their bodies on the line for our entertainment. They sacrifice so much time away from their families and put themselves in physical danger to climb the ranks and become Champion.
You look at the struggles these people go through and this is how you see them? This isn't even a question of taste or preference of style. I'm seriously questioning what the hell you're all doing.
Rankings are an acknowledgement of the hard work fighters have put in and the results they've achieved. For every fighter that gets left out, you need to be damn sure the ones you're putting in deserve it.
Some of these choices make zero sense. What's worse is that you're supposed to know that they don't make sense. You can't even be bothered to check whether the fighters you put over others actually fit into the criteria you put out?
I can justify every single one of the criticisms I've put up here based on the very same criteria ONE has put up. The fact that it wasn't even that hard goes to show I've put more thought into this than they have.
---
Follow me on Twitter at @BjornPossel and follow us @OT_Heroics for more great content!
Also, be sure to check out the Overtime Heroics Forums page to join in on the discussion!