In the 2019 offseason, the Browns made a massive trade to bring in Odell Beckham Jr. to join best friend Jarvis Landry, who they brought in the year before. The NFL went nuts and hyped the Browns to the Superbowl, didn't happen. OBJ had what was considered a sub-par season even though he had 1035 yards. What we all found out later is he was playing through a sports hernia and needed core muscle surgery this offseason. With OBJ healthy, and Jarvis also, the Browns still have two of the best receivers in the game. They also brought back Rashard Higgins and brought in some rookie options. The Browns still have a chance to have the best wide receiver core in the NFL in 2020.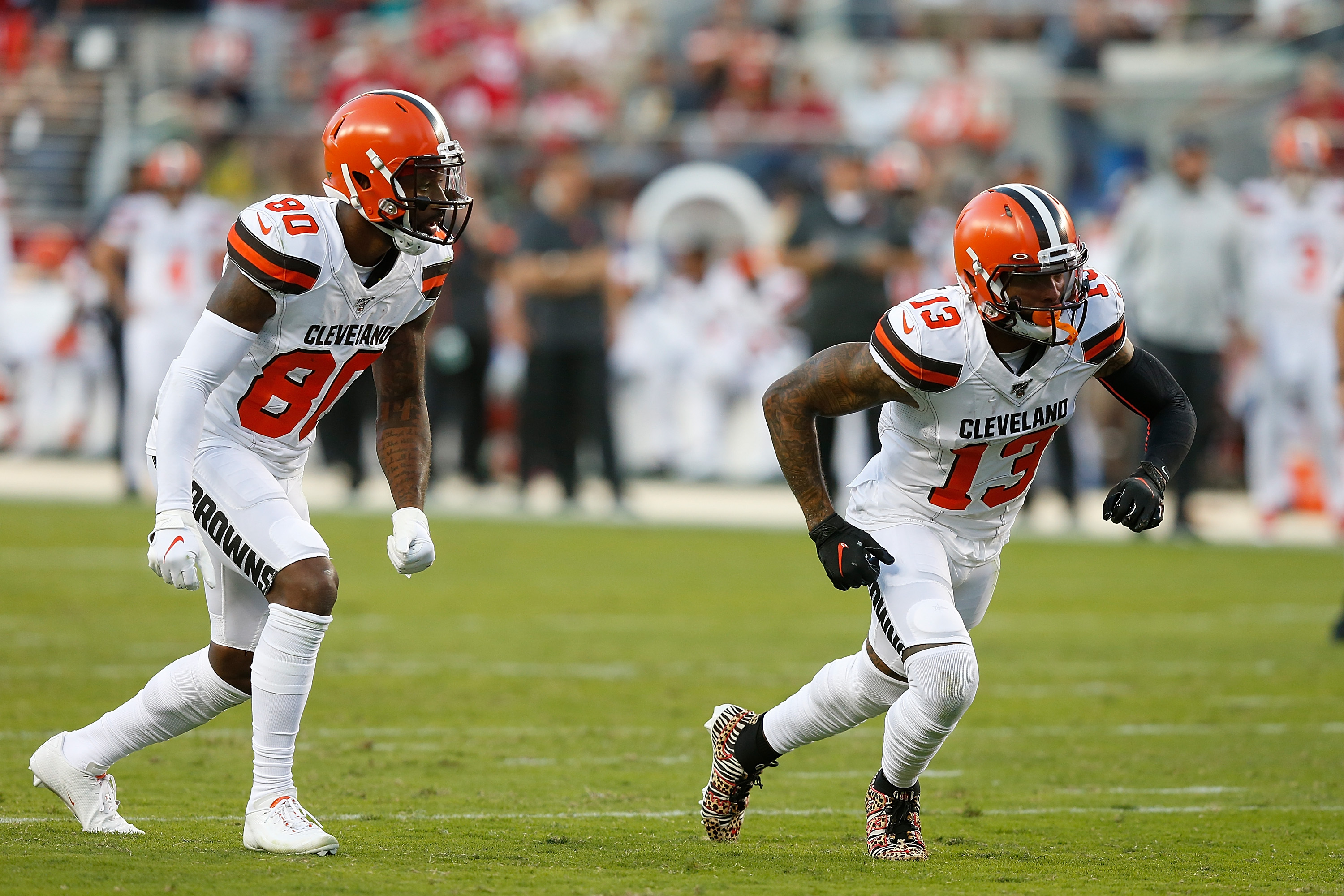 Jarvis Landry
2019 season: Games: 16 | Receptions: 83 | Yards: 1174 | Yards per catch: 14.1 | Touchdowns: 6
Landry is an intense competitor and wants the ball just like Odell, but I think he can see the bigger picture a bit better. Jarvis knows that Stefanski is a smart guy and will find ways to use all the weapons he has to make this offense go. Landry is also aware that it may mean sacrificing for his friend and fellow teammates in doing so. As long as it equals wins, Landry will be happy to play second fiddle and do his thing. Don't be surprised to see Landry in some big packages playing "tight end" to create mismatches. His blocking is incredible for a wide receiver.
Odell Beckham Jr.
2019 season: Games: 16 | Receptions: 74 | Yards: 1035 | Yards per catch: 14.0 | Touchdowns: 4
Beckham's first year in Cleveland was labeled as a disaster, and unfounded trade rumors have been all the rage this offseason. For now, Andrew Berry has put these rumors to rest do what we can expect in 2020? First and foremost, a healthy Beckham heading into camp after having a sports hernia corrected in the offseason. Second, determination, Beckham has said he expects 2020 to be his best season yet. Lastly, how will he react to his numbers likely being down in the new system if the Browns are winning? Ok, that last is another question. It is one that needs to be asked though.
In 2019 Stephon Diggs was the leading receiver for the Vikings with 67 receptions. The next three on the list? Vikings Running back Dalvin Cook and two tight ends. Kevin Stefanski has been known to love tight ends, and his offense caters to the running game setting up the pass. Will Odell be able to handle fewer targets? As long as the Browns are winning, he may not like it but will go along. If they are losing, things could go south very quickly. A healthy Beckham should have a great year with more explosive plays now that he should have that extra gear he lacked last season.
2019 season: Games: 13 | Receptions: 12 | Yards: 200 | Yards per catch: 16.7 | Touchdowns: 1
Ratley is likely on the bubble with the front office in place. He was the third-leading wide receiver for the Browns, but with only 12 receptions. Ratley has the talent and has a big 6'22 frame but has yet to make much of an impact at the NFL level. It is likely he could be playing for another NFL team before the season starts.
Rashard Higgins
2019 season: Games: 10 | Receptions: 4 | Yards: 55 | Yards per catch: 13.8 | Touchdowns: 1
2019 was a lost season for Higgins. After a small breakout season in 2018 becoming Baker Mayfield's safety blanket, Higgins entered the Freddie Kitchens doghouse and was never seen again. OK, maybe that is a bit dramatic, but it sure felt like it. Higgins chose to come back to Cleveland on a one year deal to try and regain the value he lost. That may prove difficult in a top-heavy roster but unquestionably provides the Browns substantial depth for the receiving core.
2019 season: Games: 16 | Receptions: 4 | Yards: 76 | Yards per catch: 19.0 | Touchdowns: 0
Hodge popped up during the 2019 season, made a couple plays then disappeared again. He heads into 2020, looking to impress a new front office and keep a roster spot. He will have a hill to climb, considering that Higgins is a near-lock as the three-receiver and sixth-round pick Peoples-Jones has the inside track to be the fourth receiver. Hodge will be fighting with a lot of bodies to grab that final spot.
2019 season: Games: 10 | Receptions: 0 | Yards: 0 | Yards per catch: 19.0 | Touchdowns: 0
Taylor was brought in via trade last preseason to provide depth at wide receiver and the return game. He never impacted either. In his defense, the Browns only played him in three games on the season. Another head-scratching move by the Dorsey/Kitchens regime. Why trade for a player not to use him?
A third-round pick by the Titans, Taylor had a couple sold years before coming to the Browns. The experience may get him in the door, but Taylor will need to impress in every aspect to make the team. It is more likely the Browns see if they can recoup a pick for him before moving on from the young wideout.
Draft Pick
2019 season (Michigan): Games: 11 | Receptions: 34| Yards: 438 | Yards per catch: 12.9 | Touchdowns: 6
Urban Meyer said Peoples-Jones is a top ten pick. While that may be overselling it, he has the talent to be a great find in the sixth round. The Browns will give him every chance to prove it during training camp and preseason since he is the perceived favorite for the fourth receiver spot. If Peoples-Jones gets anywhere near Meyer's prediction, Peoples-Jones will be the steal of the draft and make Berry and his team look like geniuses. If he falls off a cliff and is never heard of again, he was a sixth-round pick. Win-win for the Browns on this one, and that is what makes an excellent late-round pick.
All 32 are watching
JoJo Natson
Natson has signed this offseason for one million to be an option in the return game. Natson may have an inside track to the roster as a return man, but with zero offensive over the last couple years, it will make it hard to keep him should another wideout catch the front office's eye. If the Browns don't keep him, another team will certainly snap him up to be their return specialist.
J'Mon Moore
Moore is a big receiver that was drafted in the fourth round by the Green Bay packers. At 6'3″ he could make an impact in the redzone of he can show something in training camp and the preseason. It is more likely that he will be auditioning for 31 other teams once the preseason rolls around.
D.J. Montgomery
Montgomery was signed as an undrafted free agent last year and has a lot to prove heading into 2020. He had gained some traction in the 2019 preseason then was sent to injured reserve with a hamstring injury. Montgomery may have a shot at the practice squad but is likely also auditioning for a spot with another team.
Undrafted Free Agents
Ja'Marcus Bradley signed with the Browns after having 60 receptions and ten touchdowns in 2019 as a member of the Louisiana Ragin' Cajuns. Bradley will have a tough climb but has a chance to latch on as the fourth or fifth wideout on the roster. If he can't get to the end of the bench, the practice squad could be where he ends up.
Brown comes to Cleveland as an undrafted free agent out of Colorado. Last season he caught 56 passes for 707 yards and five touchdowns. He will face the same climb that Bradley faces to make the roster. Anything can happen once training camp and the preseason arrive.
All Browns Roster Breakdowns:
---
Follow me on Twitter for more great content @WeirdJBronavich.
Be sure to check out our merch store powered by teespring.com and pick up something!
Discuss this and everything to do with sports at the Overtime Heroics forums!