In an earlier article, we took a look at the ONE athletes resorting to call-outs to stay relevant due to the current pandemic lockdown. It looks like the tactic is working because more fighters are doing the same in the past few weeks.
So, we'll follow their lead and see if this new batch of call-outs make more sense than what came before.
Puja Tomar on Bi Nguyen in MMA
This fight almost doesn't make sense at first glance. Thanks to her social media presence and highly-anticipated match with Itsuki Hirata, Bi Nguyen's profile is much bigger than Puja Tomar's.
In addition, Nguyen already beat Tomar in a Muay Thai bout at ONE: Immortal Triumph.
But, looking at their actual resumes, their standing is nearly identical, especially considering the specific condition that the fight is in MMA.
Tomar is currently 1-4 in ONE Championship MMA, her solitary win being a split decision over Priscilla Hertati Lumban Gaol. On the other hand, Nguyen is 1-3 under the same ruleset, only winning in her ONE debut against Dwi Ani Retno Wulan.
But what really puts them in the same boat is that their latest fights were losing bids against Stamp Fairtex.
This is a good call out for two fighters near the bottom of the MMA Atomweight division. It doesn't have many stakes involved, but it allows Tomar to at least mentally avenge her loss against a supposedly bigger name.
Keanu Subba on Honorio Banario
Keanu Subba is a name that came up in our other article as Phoe Thaw called him out to book a rematch. But it looks like the young Malaysian isn't going to give Bushido the time of day.
According to his interview with ONE, the reasoning behind calling out Honorio Banario is simple – he's a former Champion with a big fan base.
This is a very good call out for Subba because he has an accurate vision of the potential rewards that this fight provides. His medically imposed hiatus isn't doing his career any favors and he needs to make up for the lost time.
Skill-wise there's not much difference between Banario and Subba, especially if the Malaysian brings back the form that beat Phoe Thaw. However, he should prepare to finish or dominate the former Champion as The Rock has a knack for winning decisions.
Adrian Mattheis on Stefer Rahardian
When we were looking at the Top Indonesian fighters in ONE, these two were automatically at the top. Their legacies, resume's and contrasting styles made for great and entertaining fights.
As much as a rematch would be a good idea, especially for the fans, this calls out by Mattheis doesn't make much sense for him. Even though he lost via Unanimous Decision when they met at ONE: Dawn of Valor, the Papuan Bad Boy's stock is actually much better than Rahardian's.
Mattheis is 4-1 over his last five fights, while Rahardian is at the complete opposite at 1-4. If ONE did a complete ranking of the entire Strawweight division, he would be several places above his senior compatriot.
His energies are better suited to targeting fighters closer to him on the pecking order rather than trying to avenge a loss.
Josh Tonna on Sam-A Gaiyanghadao
With a stunning upset win over Andy Howson at ONE: Warrior's Code, Josh Tonna feels that he should get a title shot against ONE Strawweight Muay Thai Champion Sam-A Gaiyanghadao.
This is an excellent call out by the Australian, probably encouraged by the fact that he's the #1 contender in the released rankings.
There's really nowhere else for the Australian to go, and realizing that he should get a title shot probably wouldn't have happened if the pandemic didn't hit.
Tonna was scheduled to face Alejandro Rivas in a Kickboxing match at the canceled ONE: Heart of Heroes. Even though it's in a different sport if that gone through, Tonna would be putting his now coveted place in jeopardy.
Now he knows what he wants and shouldn't settle for anything less for his return to competition.
Priscilla Hertati Lumban Gaol on Rika Ishige
In her interview with ONE, Priscilla Hertati Lumban Gaol was hesitant to name a fighter to call out. But finally settled on a contest with Rika Ishige.
This is a big head-scratcher, to be honest. Thati is on a two-fight winning streak and a record of 7-4. We included her as one of the women that can challenge Angela Lee. She's probably one or two wins away from entering the title pool.
Ishige, on the other hand, is on a two-fight skid and an overall record of 4-4. If this fight gets made, Thati would be punching down and won't do much to raise her profile. It's a near-zero return on investment that would only delay the Indonesians quest for the gold.
Danny Kingad on Adriano Moraes and Demetrious Johnson
Team Lakay's Danny Kingad is the most underrated fighter in all of ONE Championship. Because of his lack of gold, he doesn't get as much attention as his teammates.
But, in his entire five-year career, he's only lost against two men. The current Champion Adriano Moraes and the GOAT Demetrious Johnson.
There is no one else worthy of fighting Kingad other than these two, and he knows it. He's the automatic challenger to whoever wins Moraes/Johnson, whenever that will happen.
Himanshu Kaushik on Dejdamrong sor Amnuaysirichoke
Another fighter looking to avenge a recent loss, Himanshu Kaushik wants another go at Dejdamrong Sor Amnuaysirichoke. The two first met at ONE: Heart of a Lion where the Thai fighter got the win via Rear Naked Choke in the second round.
According to Kaushik, this was because he wasn't 100% healthy during the fight and gassed early. He says his ground game is better and ready for whatever Kru Rong can bring to the table.
However, his most recent loss to Adrian Mattheis using the same move in the first round at ONE: For Honor says otherwise. With a 1-3 record with ONE so far it's not controversial to say that Kaushik isn't facing the former Champion any time soon.
Eko Roni Saputra on Gurdarshan Mangat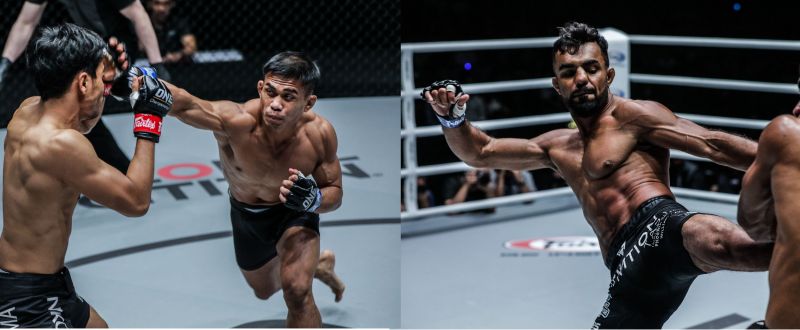 If there were any doubts as to the bravery of Eko Roni Saputra, this call out should dispel them all. A relative newcomer to the professional ranks, Saputra is 2-1, while Gurdarshan Mangat is 15-3 with a career going back to 2011.
Whether this is a smart call out is another matter.
Mangat already has big names on his resume including former title challenger Toni Tauru and Abro Fernandes. Meanwhile, Saputra only has Kaji Ebin and Khon Sichan.
In his interview with ONE, Saputra said he will rely on his wrestling and expects Mangat to keep it standing. The Indonesian sees this fight as a classic grappler vs. striker contest.
I would encourage his coaches at Evolve MMA to dissuade Saputra from this notion as quickly as possible. Mangat has five wins via submission on his record, he's trained at both AMC Pankration and 10th Planet Jiu-Jitsu.
If Saputra takes the fight to the ground expecting to dominate Mangat will gladly drown him there.
Yes, Mangat lost via Rear Naked Choke to Reece McLaren. But, McLaren only lost to Bibiano via Split Decision at ONE: Age of Domination. Right now, there's little evidence to support Saputra's claim that he's at the same level.
Did these call-outs make sense? What call outs did you wish happened? Which fight was your favorite? Play matchmaker and see what shakes out in the future.
Follow me on Twitter at @BjornPossel and follow us @OT_Heroics for more great content!
Also, be sure to check out the Overtime Heroics Forums page to join in on the discussion!