The Lees are the most successful house in ONE Championship. They are the crown jewels of Evolve MMA and are a significant part of justifying the existence of both the promotion and the gym.
It's no exaggeration that the current Asian MMA scene would look quite different if it weren't for this family's contribution over the years.
All In The Family
Like most of the people that I've already talked about in this series, both Angela and Christian Lee had an innate talent for martial arts and a hunger for competition. What makes them different is that their road down this path was carefully guided by their parents Ken and Jewelz Lee.
Ken Lee is a decorated martial artist with black belts in BJJ, Pankration, and Taekwondo with gyms in Vancouver and Hawaii. He was also the head of the Canadian Sports Jiu-Jitsu Association and the Canadian Pangration Federation. Jewelz Lee on the other hand is a blackbelt in Taekwondo and Hapsdosool.
The brother and sister duo were practically bred for martial arts. But, Ken Lee is quick to stress that they never pushed their children to pursue martial arts as a career.
This is something they love and something they want. It is not something I push on them. I have told everybody that if they tell me this is not what they want to do, then that is it. You have to love what you do

Ken Lee, 2017
Both Christian and Angela decided not to pursue tertiary education in order to give all their attention to MMA. Angela dropped out of college after her first win at ONE: Warriors Conquest. Christian, on the other hand, was still in high school when he made his MMA debut.
The Lee family is consistent in supporting the two stars, as they always corner both champions for every single match. However, they now stand at a crossroads in their journey that challenges their values and forces them to stand alone.
Evolving In Singapore
After her win against Aya Saeid Saber, Angela moved to Singapore and train with Evolve MMA. Christian followed her there soon after.
This move was arguably the best decision the siblings ever made, as it benefits their careers in more ways than one.
First, they had more access to talent that helped train the respective weaknesses in their games at that point. Second, they became part of ONE's early pool of stars that saw them getting a lot of promotion from the organization.
This combination of focused marketing and actual skill put both of the Lees on the fast track up the MMA ladder, as well as center stage in Asian MMA.
This obviously resulted in both Lees coming within striking distance of a title shot within a year of their professional debuts.
However, this association with the Singapore gym wouldn't always be seen as a positive.
Unstoppable Dreams
Angela Lee forged her star with her win over Mei Yamaguchi for the inaugural ONE Atomweight belt at the appropriately named ONE: Ascent to Power. Four years later, the fight is still one of the best in the promotion's history.
Her dominance in the division, with four successful defenses against Jenny Huang, Istela Nunes, Mei Yamaguchi, and Xiong Jingnan, has put her in a position to claim the rank of Asia's best female martial artist.
The Queen and The Conqueror
However, shortly after the Nunes fight, Angela was involved in a car accident. Sidelining the Champion for more than a year. Meanwhile Christian was on his way up the Featherweight ladder. He beat Jianping Wan, Keanu Subba, the first Featherweight Champion Kotetsu Boku, and Kazunori Yokota.
Christian's rise and Angela's recovery coincided perfectly for both Lees to fight as the co-main and main event of a fight card built specifically to celebrate the return of its biggest star – ONE: Unstoppable Dreams.
But, it wasn't the grand reunion that everyone was hoping for. The card quickly turned into a rude emotional awakening for the golden duo.
The Worst Title Fight in ONE History
Martin Nguyen versus Christian Lee at ONE: Unstoppable Dreams is considered by many as the best chance for Nguyen to lose the belt. Even including his loss to Marat Gafurov, that was the worst version of the Champion to date.
However, even in that state, Christian was still unable to come up with a win. A disappointing effort that the crowd at the Singapore Indoor Stadium immediately recognized and made their feelings known.
Choruses of frustrated boos constantly echoed from the stands, as fans cried for more action. Referee Yuji Shimada gave both fighters a yellow card for failure to engage. The feelings on the fight range from disappointment to hostility for ruining what was, up until that point, a good card.
However, the reception to the fight seemed to substantially affect Angela as well. While walking out to the Circle for her title defense against Yamaguchi, the Champion was almost in tears.
After she won the fight via Unanimous Decision, she took the opportunity to chastise the crowd for booing.
Tonight was a huge night for my family regardless of the outcome. You guys don't realise how tough it is to be inside this ring and do what we do[…]And for the two men who were fighting for the featherweight title, I just want to say congratulations… Man, you guys are a tough crowd and sometimes you've got to respect the athletes."

Angela Lee, 2018
Gold and Shadow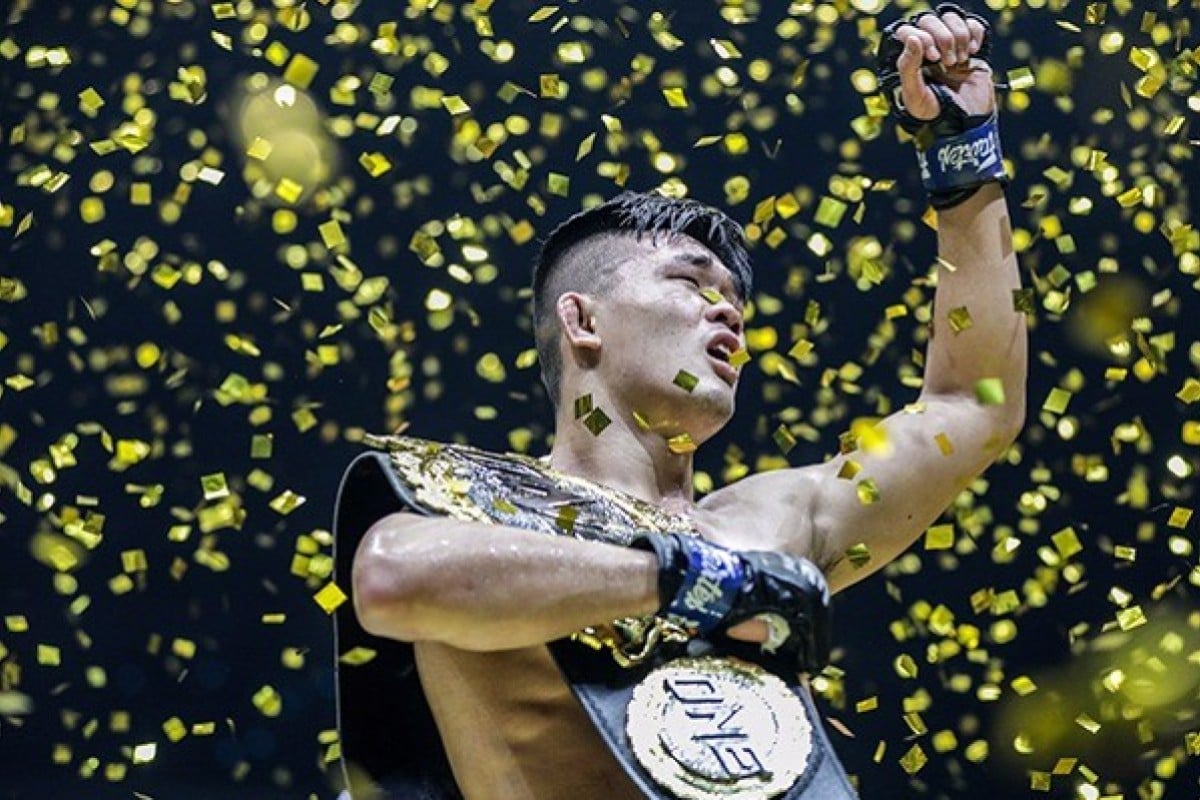 After the event, Christian Lee's prospects of matching his sister's achievements were looking bleak. Nguyen was still in the midst of his three-weight title obsession and even handily knocked out another former Champion in Narantungalag Jadambaa.
But, suddenly, Shinya Aoki called him out as a potential challenger to the Lightweight crown that he just had won from Eduard Folayang.
The call-out raised a lot of eyebrows in the MMA community and even inspired outrage when the match was made. Lightweight is arguably ONE's most talented division, with fighters having to notch long win streaks or punch way above their weight just for consideration.
There was a definite feeling that he didn't deserve a title shot in a division he never fought in before and that it's only happening because of Evolve.
Historically, this wasn't the first time a Featherweight jumped the line at Lightweight for the belt. But Nguyen was a Champion when he did that – Christian was not.
Even after he won via knockout against Aoki, a significant section of fans saw the fight as a giveaway.
A Unit No More
There's no understating the effect that Unstoppable Dreams had on the family. Because of the stress of going through the mental and emotional fatigue of two straight fights, the siblings decided to stop cornering each other if they fight on the same card.
This exact situation came up in ONE: Century when Christian stepped in as a late replacement in the Lightweight Grand Prix Final against Saygid Guseyn Arslanaliev. Angela was already on the main event of the card, defending her title against Strawweight Champion Xiong Jingnan.
Christian asked his sister not to corner him for his fight, not even to watch it on TV. He cites the stress Angela went through and the need for her to focus on her fight with Xiong.
This is something Angela agrees to, stating in an interview with MMA Junkie how cornering each other is becoming more difficult.
The new situation flies in the face of how Ken Lee explained how the clan works.
Since they were born, they realized we are a unit and we function as a unit, and so it is normal to them. If it wasn't, you would see it. They would be going crazy.

Ken Lee, 2017
How will they cope with this new reality?
A New Test Begins
Both Lee's now have their opponents in their sights. Denice Zamboanga for Angela, and Iuri Lapicus for Christian. While the dates for these fights are still unknown, the world is eager to see the duo back in action.
The Lapicus fight will be a baptism of fire for the Warrior, as it will be his first title defense. The undefeated Moldovan brings a complete game that's already beaten Champion-caliber fighters from his debut in the promotion.
The result of the fight will be the ultimate judge in regards to the legitimacy of his reign.
Win and prove he is as much a Champion as Folayang, Aoki, and Nguyen. Lose and vindicate the naysayers to dismiss his title as no more than behind-the-scenes machinations of ONE and Evolve.
Angela, on the other hand, is facing the only other woman to defeat Mei Yamaguchi in ONE. The undefeated Filipina's performance was impressive and came totally out of the blue. While Denice isn't quite on the level of those who have already beaten Angela it should be an interesting contest.
Will Angela still prove to be unstoppable, or will Denice pull off the biggest upset in ONE history? What effect will the new set-up have on the Lee if they get scheduled on the same card again?
How long will the Lee dynasty rule?
---
Follow me on Twitter at @BjornPossel and follow us @OT_Heroics for more great content!
Also, be sure to check out the Overtime Heroics Forums page to join in on the discussion!