David Njoku joined Cleveland Browns Daily on ESPN 850 last Friday to talk offseason workouts and the upcoming season. After an injury-laden campaign in 2019, Njoku is ready for the opportunity to have some "fun" this season. After the way 2019 went the entire Browns roster is ready for a fresh start.
"That's what I'm most excited about, just the opportunity," Njoku said. "Obviously, this past year wasn't we all planned or had in mind, but it's a great learning experience. I'm very excited to come back with my teammates and give it all we got."
Looking for that 2018 form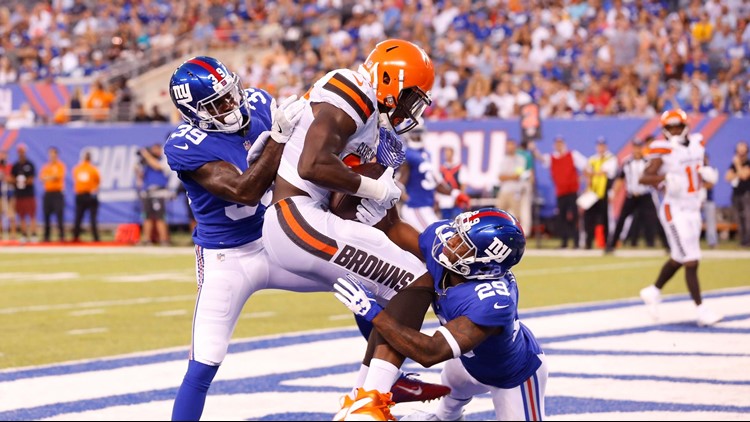 Njoku's rookie campaign was a bit up and down, but at 21 years old, that should have been expected. 2018 was a different story as Njoku started to show signs of why the Browns made him a first-round selection. Njoku went from 32 catches as a rookie to 56 in 2018. He turned those 56 catches into 639 yards and four touchdowns. While those are fine numbers for a second-year pro, the best stat for Njoku was his increase from a 53.6% catch rate to 63.6% in 2018. That is a healthy jump from year one to year two, and hopefully a sign he can do it again in year four.
Excited about 2020
This season is crucial for Njoku even after the Browns picked up his fifth-year option. He will need to show that the arrow is still pointing up on his development. This offense is built for the tight end to shine. Njoku said it himself when asked about Stefenski's system on the show.
"It's been a lot more fun than I thought," he said. "This offense is very tight end friendly, so we have a bunch of scenarios where we are all over the place and having a lot of fun on the field."  
Hopefully that 'fun' will show up in the form of big time production in 2020.
Getting Lean
While athleticism has never been the concern when it comes to Njoku it is good to see he is serious bout 2020.
"I've gained 8 to 10 pounds since I got drafted and it's lean muscle, so I'm moving the same speed, if not faster," Njoku said.
As for his training, Njoku noted, "I've been (training) five hours a day in the hot sun (of Miami) and it's a beautiful thing."
The Browns hope that Austin Hooper and David Njoku can create a lot of mismatches in 2020. The key to that happening will be the development of David Njoku.
---
Follow me on Twitter for more great content @WeirdJBronavich.
Be sure to check out our merch store powered by teespring.com and pick up something!
Discuss this and everything to do with sports at the Overtime Heroics forums!