Intro
On our third last fight of the night, we have a rousing bantamweight contest. Two elite contenders, Aljamain "Funkmaster" Sterling (#2) and Cory "The Sandman" Sandhagen (#4) will go at it this Saturday. Their sights firmly locked in on the "pot of gold" that sits at the end of the division's proverbial rainbow.
To note, with the dubious retirement of Henry Cejudo, top prospect Petr Yan and UFC legend, Jose Aldo are tipped to face off for the vacant title. The winner of Sterling and Sandhagen will almost certainly get the next crack at the soon-to-be crowned 135 king. So, this fight is as important as it gets for these masterful divisional talents.
Sterling (18-3) and Sandhagen (12-1) are both at the pinnacle of their games' right now. And, both had a case to be fighting for the vacant belt initially, but they now know they're one win away from getting that opportunity.
This easily could've been a main event on another night, and this could be considered an unofficially labeled "Interim Championship" bout. A deserved one too. Regardless, this contest offers up a succulent platter of technical violence between two of the most gifted competitors in the UFC today.
Sterling Breakdown
Sterling – better known as "Aljo" amongst his fans – has been faultless over the last two years. After being finished by Marlon Moraes a little under three years ago, he has improved with every minute he's spent inside the Octagon since. He went from an MMA "dab" meme to winning four in a row, becoming a legitimate title threat in a blink of an eye.
However, Aljo's recent success hasn't come as a surprise to those who follow him closely. Despite the heavy loss to Moraes – the only TKO loss of his career – he's beaten the best the 135 division has to offer. Prior to the Moraes defeat, he comfortably beat Augusto Mendes and then followed up with a victory against UFC great and former BW king, Renan Barão. Before that, he lost two narrow decisions to Raphael Assunção and Bryan Carraway. Two studs in the BW division.
Even in those defeats, Sterling looked competent and worthy of his current #2 BW ranking. While he may have lost those fights on the scorecards, both decisions could've just as easily gone his way. The experience gained against first-class competition has allowed him to soar through the Bantamweight rankings since.
What came after the loss to Moraes however, has been nothing short of phenomenal. Particularly in his last fight against the ever-dangerous, Pedro Munhoz. Sterling has won four straight; three via unanimous decision against Brett Johns, Jimmie Rivera and Munhoz as mentioned. He also snuck in a Suloev Stretch submission to finish Cody Stamann, showing off his Black Belt in BJJ.
Something to highlight is the way he won those unanimous decisions.  Rather than question Sterling's ability to finish the fight (which happens a lot in MMA), people should concentrate on how difficult it is to win via unanimous decision these days.  Sterling isn't an explosive power puncher or a KO/Submission artist.  He doesn't need to be. Rather, he's just significantly better technically than most who stand across from him and it's shown.  This has never been truer, as the number of questionable decisions from the judges seems to increase every fight card.  So, to consistently win via UD only highlights how dominant he's been over the last several years.
Across his recent four-fight win streak, Aljo has landed an insurmountable number of strikes. 968 to be exact. To repeat: in just under 11 rounds (which includes the one submission win), Sterling has landed 968 strikes. That's 17.6 successfully landed strikes per minute. So, it seems that Sterling couldn't care less about not knocking people out. He, instead, seems perfectly content with beating on his opponents with volume that very few in the sport have ever seen before.
Sandhagen Background
Moving on, we have another frighteningly talented athlete in "The Sandman", Cory Sandhagen. Somewhat similarly to Sterling, Sandhagen lost in 2017 (albeit via decision) and has never looked back. He's been on an absolute tear since, winning 7 in a row, five of which were in the UFC. It's also worth mentioning (and hard to believe) that he only made his UFC Debut in January 2018.
With victories over Assunção, John Lineker and Mario Bautista in his last three, Sandhagen has also had real tests at Bantamweight. He's passed them all with flying colors. The one slight difference is that Sandhagen has been known to finish fights. Two first round finishes against Austin Arnett and Iuri Alcantara kickstarted his UFC career with a boom. He then really announced himself as a potential title contender when submitted Mario Bautista via submission. On the biggest stage of his career so far, UFC Fight Night: Cejudo vs Dillashaw to boot.
Also, alike to Sterling, Sandhagen has been dominant in his triumph. Aside from the split decision victory against Lineker, he's ran through every obstacle he's faced. Only 28, Sandhagen has already accumulated a record of 12-1, but he now faces his toughest test to date in Sterling. And even though he's only been pro for just over five years, he seems to relish the opportunity when the stakes are higher.
Additionally – to keep the comparisons flowing – Sandhagen has got better every time he's made an appearance in the Octagon. The slight difference being the power that The Sandman has displayed, but he too, is a pressure striker that breaks his opponents' down with volume. In less than two rounds, he landed 208 strikes at a 65% success rate against Alcantara who landed 26… Using this as an example, it's an incredibly exciting metric to follow in the hopes we see something similar against Sterling.
Sterling Breakdown
Technically, there are very few that can match Sterling. Over the last two years, he has looked incredibly well put together and well-rounded. His opponents haven't been able to find an answer. As he's continued to improve, he's developed a fluidity that makes him difficult to hit, while still managing to land at an outrageous pace. His level-changes, defensive head-movement and flexile cage control shuts opponents down. This was on full display against Munhoz in his last fight.
Munhoz tried to get after Sterling, but Aljo avoided most of what Munhoz had to offer. He did so by beautifully managing range, all while staying incredibly active with a variety of different strikes. Sterling would land three strikes, get out of the pocket, slip whatever Munhoz offered, close the distance quickly and then repeat. He threw a combination of body shots, front-kicks and overhand punches so cleanly that it almost looked robotic. His movement and speed allow him to get in and out of the pocket quickly. This allows him to take minimal damage while out striking and out pointing his opponents with ease in the process.
The one difficulty Sterling may have coming into this fight is closing the distance. That's a strange sentiment, as Aljo has become a master at range control. That said, Sterling is usually the taller and longer fighter in almost all of his fights. Although Sterling and Sandhagen both have a 71" reach, Sandhagen is a LONG Bantamweight at 5"11. The big question is: can Sterling still be at his creative best? Can he close the distance as he's done in the past? Or will that length create an awkward challenge for Sterling.
It's tough to accurately predict, but the answer is most likely yes, but it will be more difficult against Sandhagen. Sterling already fights "long" naturally. His reach is the same and Sterling often sits to land body shots which could work in his favor against a taller striker. However, that wide stance and low center of gravity may expose his chin to Hooker's left hook that he throws so well. Sterling will need to show Sandhagen more respect. He cannot hang his hands as low as he usually does and bank solely on head movement alone. If he can do that, he can target the body and slow Sandhagen down.
Sandhagen Breakdown
As already stated, numerous times, Sandhagen is a big Bantamweight. And as Sterling and Sanhagen fight somewhat similarly, he needs to utilize his height and length to keep Aljo at distance. Even against Sterling though, Sandhagen has so many weapons and can do just that. He throws ferocious leg kicks; he uses his length to throw brilliantly timed trips and he's an unpredictable striker, even though he's highly technical.
One of Sandhagen's best weapons though is the most dangerous threat to Sterling. The inside leg kick that he throws with such velocity has stunted all of his previous opponents. He whips that kick with incredible power, and it's seldom telegraphed, making it such a crucial tool for victory. It has set up so many of his victories in the past and he will almost certainly adapt that approach once again.
Particularly with Sterling's wide stance, he can throw that kick more freely. Sandhagen also uses it to back people up against the cage, then engages in the clinch and follows-up with vicious knees. As seen against Arnett and Alcantara. When he gets into his groove, he throws jumping attacks, spinning elbows, kicks etc. and looks as if he's having the time of his life.
In the above-mentioned fights, Sandhagen was truly terrifying.  He beat his opponents down with a variety of combinations and broke their will before finishing the fight.  While his level changes aren't quite as sharp as Sterling's, his ability to throw to the legs, body, and head in rapid succession make him a nightmare when trying to cover up defensively.  This has led to his opponents wilting under pressure.  Only Lineker has been able to survive that pressure so far. 
The one area that Sterling could potentially target is Sandhagen's chin. Sandhagen, despite his dominance, can get a little carried away. He was wobbled a couple of times against Lineker. Not to say that The Sandman doesn't have a good chin and/or a good defensive game. Not at all, but, as mentioned; he looks as if he enjoys fighting so much, he almost forgets that he can get tagged. Sterling will need to be fully aware of that to try and capitalize when he sees an opening.
Fight Breakdown
This fight is beyond exciting. It's rare that you see a contest when two fighters at the very top of their game, at the right age, are matched-up together. We may look back at this fight in 5-10 years with gratitude for the UFC for booking it. This could be the GSP vs Anderson Silva type of contest in the Bantamweight division in years to come.
That may be a slight over-exaggeration, but as fight fans, we always want to see the best compete at the right time. And this seems to be exactly the right time for both men. This is also the pairs toughest test to date which adds further excitement.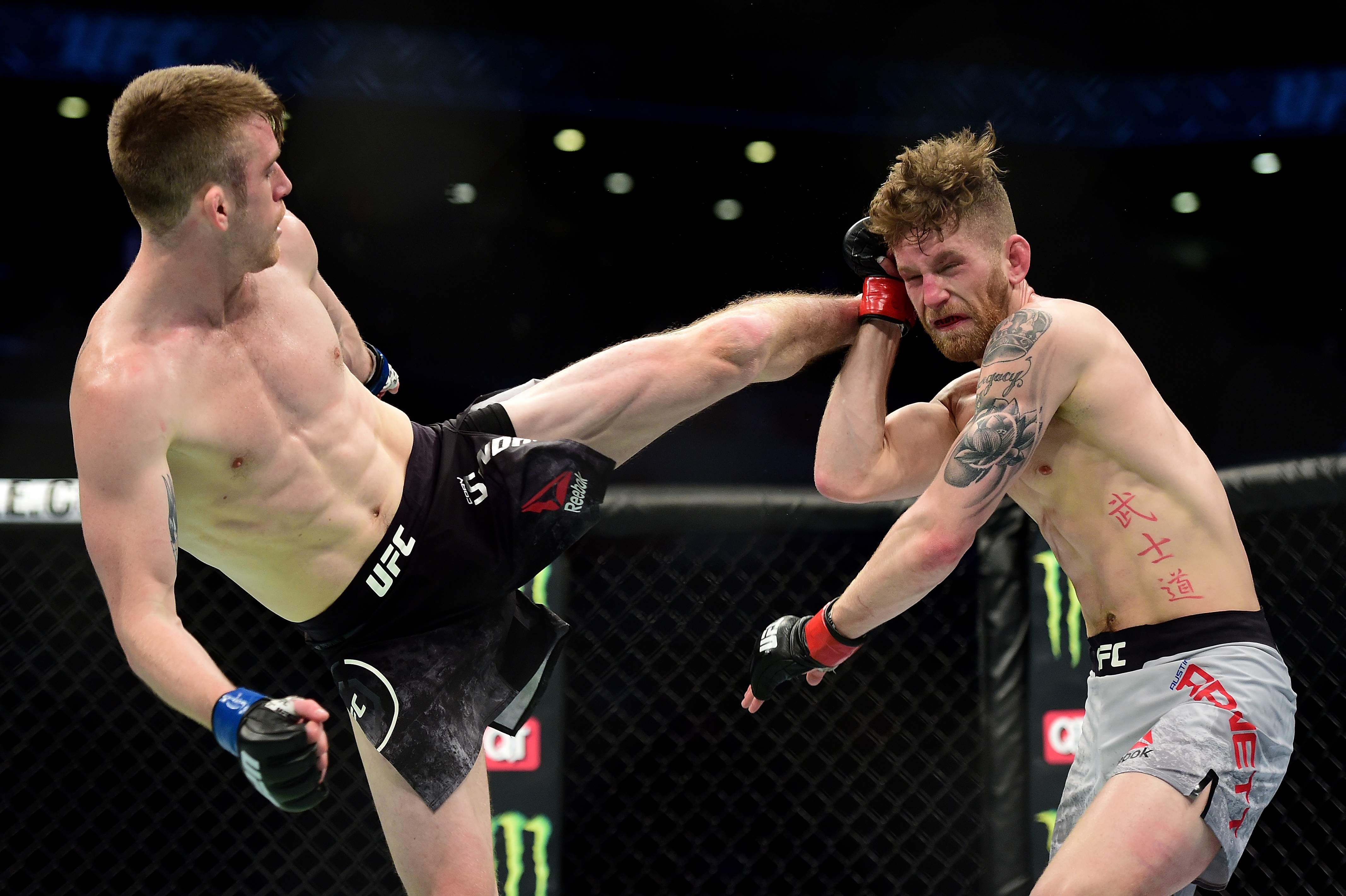 But… with a fight between two of the best in their division, in their primes, it's incredibly difficult to accurately predict.  Both are cardio machines with great technique that break their opponents down.  Their last number of fights has been almost exclusively on the feet too.  So, if they both engage the way they normally do, expect an all-time great fight. 
Aljo has a slight advantage in speed, whereas Sandhagen clearly carries the power advantage.  The fear for Sterling is how often he can eat the leg kicks that Sandhagen possesses.  Aljo will have to adjust his defensive game plan to factor that in.  If he doesn't, he runs the risks of a lower-body onslaught that can't be withstood over the course of three rounds.  This could result in him shooting though and it's easy to forget that Sterling is a legit BJJ blackbelt.  While unlikely, Sandhagen can't undervalue Sterling's ground game.
For Aljo, he has got to mimic his performance against Munhoz in how well he got in-and-out of the pocket. Not to discredit Munhoz, but Sandhagen is a different animal. If Sterling isn't as mobile, he could get chewed up just outside of that range with Sandhagen's length. That said, Sterling also throws such a wide variety of strikes that he can keep Sandhagen at distance himself. Those front-kicks and level-changes to the body as a prime example. If he can chop at Sandhagen's legs consistently while immediately following up to the body, he can break Sandhagen's stride and disrupt his rhythm.
Either way, this one goes; it's going to be close.  This could very well end in a controversially because of how tight a contest it could turn out to be.  Let's all hope it doesn't end that way, but you can expect a record amount of strikes thrown for a three-round fight.  IF this one goes the distance. 
Sterling sits as the favorite by the bookmakers right now by the narrowest of margins.  Further supporting how close this looks on paper.  Expect nothing different on the night.  Except for an early finish – likely resulting in Sandhagen having his hand raised – this has all the makings of a technical chess match.  A chess match between two incredibly talented and active strikers. 
Prediction
With the presumption that this one is likely to go to the judge's scorecards; I believe there to be a minuscule advantage for Sandhagen. Due to the number of iffy decisions recently, it seems that fighters who hit harder/make more noise on contact have won in close fights. If this is as close as expected, Sandhagen may have his hand raised because he hits harder and looks to finish the fight. For this reason, he may JUST get the nod from the judges on the night.
But the phrase: "This could go either way" is incredibly accurate for this pair.
Pick
Heart: Sterling via Split Decision
Head: Sandhagen via Split Decision
---
Follow me on Twitter at @TAtlanticMMA/@NeilVorster1 and follow us @OT_Heroics for more great content!
Also, be sure to check out the Overtime Heroics Forums page to join in on the discussion!