As COVID-19 continues to stall the return of live sports, the UFC continues its determined march back to normalcy. And with fighters gearing up for UFC 250, the company is ready to entertain the sports world yet again. Amanda Nunes headlines another great card, as the double champ gets set to defend her featherweight title against one of the only challengers left for her to face – Felicia spencer. For Nunes, the consensus female GOAT, this fight is just another opportunity to add to her already ground-breaking legacy. But for Spencer, this fight represents her chance to claim UFC gold, and cement her place in MMA lore.
Understandably, many pundits have given Spencer, who is relatively new to the UFC, little chance of success. But MMA is never that simple. Sometimes the most intriguing fights are those with a massive underdog. And I can't wait to see if Spencer can solve the terrifying puzzle that is Amanda Nunes.
Paths to Victory – Amanda Nunes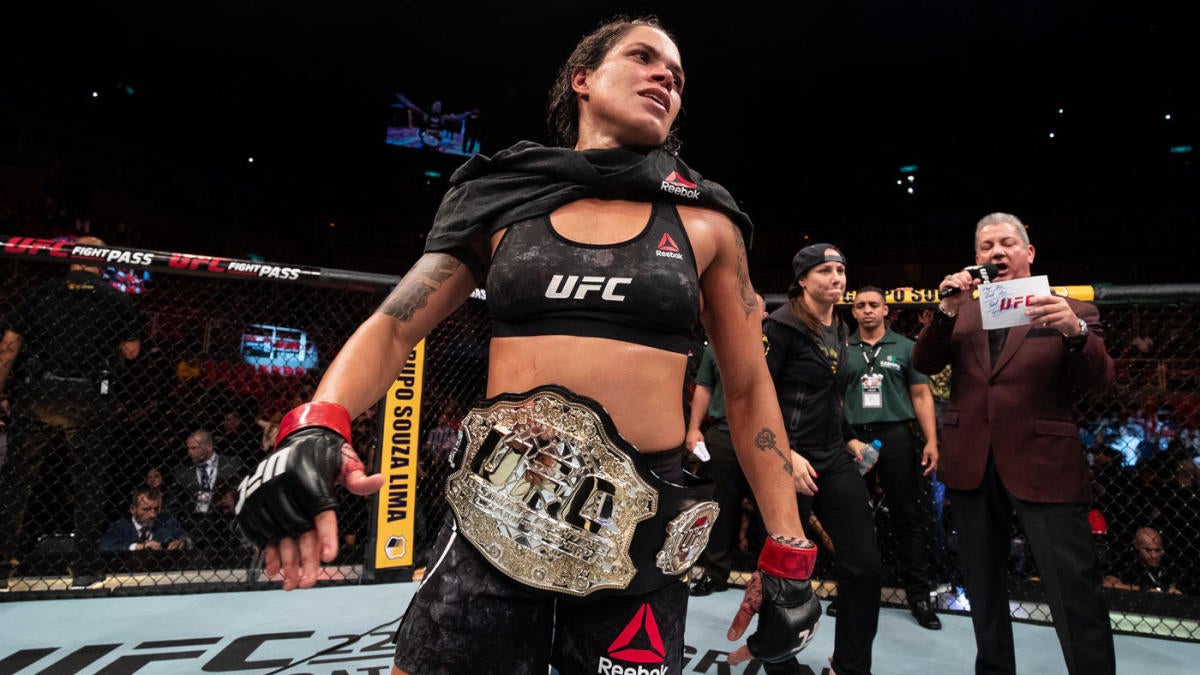 Amanda 'The Lioness' Nunes currently reigns supreme over both the female featherweight & bantamweight divisions. And with wins over Miesha Tate, Ronda Rousey, Valentina Shevchenko, Raquel Pennington, Cris Cyborg, Holly Holm, and Germaine De Randamie, Nunes' hit list is the most impressive in WMMA history.
Having knocked out every other champion in her weight class, Nunes' path to victory seems relatively obvious. To beat Felicia Spencer, the double champ will have to do what she does best: throw bombs. Nunes' striking is the scariest in the history of women's MMA, and besides Muay Thai champion Germaine De Randamie, few fighters have been able to withstand the Brazilian's attacks.
Having said that, Spencer withstood 15 minutes of Cyborg's best shots. She did lose a decision, but she showed durability that she will need to rely on if she is to beat Nunes. The champion has to be wary of this and be sure to not empty the gas tank looking for an early finish over such a tough opponent.
It's also important that Nunes' doesn't underestimate Spencer's grappling ability. Besides Ronda Rousey, whose striking belongs in a different age of WMMA, Nunes hasn't fought many specialist grapplers. And its important Nunes does not get complacent in this area. She is an extremely underrated grappler, and a legit black belt, but Spencer is a very dangerous grappler, and there's no reason to give her any opportunity in this fight.
If Nunes can keep the fight standing, and dominate the center of the Octagon, her chances of victory are as high as ever.
Paths to Victory – Felicia Spencer
Spencer, on the other hand, is fresh of her 1st round KO of Zarah Fairn dos Santos in March. A technical knockout on the ground, this finish highlighted Spencer's most dangerous weapon: her grappling.
Spencer mauls people on the ground. In her first fight in the UFC, for example, she rag-dolled Megan Anderson (a 6ft tall beast of a featherweight) to the ground and submitted her in the first round. And if Spencer is to take Nunes' crown, she'll have to rely heavily on her grappling prowess. This is not to say that Spencer can't strike. On the contrary, she has an arsenal of tricky kicks that stem from her Taekwondo background. But in truth, few fighters can really hope to compete with Nunes on the feet.
But although Spencer is an exceptional grappler, she's not the most explosive wrestler. Most of her takedowns don't come from driving double legs but from grinding her down opponents against the fence. In fact, this style has earned her some lofty comparisons to lightweight champion Khabib. Thus, for Spencer to force Nunes to the ground, she needs to get her clinched up against the cage. But this is no easy task.
Given the champion's sheer strength and power, Spencer will have to be creative to get a hold of her. Whether she simply tries to march Nunes down; to use her wild kicks to back the champion up against the cage; to shoot from distance to get Nunes backing up; or simply to invite pressure and grab a hold of the Brazilian as she moves in for the kill, making contact is imperative for the challenger.
But even if Spencer can solve this problem, Nunes is a no pushover on the ground. Rather, she is a legit BJJ black belt. Combine this with her overwhelming strength, and Spencer cannot expect to just have her way with the champion in the grappling department. Rather, Spencer will have to dig deep, and fight smart at every step of the way if she is to claim UFC gold.
The Bottom line
Nunes simply must be the favourite in this fight. Her striking acumen, power, strength, and underrated grappling has been too much for any champion, let alone challenger. And in Spencer's short UFC career, there's not much to suggest that she's ready to snatch the title away from of the true GOATs of the sport.
Having said this. Spencer does pose a different challenge to what the champion is used to. With her durability, and a grappling prowess that has been missing from WMMA since Rousey retired, Spencer is no mere can.
Anything can happen in MMA. Nunes may be the heavy favorite, but no upset is impossible.
Follow me on Twitter at @Sonny__i and follow us @OT_Heroics for more great content!
Also, be sure to check out the Overtime Heroics Forums page to join in on the discussion!
Links
https://www.mmacrossfire.com/2020/05/09/ufc-250-amanda-nunes-to-defend-featherweight-belt-against-canadian-felicia-spencer/
https://sportshub.cbsistatic.com/i/r/2018/05/13/a386700a-0238-4113-ada3-0044dcb819d9/thumbnail/1200×675/03e7e7e243815e8a4dad22692e906f98/amanda-nunes-winner.jpg
https://www.forbes.com/sites/brianmazique/2019/07/27/ufc-240-cris-cyborg-vs-felicia-spencer-odds-how-much-does-a-100-bet-on-the-feenom-pay/#252e81f54489