A proud alumnus of the Indonesian regional promotion One Pride MMA (OPMMA), Abro Fernandes is one of the most talented and popular fighters coming out of the archipelago.
He began his career with a six-fight winning streak that included an eight-man tournament for the vacant OPMMA Bantamweight title.
This run saw him finish Hendrick Wijawa, Theodorus Thedy, and Rama Supandhi at three different events all within the span of a month. Abro defended the title three times against Apep Tatang Hernawan, Agung Yuliyanto, and Rully Ramly Karame. All first-round finishes.
He was Indonesia's most dominant Bantamweight when he made his debut with ONE Championship. With a current professional record of 9-2, he's still climbing the ladder to enter title contention. But with his brand of steely determination, there's no doubt he'll make the most out of all his chances.
Interview
Most of your early career was in ONE Pride MMA and you became its Bantamweight Champion after an eight-man tournament. Can you tell us more about that format and the experience of having to fight three times in two months?
Abro: I was delighted to have more friends and to help my family and others.
After winning the OPMMA title, you defended it three times. All finishes in the first round. But you were stripped of the title after that. Why?
Abro: Because my wife was pregnant with our first child at the time. According to custom, if the wife was pregnant I could not fight or chase any living creature. During that time, I had to stop going to the octagon, because this was our first child.
Living through a time where MMA pretty much didn't exist in Indonesia and now that it's growing, what are the biggest differences that you can see in how MMA is perceived by people?
Abro: The difference is great. The people's enthusiasm is great because of One Pride, and many other athletes are popping up.
Current ONE athlete Yohann Mulia Legowo is your mentor in MMA. How did that relationship begin and how is it helping you now?
Abro: Ever since I dominated in Indonesia, I was introduced to him by one of his high school students. Finally, I was interested in training, and I joined various matches until I made my way to OPMMA at the time.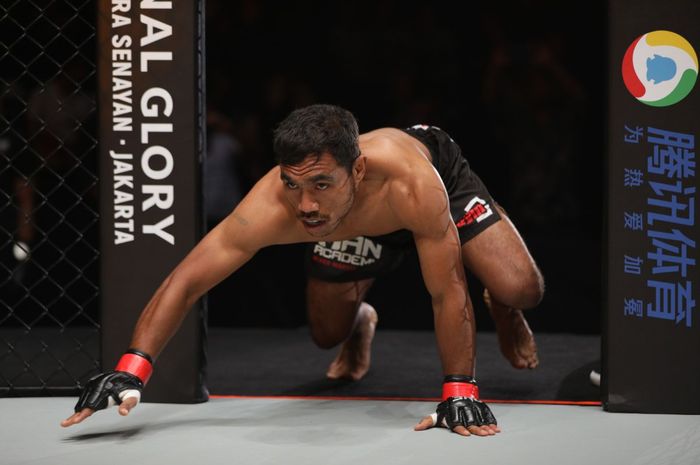 What is the "Black Komodo" style?
Abro: That was the name my friends gave me. They think it fits my fighting style.
Your debut with ONE Championship didn't go so well. Your first two fights were losses. How did these affect you after enjoying so much success prior?
Abro: This was not surprising to me, because I was doing it a long time and not much in practice. I had to work for my pregnant wife at the time, I worked in the ministry of sports, and at the same time began to establish MMA in East Timor.
The conclusion was that I wasn't 100% ready, it was a lesson for me. From then on I started rearranging my exercises, and I started to adapt until now I could even practice with more focus.
What was the most important thing those first two fights teach you?
Abro: I learned what my weaknesses were and how to correct them.
You got your first win against fellow One Pride MMA veteran Rudy Agustian. How did that feel?
Abro: I was happy that I could prove I'm worthy in ONE Championship.
What changes did you make in your gameplan and training?
Abro: I should improve my stamina and follow the coach's direction to face my opponent. Because each opponent has his own strengths and weaknesses.
Did you feel bad that your first win in ONE came at the expense of a fellow Indonesian?
Abro: I'm not satisfied with my fellow Indonesian fighters. But I have to prove that I deserve to be in ONE Championship.
Both of your losses were in Malaysia and both wins were in Indonesia. How big of an effect does location play in how you approach a fight?
Abro: It felt different, because in Indonesia I had a lot of support. But that didn't really affect me.
Make sure to support Abro Fernandes by following his social media below:
Instagram – abro.fernandes.988
---
Follow me on Twitter at @BjornPossel and follow us @OT_Heroics for more great content!
Also, be sure to check out the Overtime Heroics Forums page to join in on the discussion!