When it comes to the deep 3-ball, no player is more iconic than Damian Lillard or Stephen Curry. Both possess ridiculous range, with Curry widely considered the greatest shooter of all time and with Lillard becoming the all time and single season leader in 30-footers made, going an incredible 49/114 from beyond 30 feet this season. As such, it comes to nobody's surprise that these two players are considered to be some of the highest tier Point Guards and players in the NBA. That raises the question: Who is better? Dame or Steph? To find out, let's take an in depth look at various player attributes and compare.
Scoring
Both Dame and Steph are incredible scorers. Dame boasts a career 24.0 point per game average, and is 10th all time in 50 point games despite only having played 8 seasons. On top of that, he's one of the only players alongside Michael Jordan, Kobe Bryant, Wilt Chamberlain, Elgin Baylor, and James Harden to score 60 or more points multiple times. Lillard finished the season averaging 28.9 points on 20.0 shots, with a True Shooting % of 61.9, marking the 5th straight season the electric guard averaged 25 or more points per game. To top it all off, 82.9% of Lillard's field goals were unassisted, and he was 3rd in the league in isolation scoring, higher than Curry ever finished.
Curry, on the other hand, has an impressive career 23.5 point per game average, and is tied 13th all time in terms of 50 point games. While he has yet to score 60 or more points, Curry has made up for volume with incredible efficiency, boasting a career True Shooting % of 62.3. In his best season, Steph averaged 30.1 points on 20.2 field goal attempts, becoming the only player to average 30 or more points on at least 50/40/90 splits.
Curry's efficiency, however, is to come with a grain of salt. Only once has Curry ever had a % of field goals unassisted above 60%, and has had 3 whole seasons with his % of field goals unassisted under 50%. In contrast, Lillard has never dipped below 60% in regards to % of field goals unassisted.
Oh yeah, and Curry has played with spacing provided by players such as Monta Ellis, Klay Thompson, Kevin Durant, and Draymond Green, allowing him to get cleaner looks. Nothing major. Just 2 MVPs, a veteran scorer, a DPOY, and 3 of the best shooters of all time.
With his efficiency not far behind Curry's, and with his ability to score in greater volumes with less ball movement, Lillard's scoring surpasses Curry's.
Verdict: Dame.
Driving & Finishing and Shot Creating
Dame is one of the better drivers at Point Guard, and is one of the more athletic as well, able to erupt for monster dunks from time to time.
Lillard holds a career field goal % at the rim on 57.0, and has shot over 60% twice. For his career, 27.9% of his field goal attempts come at the rim. He's an excellent contact drawer, averaging 6.0 free throw attempts per game for his career. With regards to shot creating, Dame has finished in the top 5 for isolation points 3 times, and as stated before, has never had an unassisted field goal % of below 60. He's also an excellent contact taker from anywhere due to his strong frame, and has a quick and fluid release with or without contact.
Steph is an excellent driver and finisher, shooting 64.7% at the rim for his career, although only taking 17.1% of his shots in this range for his career. Curry is one of the most creative finishers at the rim, making up for his lack of athleticism with incredible circus shots. He averages a solid 4.0 free throw attempts per game. With respect to shot creating, Steph has finished in the top 50 for isolation points scored every year since the stat was recorded in 2013-14, and has one of the fastest releases in the NBA, allowing him to pull off shots with little room comfortably.
Both players are elite finishers and shot creators, but we have a split here. Steph takes finishing while shot creation goes to Dame.
Verdict: Steph (finishing), Dame (shot creating).
Shooting
Dame holds the claim to greatest shooter of all time from beyond 30 feet, hitting a record 103 of 282 shots attempted for his career. He's also 11th all time in free throw percentage, and boasts a career 3 point percentage of 37.1 on 7.7 attempts per game. This season, he took it up a notch, hitting 39.4% of his threes on 9.9 attempts per game. It is clear that Lillard is one of the greatest shooters the game has ever seen.
Yet even these numbers don't match up with those of Stephen Curry. Although only hitting 88 of 342 30 footers, or about 26% of his 3s beyond 30 feet, Curry is 2nd all time in terms of 3 point percentage, shooting 43.5% on 8.2 attempts a game. He's also 1st all time in free throw percentage. He holds a career True Shooting % of 62.3, higher than Lillard's season best 61.9. Curry actually outshoots Lillard from every spot on the floor besides 30+ feet for their careers. Without a doubt, Curry is the greatest shooter of all time, even accounting for his low % of field goals unassisted.
With better efficiency on similar volume, Curry takes the cake here.
Verdict: Steph.
Range
Shooting and Range are two different things. Better shooters have less range than shooters who may be less efficient frequently. Such is the case here.
As mentioned, Dame set the single season record for 30 footers made by drilling 49 of 116 attempts this season, which moved him to #1 all time in 30 footers made. He has hit 103 of 282 such shots, giving him about a 36.5% career percentage from 30 feet and beyond. Just look at some of these shots.
Steph is no slouch from 30 feet himself, and he's hit 88 of 342 such shots in his career. While the percentage may seem low, 30 footers are incredibly difficult to hit, and Steph is one of the few NBA players who can hit them because of skill rather than luck. Not to mention, he's 2nd all time in 30 footers made. Check out some of these shots.
The guy who's #1 just so happens to be Dame. Steph is amazing from 30 feet and beyond, but Dame is simply the greatest we've seen from that range.
Verdict: Dame.
Rebounding
Although rebounding isn't a main priority for a Point Guard, Lillard averaged a solid 4.3 rebounds per game this season. For his career, he averages 4.2, and he averaged a career high 4.9 rebounds per game in 2016-17. He averages about 0.6 offensive rebounds per game for his career, and never averaged more than 0.8.
Curry has a slight edge in career rebounds per game, averaging 4.5 rebounds per game for his career. He averaged a career high 5.4 rebounds per game in 2015-16. In his last full season, he averaged 5.3 rebounds per game. For his career, Curry averages around 0.7 offensive rebounds a game, and never averaged more than 0.9.
By the numbers, Curry has a slight edge here.
Verdict: Steph.
Passing, IQ, and Playmaking
Damian Lillard has proved to be one of the most efficient passers in the league despite playing in a system that doesn't prioritize ball movement. He's only averaged 3 or more turnovers once (as a rookie), and has never averaged below 5.9 assists per game. This season, he averaged 7.8 assists to 2.9 turnovers, committing 115 bad pass turnovers in 58 games played. He averages 1.84 bad pass turnovers a game for his career, and committed 1118 in 607 games played. Dame has proven himself to be a very efficient passer over the years.
Steph is no slouch when it comes to passing, averaging 6.6 assists per game for his career. However, the Warriors' system heavily prioritizes ball movement, somewhat padding this number. Also, in stark contrast to Lillard, Curry has only averaged under 3 turnovers a game twice in his career. In his last full season, he averaged 5.2 assists to 2.8 turnovers per game. His bad pass turnover numbers are quite high, averaging 1.95 per game for his career, committing a total of 1363 in 699 games played. Many of these come from low IQ passes. One of these, in fact, led to Nurkic swiping the ball and Lillard himself drilling the game winner on Steph's head.
Finally, Curry's assists are inflated by the sheer talent he has played with, as it is much easier getting an assist passing to Kevin Durant than it is, for example, Moe Harkless. When looking at potential assists, Curry has only ever finished with more than Lillard in 2013-14 (the first season the stat was recorded) and 2014-15.
While his passing ability is on par with Lillard's, Curry's high turnover rate, frequent bad passes, and fewer potential assists lose him this category.
Verdict: Dame.
Off Ball Offense
Dame doesn't get too much of a chance to play offense off ball. He's an incredibly skilled isolation scorer and shot creator as stated before. He's also the Blazers' primary ball handler. But the Blazers system doesn't prioritize moving the ball around, and as such, Dame's off ball offensive game hasn't had much of a chance to shine.
Steph, meanwhile, plays in a system notorious for ball movement. Curry's off ball movement and finesse is partly why he has so many assisted field goals made, and definitely why the Warriors work so well. While being the primary ball handler, he never needs to worry too much about it with Draymond Green (and formerly Kevin Durant) there to help him. Look at this clip from the 2019 Western Conference Finals.
Curry gets this one.
Verdict: Steph.
Durability
Lillard is renowned for his durability. He led the league in minutes played his rookie year, and led the league in minutes per game this year. He's missed 33 games in his career, an impressive mark for a player in his 8th season. This is even more mind-boggling looking at the contact and defenses he faces. It's safe to say the injury scare at Weber State was a one off.
Steph on the other hand has faced injury concerns his entire career. Despite technically being 3 seasons ahead of Dame, he's only played in 92 more games. In fact, he's only played in 77% of possible games in his regular season career. He's missed 31, 13, and 61 games in the last 3 seasons.
Yeah, Dame walks away with this one.
Verdict: Dame.
Athleticism
Dame is one of the most athletic Point Guards in the league. He's the only player to participate in all the All Star events in one season. Key takeaway: He participated in and held his own in the dunk contest. While never returning, he treats NBA fans to acrobatic layups and nasty dunks on a regular basis. Just look at this poster.
Steph has never been known for athleticism. In fact, he was criticized for a lack of it. While Dame dunks on defenses heads, Steph is busy getting rim-checked.
Easy win for Dame.
Verdict: Dame.
Skill
Dame is one of the most skilled players in the league. I mean, you have to be talented as a Point Guard to shoot the lights out from deep while also driving past defenders every night, right? He plays the game smoothly and calmly, displaying a high level basketball IQ every game. His handles are slick and his jumper is pure. Not much bad can be said about the way he plays the game.
Curry takes this a step further. He has just as smooth a release and shoots it faster. He has better handles. Steph makes flashier passes. His layups are even more impressive. He shoots it even better. He just has sauce in the way he plays.
No knock to Lillard, but Steph has this one in the BAG (Get it? Like a player's bag. A.K.A their skillset).
Verdict: Steph.
Defense: On Ball
Both players leave some to be desired on defense. Lillard averages 1.0 steals and 0.3 blocks per game for his career, and has averaged 0.4 blocks per game in 4 out of his last 5 seasons. In order from 2013-14, Dame has recorded dFG%s of 44.0, 45.1, 45.2, 45.3, 41.6, 43.6, and 46.4.
Curry averages 1.7 steals and 0.2 blocks per game for his career, and once led the league in steals with 2.1 a game in 2015. Since 2013-14, Steph has recorded dFG%s of 42.1, 41.4, 39.6, 44.1, 47.2, 44.9, and 52.9*.
For what it's worth, neither player has ever been renowned for their defensive ability.
Verdict: Tie or small edge to Steph.
*in 5 games played.
Defense: Off Ball
I can't say much here. Neither Dame nor Steph make a noticeable impact in terms of off ball defense. Dame is stronger than Steph, so he gets past screens slightly better, but not much else can be said for the two.
Verdict: Tie or small edge to Dame.
Clutch
Dame Time. Lillard Time. Big Game Dame. Whichever you want to call him, Lillard is undoubtably one of the most clutch players the NBA has ever seen. He's top 5 in clutch scoring since 2009-10 even though he joined the league in 2012-13. He has TWO series winning buzzer beater shots in the playoffs, tying Michael Jordan for most series winning buzzer beaters in NBA history. He's hit numerous clutch shots in his career, earning him the right to the Dame Time celebration where he points to his wrist and lets the crowd know what time it is. Here are some examples to appreciate.
Steph, however, has never really been renowned for being clutch. He's hit a couple clutch shots – like the game winner in 2016 vs OKC – but he's never been at the top of the league in clutch points scored, and isn't top 5 in clutch points since 2009-10.
Dame takes this one comfortably.
Verdict: Dame.
Leadership and Impact
Dame is one of the best leaders the NBA has seen, and is one of the most impactful guards in the game. Just this season, GMs voted him the best leader in the NBA. He dragged a team without its starting center (or another all star), Jusuf Nurkic, to the Western Conference Finals with his backcourt-mate C.J. McCollum. He took Portland to the 3rd seed in both 2018 and 2019. During these two years, Lillard finished top 6 in MVP voting twice.
In 2020, his maturity and leadership held the team together as they weathered injuries and fell to the 9th seed. This year, he led the league in Offensive Win Shares and was top 5 in overall Win Shares despite missing 8 games, becoming one of only 3 players to do so while having a losing record. He also led the league in Offensive Box Plus Minus. It's clear that Dame is one of the best in the business at taking charge of a team. The only problem is that he doesn't have a ring to show for it.
Wait, shouldn't good leaders be able to win championships?
Not necessarily. Good leaders need to elevate their teammates and impact success positively.
Steph is an incredible leader and difference maker in his own right. He's just as well liked by his teammates as Dame, and has more hardware to show for it, winning 3 championships and 2 MVPs. He's also led the league in Win Shares, Offensive Win Shares, Box Plus Minus, Offensive Box Plus Minus, and Value Over Replacement Player. However, these championships, season records, and MVPs came with great help, such as an excellent coach in Steve Kerr, and the talents of Kevin Durant, Andre Iguodala, Klay Thompson, and Draymond Green. In fact, in all his finals runs, Curry never won Finals MVP.
When it comes to lackluster teams, such as the ones Dame has led, Curry's resume is nowhere near as accomplished, having never made a Western Conference Finals run without a fellow all star like Lillard has. He only has one All Star and one All NBA appearance to his name without a fellow all star. Yet, despite this, these Warriors teams likely wouldn't have won in the Finals without Curry's talent and leadership. They wouldn't have went 73-9 without him. They definitely don't make 5 straight finals without him.
This is an extremely close category here. Is Curry's championship pedigree to be valued over Lillard's ability to drag a mediocre or bad team into playoff contention? Is Curry to be penalized for having good teams, or is Lillard to be penalized for never having a super-team?
Verdict: Curry is a slightly better ceiling raiser than Dame, while Dame is a slightly better floor raiser than Steph. Either would be top tier options at Point Guard for a championship team. This one's a tie, folks.
Playoffs
Dame in the playoffs has been an interesting story. He's had series where he's been stopped by double and triple teams, and suffered injury vs Golden State in 2019. He's also had incredible series where he's ended teams' seasons with series ending buzzer beating threes. Dame has never really had that much help in the playoffs, but he's done well for what he was given. Through all this, his stats shape up to 24.8 points, 4.6 rebounds, and 5.9 assists on about 41/35/87 shooting.
Steph in the playoffs has had more success than Dame, but with far more help. That's a given. Unlike Dame, he's never necessarily carried a team not expected to make the playoffs, coming the closest to doing so in 2012. He's also had his lowlights, such as blowing a 3-1 lead against LeBron, Kyrie, and Love's Cavaliers in 2016. All in all, however, his stats are quite solid: 26.5 points, 5.4 rebounds, and 6.3 assists on about 45/40/91 shooting.
Dame's stats are somewhat behind, but that can be explained by drawing more attention defensively due to having less help around him. He has more iconic moments than Curry (whose most famous image is Kyrie draining a 3 over him to seal the 3-1 Finals comeback) but less success. Would Dame do better than his given stats in Steph's position? Likely, yes. Would Steph do worse than his given stats in Dame's position? Also a likely yes. But in the end, I can't fault the Warriors front office for surrounding their superstar like they should.
Verdict: Steph.
Accolades
This is a bit unfair to Dame. He's played 8 seasons to Curry's 9 full seasons and 31 games (spread over 11 seasons). Yes, he has 5 All Star appearances, 4 all NBA appearances (likely soon to be 5), Player of the Week awards, Player of the Month award, Rookie of the Year, All Rookie 1st team, and multiple franchise and NBA records.
But all that doesn't really stack up to Curry's 6 All Star appearances, 6 all NBA appearances, 2 MVPs, 3 rings, steal champion, scoring champion, Player of the Week awards, Player of the Month awards, All Rookie selection, and multiple franchise and NBA records.
Could Dame be a scoring champion, league champion, and a possible MVP or Finals MVP? Yes. But until he does, his accolades won't beat out Steph's. Steph is a top 2 Point Guard of all time, while Dame is stuck in that 11-22 range. It'd be better to compare accolades by the end of their careers, but for all intents and purposes, Steph snags this one.
Verdict: Steph.
So Who's Better?
Man, this is a close one. Dame and Steph have been so good as of late. Dame has probably been the league's best Point Guard in 2017-18 and 2019-20. He has another good shot at All NBA First team, and is a lock for at least Second Team. But the years that Steph has been healthy, he's topped Dame, though Dame just recently hit his prime and Steph has only played more than 65 games once during this time period. In this 16 attribute breakdown, Dame and Steph tied 8-8.
All things said and done, I'm going with Steph by a small margin. His success with the Warriors plays a large part in my decision, despite how ridiculously overpowered his teams have been. He's been considered the best Point Guard in the NBA for a while now. Other than that, they both do certain things on the court better than the other, and both can be a pivotal part of a championship team. Dame is right at Curry's heels, sitting at probably the 2nd best Point Guard in the NBA spot. And who knows what next season brings? Guess we'll find out about that next December.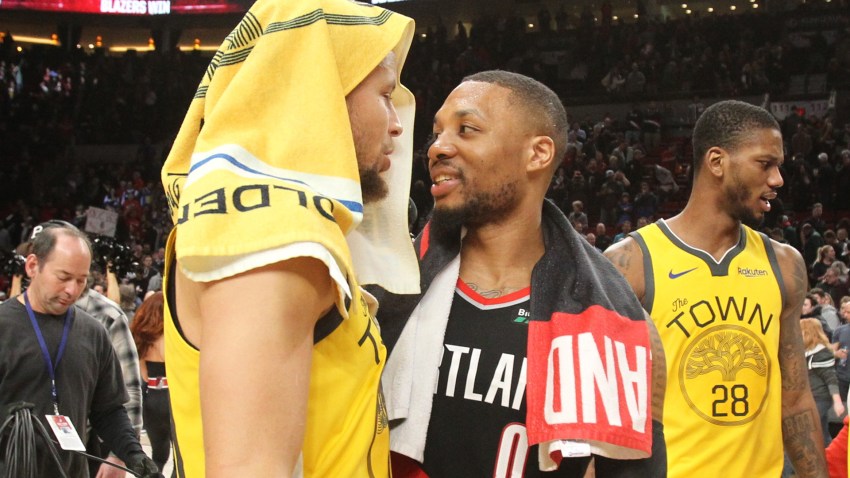 ---
Follow me on Twitter @Prime_Dame_Time
Come discuss this and much more at the Overtime Heroics forums!