The road to becoming Champion is by definition the most difficult journey in all of sport. Yet it is the ultimate goal that every athlete in any sport chooses.
It's an ascent from which other people greatly skilled and equally determined are put in place to specifically stop you and claim the crown for themselves. The entire ordeal is physically, mentally, and emotionally draining that can last for several years, likely never even coming close to bearing fruit.
But, for a select few, this road is bypassed completely and the powers that be invite them into the promotion just to fight for the title. This is a list of those that made the most out of this rarest of opportunities and became instant kings.
This is Debut Champions in ONE.
Igor Svirid
Most fans may be forgiven for not knowing who Igor Svirid is, considering he has a 1-4 record with the promotion. But that solitary win is all that matters.
Before coming to ONE, Lionheart was a 9-1 fighter that's fought in various regional promotions such as Absolute Championship Berkut (ACB), Altay League, and Alash Pride.
He was signed to challenge the knockout machine Leandro Ataides for the inaugural Middleweight belt at ONE: Battle of Lions.
The hype was definitely on the side of Brazilian. Ataides' two prior wins were first-round knockouts against more-experienced fighters. Svirid's resume, though impressive, was a bit less in the finishing department to expect much out of him.
The Kazakh soon proved analysts wrong by finishing the fight in 17 seconds.
This was only Svirid's second KO in his entire career and he became ONE's first Middleweight Champion, as well as the promotions first Champion from Kazakhstan.
But as always, the MMA gods prove fickle as their favor quickly turns to another debut Champion.
Vitaly Bigdash
Seeming to get some inspiration from his opponent's one fight journey to the belt, Vitaly Bigdash was looking to do the same in his promotional debut.
Coming into the fight as an undefeated 7-0, there was generally more interest in the Russian in his first fight than the Champion Svirid had nearly a year prior.
This was mostly because, unlike Svirid, Bigdash was a finisher that could get it done on the ground and the feet. But his performance at ONE: Tigers of Asia was perhaps his most inspired of his career.
Bigdash weathered the storm of a first-round assault from Svirid that almost saw him finished. In trying to recapture his magic against Ataides, Svirid spent all his energy and it was a big factor in his defeat.
Bigdash finished a clearly fatigued Svirid in just over thirty seconds of the second round. Not only becoming the second ONE Middleweight Champion but also the second one to do so in his debut.
That's just what happens when a division is as thin as what ONE Middleweight was five years ago.
Roman Kryklia
Let's move from MMA to Kickboxing. Roman Kryklia was already a decorated Kickboxer. His resume includes titles from K-1, Kunlun Fight, WGP, the FEA World Grand Prix and a WAKO World Champion.
But even with all those accolades, he wasn't the one favored to win in his debut against Tarik Khbabez at ONE: Age of Dragons.
The fight was for the inaugural ONE Light Heavyweight Kickboxing Championship. Most fans were quietly expecting the Moroccan tank to run over his Ukrainian opponent.
This is mostly due to Khbabez' dominant performances against Anderson Silva (not that one) and Andrei Stoica in his first two fights with ONE.
But the Ukrainian Spider-Man quickly dispelled any questions of who was the better fighter. He consistently landed shots in round one before finishing it forty seconds in round two.
Kryklia is definitely unique in the division in both his style and build. At 6'7″, he towers over his competition, who are already giants in their own right. This allows him to use length as a devastating weapon.
As one of only three people in this two-part list that are still Champions, Kryklia is looking to have the most interesting journey, with calls to cross-over to MMA already in the air after he defends his belt.
Kai Ting Chuang
We've already talked about the reign of the Kai Ting Chuang as the ONE Women's Kickboxing Atomweight Champion in our Shortest title reigns in ONE article.
We'll just go over the highlights here. Chuang was a WAKO World Champion. Her debut was against Yodcherry Sityodtong for the inaugural title at ONE: Battle for the Heavens for her promotional debut.
The Taiwanese fighter wasn't the favorite to win. Sityodtong was a young kickboxing sensation with an 81-18 record coming into the fight. Training at Evolve also gave her the preferred storyline of being an Angela Lee parallel in ONE Super Series.
Chuang ruined those plans in a performance that few thought she was capable of, winning the fight via Unanimous Decision.
Ilias Ennahachi
The Enfusion Champion and veteran made his promotional debut with ONE for the Flyweight Kickboxing Championship against Petchdam Petchyindee Academy at ONE: Dreams of Gold.
Similar to Roman Kryklia, Ilias was arguably the better Kickboxer on paper. But the hype was around the Champion Petchdam, mostly because the fight was in Thailand.
Not many knew who Ennahachi was or his experience in the sport. Petchdam already beat another experienced Kickboxer in Elias Mahmoudi to claim the title. There was little reason to think he wouldn't do it again.
Ennahachi, on his end, proved that the difference between Kickboxing and Muay Thai was real. He methodically picked the champion apart before dispatching him in the third round with a knockout.
The latest fan circle talk is that ONE Flyweight Muay Thai Champion Rodtang Jitmuangnon is targeting Ennahachi for his next fight.
A bold fight that many people will see as a turning point in ONE Super Series.
Honorable Mention – Sam-A Gaiyanghadao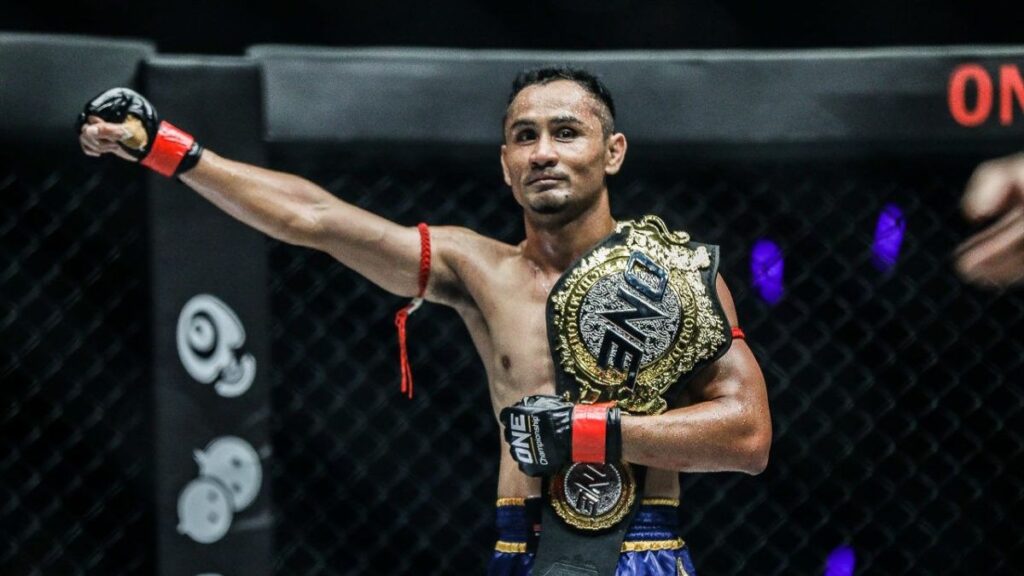 Strictly speaking, Sam-A Gaiyanghadao is disqualified from this list as his promotional debut was a non-title fight with Joseph Lasiri at ONE: Global Superheroes.
He didn't become the ONE Muay Thai Flyweight Champion until his second fight at ONE: Unstoppable Dreams.
However, if we stretch the definition of debut champion to include divisional and sport debuts, he's a debut champion not once – but twice.
His fight with Wang Junguang for the inaugural ONE Kickboxing Strawweight title at ONE: Mark of Greatness was his debut in ONE Super Series Kickboxing and Strawweight.
In the same vein, his win over Rocky Ogden for the inaugural ONE Muay Thai Strawweight title at ONE: King of the Jungle was his debut at Muay Thai Strawweight.
As if Sam-A needed even more records for his career.
That's our first list for Debut Champions in ONE. Stick around for Part 2!
---
Follow me on Twitter at @BjornPossel and follow us @OT_Heroics for more great content!
Also, be sure to check out the Overtime Heroics Forums page to join in on the discussion!