Intro
There have been very few positives to take from the COVID-19 pandemic thus far.  It seems that every time you turn on the news, there's more to worry about.  For fight fans, however, Dana White and the UFC have tried to salvage some sense of normality throughout. 
It's difficult to imagine a fight card that trumps UFC 249 and the many UFC Fight Nights that have been filled with war-after-war.  However, this card may be the zenith for both MMA and the UFC in 2020.  Arguably ever with the current pandemic.  Announcement after announcement. Fight fans have been blessed all around the world during the strangest time of our generation.  Add an island and three title fights into the mix and we've found the promised land of violence.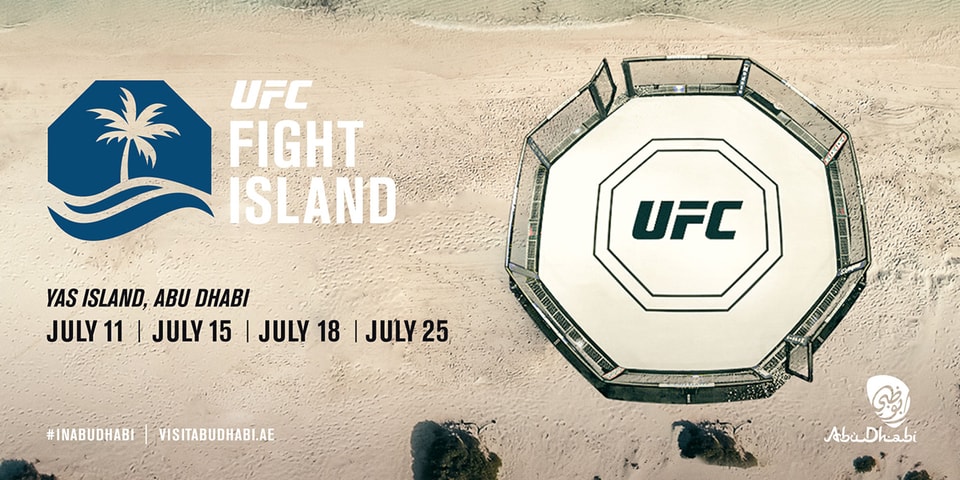 This leads us to the co-main event. Featuring two of the greatest Featherweights in UFC History, Alexander Volkanovski (21-1) and Max Holloway (21-5), it's hard to believe this is a co-main. To make it even sweeter, this is one of the most eagerly anticipated rematches the division has seen.
Volkanovski was just the 4th person to beat Holloway at FW in Holloways' ten-year career.  Volkanovski and his camp concocted a perfect game plan and neutralized one of the best pressure fighters in all of MMA.  He earned his way to a hard-fought unanimous decision and delivered the best performance of his already stellar career. 
Can Holloway make the necessary adjustments in the rematch or will Volkanovski place an affirmation stamp on his career? I guess we're going to find out…
Alexander Volkanovski Background
It's hard to believe that Volkanovski made his UFC debut a mere three-and-a-half years ago. In that time, the former professional rugby powerhouse has beaten a who's who of contenders. This includes a second round TKO against former title-contender Chad Mendes and a unanimous decision victory over the "consensus" GOAT at FW, Jose Aldo. He then followed this up by comfortably beating the reigning champ (on a 14-fight win streak at Featherweight), Max Holloway.
What's even more impressive about that victory against Holloway was the way he had his hand raised. No one has ever been able to shut Holloway down the way Volkanovski did. Even when Holloway went up to 55 to face off against Poirier, there were times where that fight could've gone Holloway's way. Volkanovski executed a perfect formula and never allowed Holloway to even come to sniffing victory.
Volkanovski has shown every attribute and characteristic of a champion during his short tenure in the UFC.  He has power in abundance, he's technically gifted, he has solid takedown defense and rapid footwork which enables him to be a master of range control.  Even while being one of the smaller fighters on the roster.  And although he's only been in the UFC for just under four years, he's held Featherweight and Lightweight belts in three other promotions.  This isn't unknown territory for Volkanovski and perhaps that explains the masterful performance he put together against Holloway last year. 
Volk knows the adjustments he needs to make with every fight. He's freakishly well rounded, which makes him incredibly hard to beat.  Almost reminiscent of GSP. Not necessarily in the way he fights, but after he's beaten contenders, they're left wondering how they could've beaten him.  If Volkanovski emulates those performances, it'll be difficult to see this going any other way this time 'round. 
Max Holloway Background
On the contrary, Holloway has had to deal with adversity for the first time in over 6 years. He's had some health concerns and experienced loss for the first time since capitulating his way to the pinnacle of the sport. The biggest question mark surrounding Holloway's hopeful resurgence is the loss to Dustin Poirier early last year. Holloway has been involved in countless wars throughout his career. He's had so many highs, but, he's now 1-2 in his last three and his loss to Poirier was the first low point he had as a champion.
The above is by no means trying to rule Holloway out of the upcoming contest, but it seems to have taken a toll. The fight itself was highly contested and although Poirier was victorious, Holloway had moments of brilliance and was never out of the fight. However, he took an ungodly amount of punishment from a man that is an elite LW. Holloway's fighting style is a doctor's nightmare and the wear-and-tear may have become a factor.
However, when you have wins over Andre Fili, Cub Swanson, Charles Oliveira, Jeremy Stephens, Ricardo Lamas, Anthony Pettis, Jose Aldo (x2) and Brian Ortega, it's rare to have people doubt you.  Throughout Holloway's meteoric rise to Championship glory, he put a pace on people that broke them mentally.  While the former champion isn't known for being a power striker, his output and pressure are unmatched.  And the above catalogue of fallen foes is a prime example of what Holloway is capable of when at his best. 
The consecutive finishes against Jose Aldo solidified Holloway's greatness.  After that, he took some time out after his title defense to focus on his health.  Then he displayed his most dominant performance against Brian Ortega who was undefeated at the time.  While he obliterated Ortega (in every essence of the word), he also took a sizable amount of damage.  Four months later, he then took more punishment than he ever had in his career against Poirier.
Those back-to-back battles have seemingly changed Holloway. This is not to take away from how good both Poirier and Volkanovski are, but Holloway did seem to be more cautious after the FoTY contender against "The Diamond". Even in his victory over Frankie Edgar, where he returned and defended his title for the third time. Holloway seemed more reluctant to pull the trigger than ever before. But against Volkanovski, he appeared to be mindful of getting tagged. And once again, reluctant to apply the pressure that he's famous for.
The questions at large: Did the Poirier loss affect Holloway mentally? Was Holloway at his best against Volkanovski or is was/is Volkanovski Holloways' Kryptonite?
Volkanovski Breakdown
Volkanovski's brilliance gets swept under the rug in the MMA community. While it's maybe a case that he just flies under the radar because he's a very "normal" guy that carries himself well, it's still extraordinary that he isn't regarded as an already UFC great. As mentioned previously though, another victory of Holloway would consolidate Volkanovski's eminence. If he is to trump Holloway on July 11, there is no doubt that the Australian will enter an entirely different bracket of elite.
Volk brings pretty much everything you could ask for to the MMA table. Power, speed, takedown defense, defensive boxing and fight IQ. The list goes on. The Australian subdued Holloway like never seen before, by chopping down Holloways' legs. He nailed the outside leg-kick repeatedly which slowed Max down and completely disrupted Max's range and rhythm. Then he capitalized and closed the distance quickly, before moving back out of the pocket to further chew Holloway's legs up. What's more impressive about his game plan is that it was the first time he was so leg-kick dominant. Volkanovski has utilized it well in the past but relied on it heavily against Holloway and it paid immediate dividends.
Aside from the Holloway triumph, Volkanovski's breakout fight was against Mendes.  His speed and variation of striking were on full display.  Volkanovski pressed Mendes up against the cage for most of the first-round while mixing up his striking beautifully.  He showed off a slick jab, huge overhand right and kept Mendes guessing with kick combinations.  All while demonstrating excellent technique and avoiding most of what Mendes had to offer with exceptional head movement. 
He picked his moments and never got carried away. Even after being rocked by Mendes in the second round.  After being tagged and taken down, Volk quickly found his feet and closed the show with a monstrous left hook to the body followed by a huge overhand right.  This resulted in a fight of the night performance bonus and the Australian announced himself as a top contender.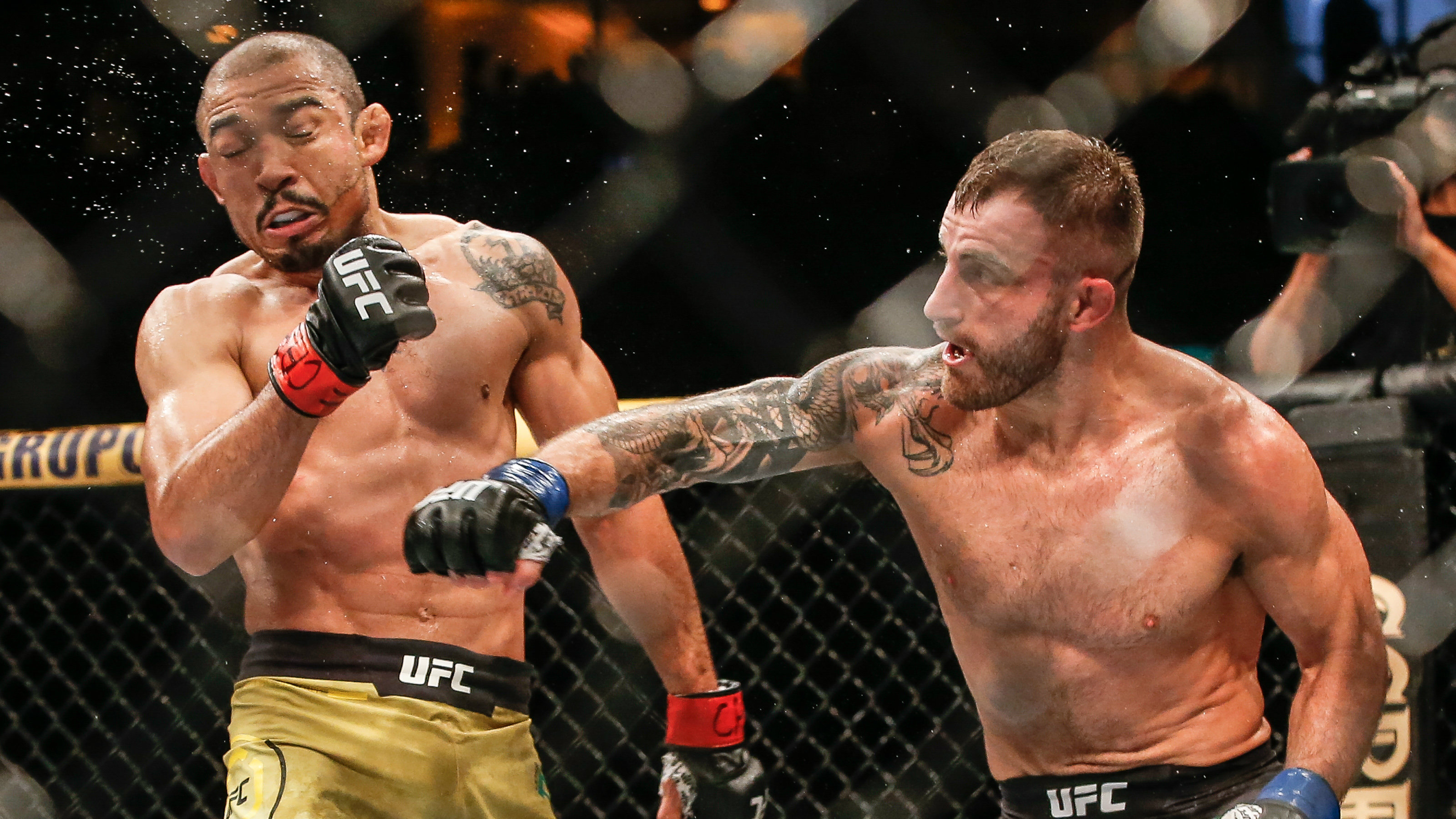 Volkanvoski then followed this up with another incredible showing against the former Featherweight King, Jose Aldo.  He used the inside leg kick to great effect, showed off his granite chin (as he did against Mendes) and pieced Aldo up with his boxing.  Volk also displayed further takedown defense and had his way with Aldo in the clinch at times.  He highlighted his speed and efficiency as he got in and out of the range with ease and cruised to a unanimous decision. 
Holloway Breakdown
As already mentioned, Holloway puts a pace and pressure on his opponents that is nearly impossible to keep up with. The only person that's been able to keep up is Dustin Poirier. During his run to the top, he summated one of the greatest resumes the sport has witnessed. He has finishes over Swanson, Oliveira, Pettis and even the great Jose Aldo succumbed to that pressure twice when Holloway made him fold.
With the UFC, Holloway has landed close to 5,000 strikes over his ten-year tenure. In his victory over Ortega, Holloway landed 614 strikes and threw over 1,000. Yes, you read that correctly. And the fight was stopped by a doctor at the close of the fourth round… He's broken record-after-record for significant strikes landed and he typically leaves his opponents' face looking like they'd just left the scene of a horror movie.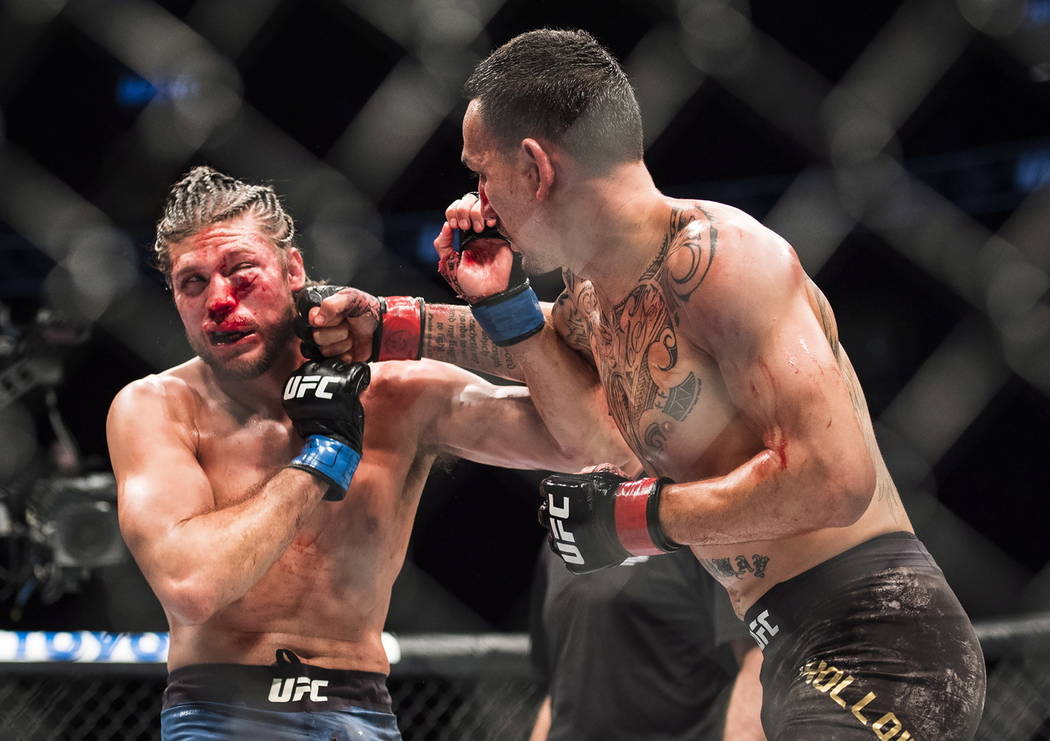 Holloway isn't quite as versatile as Volkanovski, but he doesn't need to be. Max relies heavily on his crisp boxing, while occasionally mixing in leg-kicks to the lead leg of his opponents. His stamina is unrivalled, and he keeps the same pace in the last 30 seconds as he does the first. When Holloway is in full flow, he lands combination after combination and he's a head-hunter. In the victory against Ortega, he landed nearly 500 strikes to the head, shutting Ortega's eye shut.
Max is also one of the toughest competitors in all of MMA. The caveat to this; he eats a lot of shots inside of the pocket due to his tenacity. When Holloway presses forward, he hasn't cared about taking punishment. At least up until the first fight with Volkanovski that is. Holloway will need to ensure that he stays aggressive from the outset, without taking serious damage from Volkanovski.
Fight Breakdown
It's no secret that Holloway will need to change his approach in the rematch.  He needs to close the distance immediately; a tough ask against Volkanovski, who is so quick on his feet.  He can do this by throwing more feints to keep Volkanovski guessing and he has to try to control the center of the octagon.  If he can back Volkanovski up against the cage and force him to fight moving backwards, he can cause problems.  This is something Holloway has done so well throughout his career.  It remains to be seen if he can do so against Volk, but you can expect to see him coming out a lot more aggressive.  Particularly in the second and third rounds. 
Most importantly, he's got to stop the barrage of leg kicks that he received in the first fight.  Perhaps Holloway was unconcerned or unprepared for Volkanovski to be so leg-kick dominant.  Regardless, this is something that needs to be corrected immediately.  The Hawaiian will have to show his ability to check kicks and perhaps threaten to take Volk down.  If he can check and threaten to put Volkanovski on his back by catching kicks, he can then reapply pressure himself.  Holloway is also a high-level BJJ blackbelt. That's often overlooked because of Holloways' fighting style.  If he does find himself on the ground, he's always a submission threat and holds a clear advantage in that regard.
For Volkanovski, it's simple: do exactly what he did in the first fight.  Will he have his way with Holloway the manner in which he did in the first fight?  That part is unclear.  If Holloway doesn't check those kicks or adapt his approach though, this could go very similarly to the first.  Volkanovski will likely need to slightly adapt his own plan though, as you can expect Holloway to be more aggressive this time 'round. 
For someone that has improved with every minute inside the Octagon, you can count on Alex and his team preparing for all sorts of scenarios. He's likely to already be training to fight on the counter and he's got the edge in that regard too. Holloway can not get careless as Volkanovski has been rocked in the past and he recovers incredibly quickly. If Volkanovski can lure Holloway into a false sense of security and comfortability, Alex has the ability to put Holloway away.
Fight Prediction
Regardless of how this contest goes, it shows the depth of the featherweight division and features two absolute fan-favorites.  Two genuine guys who have never had a shred of controversy, facing off for the second time.  The only downside is that one has to lose… again.
It would not be insulting to say that Holloway well-and-truly has his back up against the wall. He's got to make significant adjustments for the first time in his career. And, the damage he's taken throughout is concerning. That said, Holloway will do everything in his power to come out of the gates firing. He will likely try to apply his famous pressure earlier on in the fight and lure Volk into a brawl. If he can make things uncomfortable for Alex early on, he has every chance of winning the rematch, although a big underdog.
For Alex, you can expect much of the same. It's hard to see Volk changing much due to the success he had in the first fight, but he may be more versatile in his striking on this occasion. If he succeeds with leg-kicks again, he may be more aggressive. If Holloway overcompensates for another leg assault, Volk can try to finish the fight when openings arise, similarly to how he beat Mendes. Volkanovski is the deserved favorite coming into the contest and surely has his eye on stealing the show. Particularly on such a stacked card.
Pick
As a huge Holloway fan, I pray that he can make the necessary changes to beat Volkanovski. My hope is for him to have his hand raised, likely by UD, but I don't love his chances. I am confident that this will be a much closer contest though, but I still feel as if Volkanovski will retain his belt for the first time. A win for Holloway would almost certainly mean a trilogy fight though and I don't think a single fight-fan would have any issues with that.
Official pick: Volkanvoski via split decision. 
---
Follow me on Twitter at @TAtlanticMMA/@NeilVorster1 and follow us @OT_Heroics for more great content!
Also, be sure to check out the Overtime Heroics Forums page to join in on the discussion!