On July 11th at UFC 251, #6 ranked Jose Aldo (28-6) will be taking on #3 ranked Petr Yan (14-1) for the Undisputed Bantamweight Championship of the World. Though a controversial pick to be the man opposing Yan for the Bantamweight strap (due to his last fight being a losing effort to Marlon Moraes), Jose Aldo is given a "free pass" by many fight fans due to his extensive list of accomplishments in the Featherweight divisions of both the WEC and the UFC. Considered by many to not only be the Featherweight G.O.A.T but also a top 5 Pound for Pound fighter in the sport's history. Jose Aldo is a name that casts a shadow over the Bantamweight division regardless of ranking. Regardless of this, Petr Yan enters the Octagon as a considerable favourite over the former Featherweight Champion.
Tale of The Tape
Name
Petr "No Mercy" Yan
Jose Aldo
Country
Russia
Dudinka, Krasnoyarsk Krai, Russia
Brazil
Manaus, Brazil
Age
27
33
Height
5′ 7½″ (171 cm)
5′ 7″ (170 cm)
Reach
67″ (170 cm)
70″ (178 cm)
Division
Bantamweight
(135 lbs / 61,2 kg)
Featherweight
(145 lbs / 65,8 kg)
Stance
Orthodox
Orthodox
Titles
ACB Bantamweight Champion
Former WEC/UFC FW Champion
Record
14 – 1 – 0
(6 KOs)
28 – 6 – 0
(17 KOs)
KO%
42%
60%
Though seemingly evenly matched in a physical sense, Aldo has considerably more experience fighting elite competition than Yan at this point in their respective careers. Though it is important to note that these wars may have accumulated some wear and tear on the former FW champions body, an issue the up-and-coming Petr Yan is yet to experience.
Skill for Skill
I think I can speak for most fans when I assume that the majority of Saturday's Bantamweight Championship bout will be taking place on the feet. With elite striking being evident on both sides, let's try and pinpoint the key skills in both fighter's arsenals.
Jose Aldo
When most people sit down and attempt to breakdown Aldo's striking skillset, the most prevalent weapon in the Brazilian's arsenal is his rear leg kick. At one point considered one of the most dangerous weapons in the sport, Aldo's rear leg kick was the cornerstone of his offence. As seen in bout's with Urijah Faber in the WEC, and Ricardo Lamas (above) in the UFC. However, as effective as Aldo's leg kicks are, many fans fail to see the reason he managed to land so many unchecked.
Aldo is a master of setting up his kicks with punches, particularly the combo seen above (often a right straight is thrown first, which opens up the lead body shot). Though a simple "fake high, go low" concept, Aldo takes this to the next level. By throwing the lead hook in the sweeping matter in which he does he positions his hips in a manner that allows him to generate massive amounts of leverage into his leg kicks. By chopping down the lead leg of Petr Yan, he may take away some of the power from the Boxing heavy Bantamweight.
Though Jose's leg kicks are the most infamous aspect of his striking game, he also has very under-looked defensive boxing, below is an example of Jose's ability to slip and counter when in boxing range, though he missed the counter left hook due to Mendes getting out of range, he still managed to avoid all damage from a potentially fight-ending right overhand.
Aldo does a fantastic job of making opponents freeze up in front of him and bite on his feints, this opens up his explosive offensive attacks and allows him to land big shots without the need for elaborate setups, almost reminiscent of the way Anderson Silva used to lull opponents into a false sense of security before striking and often finishing their night early.
Petr Yan
A fantastic, albeit very different striker in his own right, Russia's Petr "No Mercy" Yan, is a former amateur boxer with a deeply honed game, evident by his status of "master of sport" in the art of pugilism.
Above is an example of Yan's boxing prowess. leads with a corkscrew lead uppercut to sneak past the guard of Dodson, he follows this with a right straight that lands flush, instead of admiring his work Yan is instantly out of range and subsequently, the firing line. When entering back into boxing range Yan hand fights with Dodson in order to nullify his offence, once both hands have been secured and accounted for Yan once again repeats his corkscrew uppercut to right straight combination and once again, lands cleanly.
Though Yan's boxing lacks the finesse and smoothness we see in the likes of Conor McGregor and Jorge Masvidal, he makes up for it with a deep understanding of the fundamentals of his craft.
Above is an example of this. As Faber enters boxing range with Yan, Yan taunts him and causes Faber to become a stationary target, as Yan pressures forward with a classic "1-2" Faber retreats in a straight line, following the flush landing of the first two strikes, Yan steps through with the right hand and throws a left hook that lands clean and drops the former WEC champion.
Keys to Victory
Jose Aldo
Range Management
In order for Aldo to implement his best work on the feet, the consensus is that he must control the range in which the fight takes place. With a considerable kicking and long-range strike advantage compared to Yan, Aldo could benefit tremendously from keeping the fight in kickboxing range and avoid lingering in the pocket with the powerful boxer.
Lead With the Jab
Though both fighters are similar in both height and reach (with Aldo holding a 3-inch reach advantage) Aldo fights much longer than Yan. The former featherweight king has found success in the past in fights in which he leads with a long jab to set up longer combinations. This will serve not only to increase his chances of landing on "No Mercy" but also to keep the fight at his optimum range.
Return to the Roots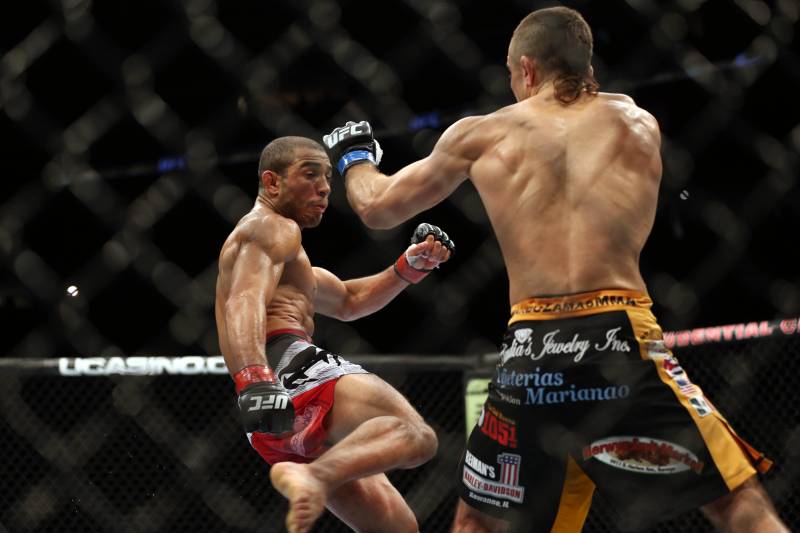 It's been a while since we have seen Aldo take someone's leg home, hasn't it?
This is a better time than any to change that. For the first time in a while, Aldo will be fighting somebody who has a legitimate chance of knocking him out cold on the inside.
Scary stuff.
As of late, Aldo has fallen in love with his hands, and for good reason, he has outboxed almost all of his previous opponents with the exception of Max Holloway and Conor McGregor. However, in a fight with a boxer as elite as Yan, it might serve the former soccer star well to implement his patented leg kicks early. By chewing up Yan's lead leg, Aldo will slow down his opponent's forward pressure and negate some of the power coming from Yan's shots (by reducing the amount of pressure Yan can apply to his lead leg). In doing so, Aldo can more effectively manage range and decrease the chances of Yan managing to get on the inside and do big damage.
Petr Yan
Get Inside
Though Yan is certainly no slouch when it comes to long-range boxing, his best work seems to come from the inside. Due to Yan's deep boxing background, he has a unique ability to pick his shots when fighting in a phonebooth. This may prove effective against the former Featherweight Champion, who prefers to do his best work whilst fighting at kickboxing range. Though getting into clinch range with Aldo is no easy feat, Yan has many tools under his belt that will help him do so.
As seen in his fight with Urijah Faber, Yan switches stances and closes range very effectively. This allows him to cover distances and get to the inside on taller fighters much quicker than most.
The Threat of the Takedown
Though considered a striker by most, Yan also has an array of grappling skills at his disposal.
However…
Shooting on Aldo is often a pointless exercise. With a 91% takedown defence rate, it is very unlikely Yan will be shooting double legs on Aldo. However, by utilising trips and throws in the clinch, Yan can present Aldo with a new problem to worry about. This doesn't have to necessarily be takedowns with real intent to get the fight to the ground, but just by showing Aldo that the threat is present, Yan will likely get more opportunities to land big shots on the inside.
Prediction
This was tough.
Though Aldo enters the cage as an underdog, I feel his experience will serve him well. After fighting in countless title fights in multiple promotions, the pressure of the moment will not be an issue to the former champion. Though Yan is a future star, I don't believe he has fought anybody on the level of Jose yet. I can see Yan having success early, landing big shots on the inside and maybe stealing the first two rounds, but I think the Championship experience of Jose will start to take over towards the latter stages of the contest. I can see Aldo taking over from the 3rd round onwards and picking up a unanimous decision victory.
Pick: Jose Aldo by Unanimous Decision, 48-47 with FOTN honors.
---
Follow me on Twitter at @JFeen_MMA and follow us @OT_Heroics for more great content!
Also, be sure to check out the Overtime Heroics Forums page to join in on the discussion!