This weekend, the UFC is set to debut Fight Island with one of the most stacked cards of the year. But with three titles on the line, it's easy to overlook the non-title fights promising to light up Fight Island. And one such bout is the long-awaited rematch between Jessica Andrade and Rose Namajunas. Both these former champions are looking to earn a shot at Zhang Weili's strawweight title. And with both fighters being amongst the most talented in the divisions, this fight is set to be a highly competitive matchup.
Paths to victory – Jessica Andrade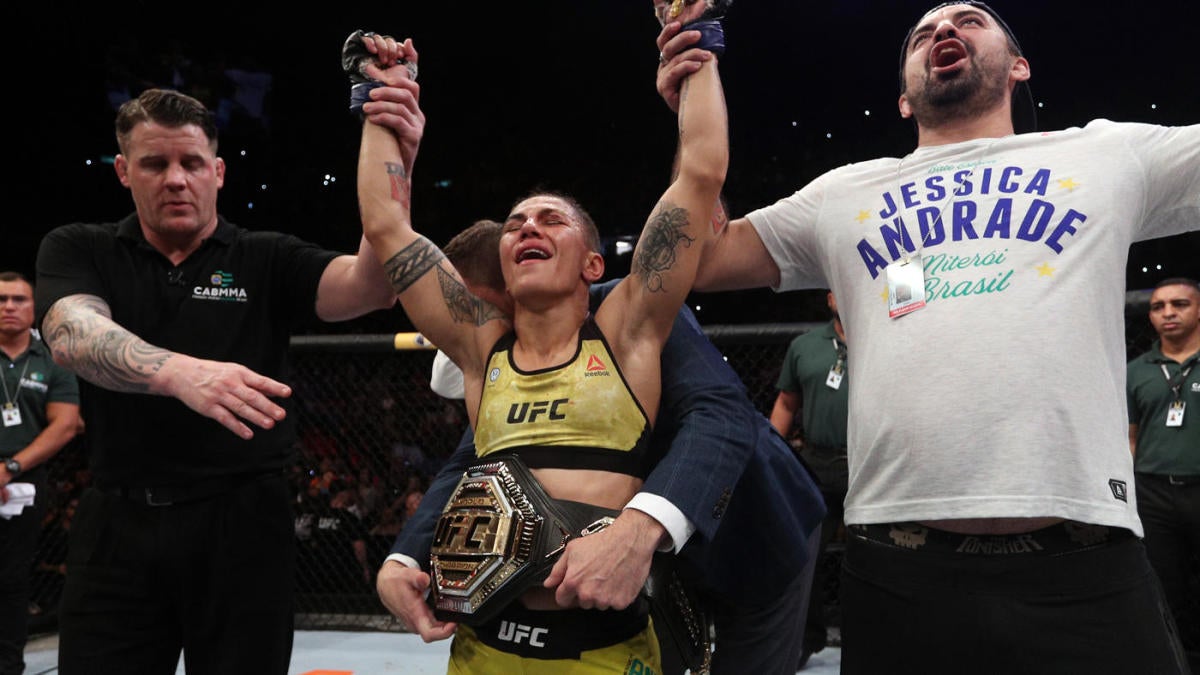 Having won their first fight, Andrade will be confident of picking up another win at UFC 251. But Rose Namajunas is a difficult fight for anyone. And barring another slam-KO, Andrade will need to utilize all the skills at her disposal to beat the former champion.
In particular, Andrade's success in this fight will come down to her ability to close the distance. The Brazilian has some of the scariest hands in Women's MMA, and she has always done her best work when her opponent is backed up against the cage. This kind of range allows her to unleash the powerful hooks that overwhelm so many of her opponents.
Andrade is used to fighting bigger opponents. But closing the distance on Namajunas will by no means be easy. Namajunas has always been light on her feet and uses a lot of lateral movement to avoid her opponent's attacks. This could be a problem for Andrade, who occasionally tends to follow her opponents around the octagon rather than cut them off. And considering this, she would do well to look for ways to slow Rose down early on in the fight.
One way to do this would be to target Namajunas with heavy leg kicks from the start. Most importantly, any sustained damage would to slow Rose down and make it easier for Andrade to back her up against the fence. And as we know, this will be key to Andrade's success. But this would also help Andrade set up her attacks in a more general sense. When Joanna Jedrzejczyk fought Namajunas, for example, she landed her best combinations once she hurt Rose with leg kicks. And if Andrade can get Namajunas thinking about her kicks, it will be easier for her hands to find the target.
But it could also prove smart for Andrade to target Namajunas' body. Typically, Andrade is more of a head-hunter, only targeting the body when her opponents have completely covered up. But against a fighter as dynamic as Rose it can be hard to find the head early in the fight. Targeting the body, however, would not only drain Rose's energy, but open gaps around the head for Andrade to exploit.
Andrade could even look to do this in the clinch. Karolina Kowalkiewicz had great success by clinching Rose against the cage and landing heavy knees to her midsection. Given Andrade's obvious strength advantage, its likely she could bully Rose against the cage. If she is able to get Namajunas' back against the fence, Andrade might find some success simply by working the body and draining Rose's energy.
Paths to victory – Rose Namajunas
Another former champion, Namajunas is known more for her technical prowess than her physicality. And she will need to rely on this technique if she is to overcome the sheer power of Jessica Andrade.
Again, this fight will come down to who can control the range. Namajunas will want to keep her distance, using her reach and jab to frustrate Andrade from the outside. This has two main benefits for Namajunas. Firstly, it takes away Andrade's most dangerous weapons. The Brazilian can't land her powerful hooks from outside the pocket, and this range keeps Namajunas out of harm's way. Secondly, if she can bait Andrade into over-extending on her punches, it will help Namajunas land her own counters. An over-reaching opponent is an easier target, and Rose should be able to pick apart a frustrated Andrade from the outside.
But Andrade is extremely explosive in the way she moves. And few fighters can avoid getting pressed up against the cage when she blitzes forward behind a barrage of heavy punches. To avoid this, Namajunas will need to utilize her footwork and movement to get in and out of the exchanges quickly and safely.
Rose has always been good at getting in and out of range. But Andrade is one of the best at closing the distance, and her forward press is so effective because of her timing. She explodes forward just as her opponent's step into an attack, off-balancing them and forcing them back towards the cage. As such, Rose will not want to make a habit of moving back in a straight line. To avoid Andrade's forward press, Namajunas needs to circle and change the angle as she steps out of an exchange. This will only make it more difficult for Andrade to corner Namaqua's. But it will also make it easier for Namajunas to find openings and counter as Andrade tries to pressure forwards.
This is the most important part of Rose's game plan. If she can keep the fight at her range, she should be able to seal out the win and maybe even work for the finish if she can get Andrade to start swinging recklessly.
There are, however, a few other strategies Namajunas could employ to test Andrade's skill. For instance, Namajunas could look to take the fight to the ground. When they first met, although Andrade posed a constant threat with her strength and power it was Namajunas who threatened the most on the ground, throwing up a variety of submissions that posed a real threat to the Brazilian.
Granted, I would be surprised to see Rose shoot from the outside. She could time a takedown as Andrade blitzes forward, however. And given just how heavy Andrade stands on her front leg, Namajunas could have some success with her overhand-right to outside-reap takedown. Even if she can't lock up a submission, the threat alone could be enough. If she can get Andrade thinking about the takedown Rose will only find it easier to set up her combinations.
Andrade also has a few bad habits that Namajunas could look to exploit. One such example is Andrade's tendency to parry the jab with her right hand. This not only opens up the lead head kick, but the lead left hook that Rose knocked-out Joanna with. With a coach like Trevor Wittman, I wouldn't be surprised to see Namajunas trying to exploit this tendency throughout the fight.
The prediction
Despite how their first meeting ended, I feel like Namajunas has a slight edge heading into this fight. Andrade is a lethal striker, who can beat anyone in the division on her day. But I feel as though Namajunas has all the tools she needs to out-point and even finish the Brazilian powerhouse.
Saying this, Andrade has the kind of power that can earn you the win at any moment. Make no mistake, these are dangerous women, and their talents have set the stage for what is sure to be an incredible fight.
Follow me on Twitter at @sonny__i and follow us @OT_Heroics for more great content!
Also, be sure to check out the Overtime Heroics Forums page to join in on the discussion!
Links
https://www.mmafighting.com/2020/5/28/21273984/jessica-andrade-vs-rose-namajunas-2-in-the-works-for-ufc-event-on-july-11
https://www.cbssports.com/mma/news/ufc-237-results-highlights-jessica-andrade-rallies-with-tko-slam-over-rose-namajunas-to-claim-title/
https://www.denverpost.com/2019/05/12/jessica-andrade-rose-namajunas-ufc-237/
https://www.denverpost.com/2017/11/04/rose-namajunas-snatches-115-pound-title-at-ufc-217/